ALASKA!
I will recap the highlights of my stay here in Fairbanks, so check in periodically to see what I have been up to.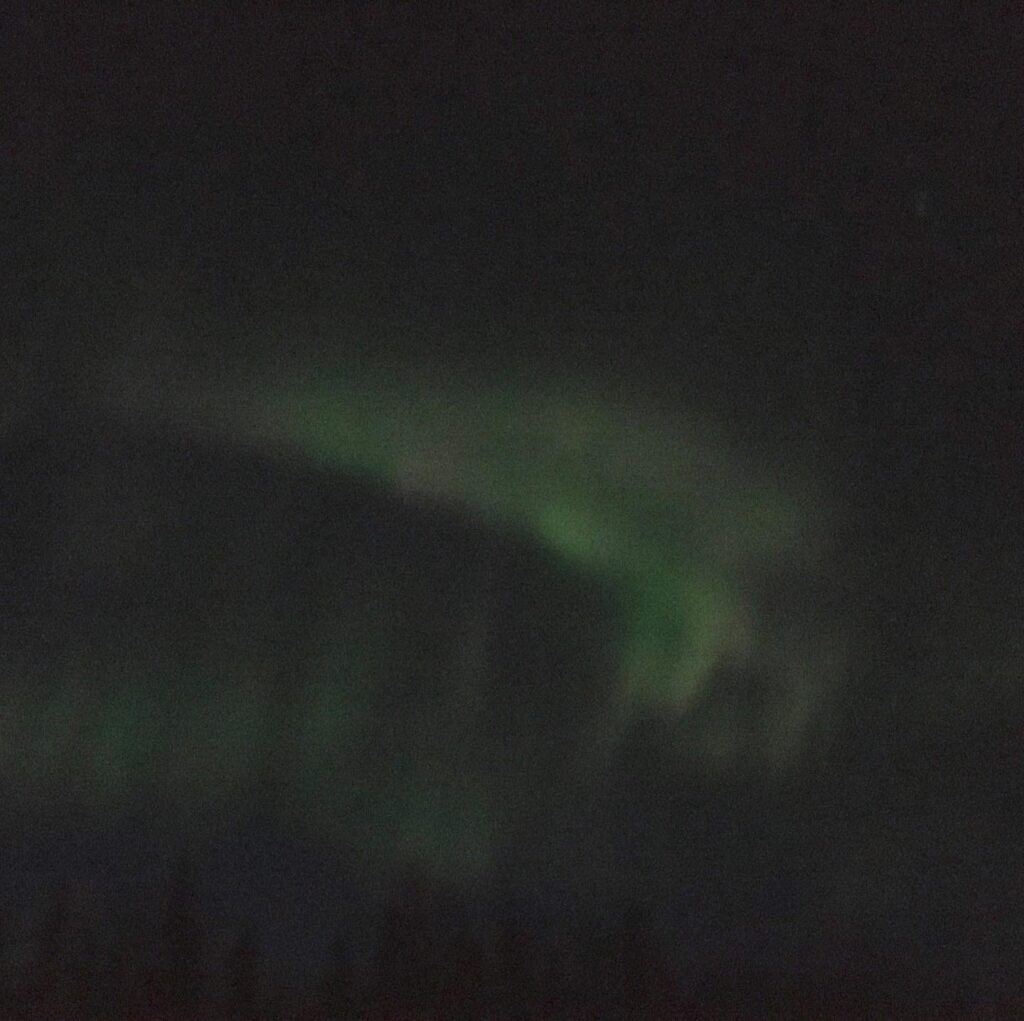 October 8 – 11: A quick visit to Juneau before leaving Alaska.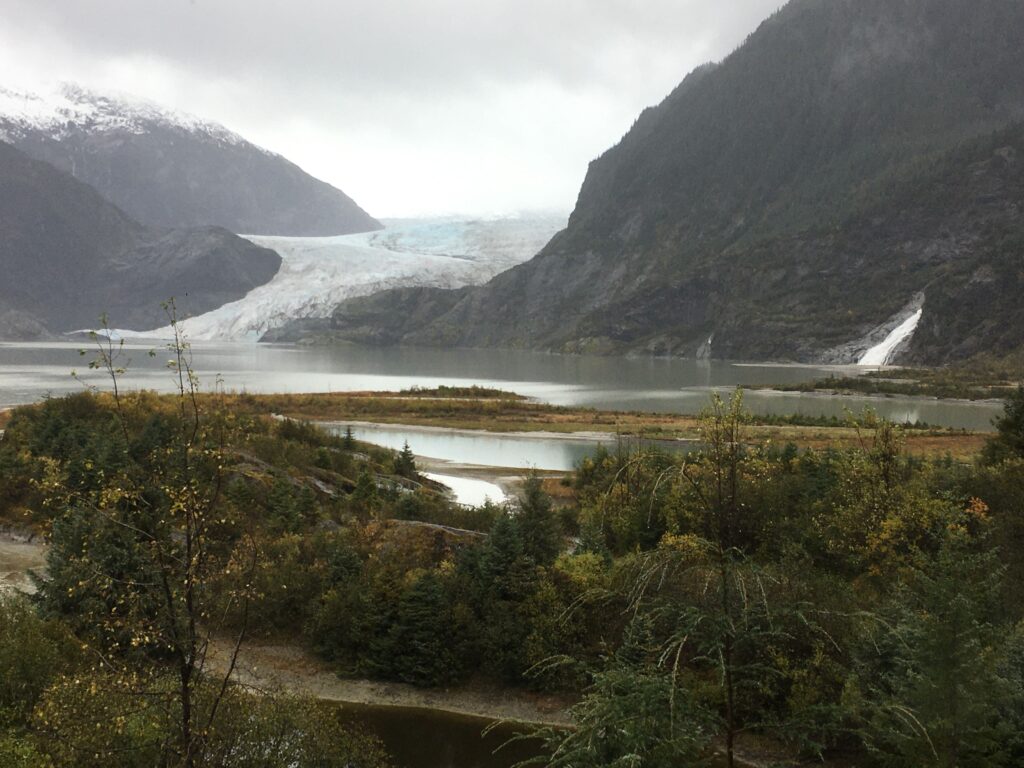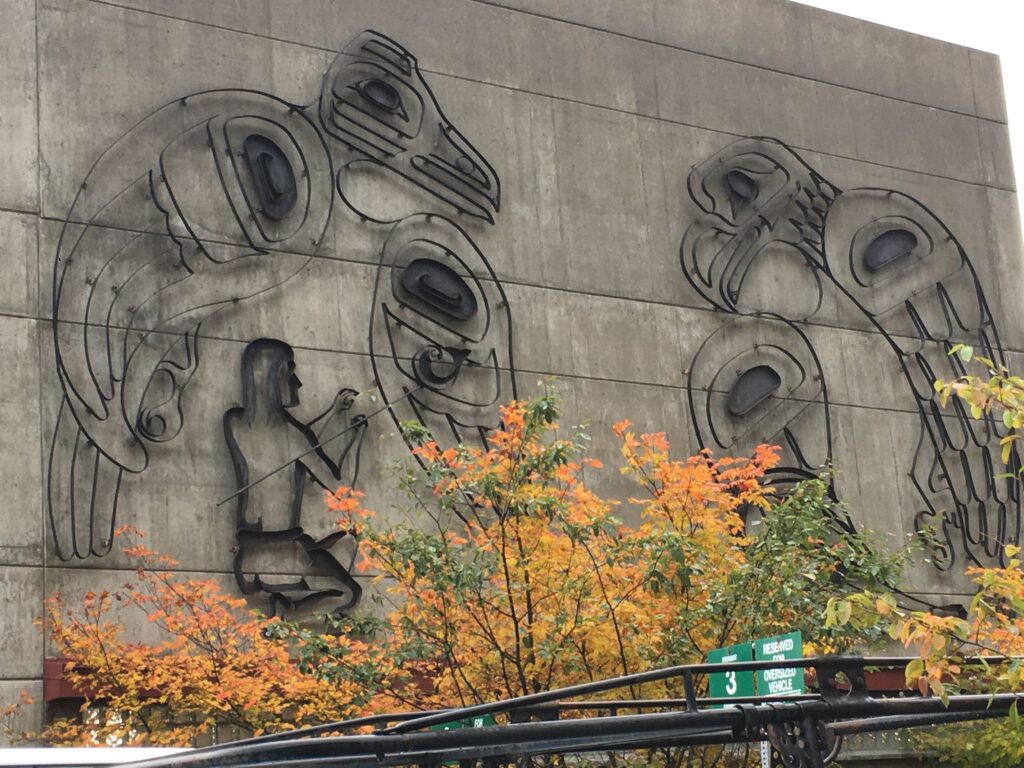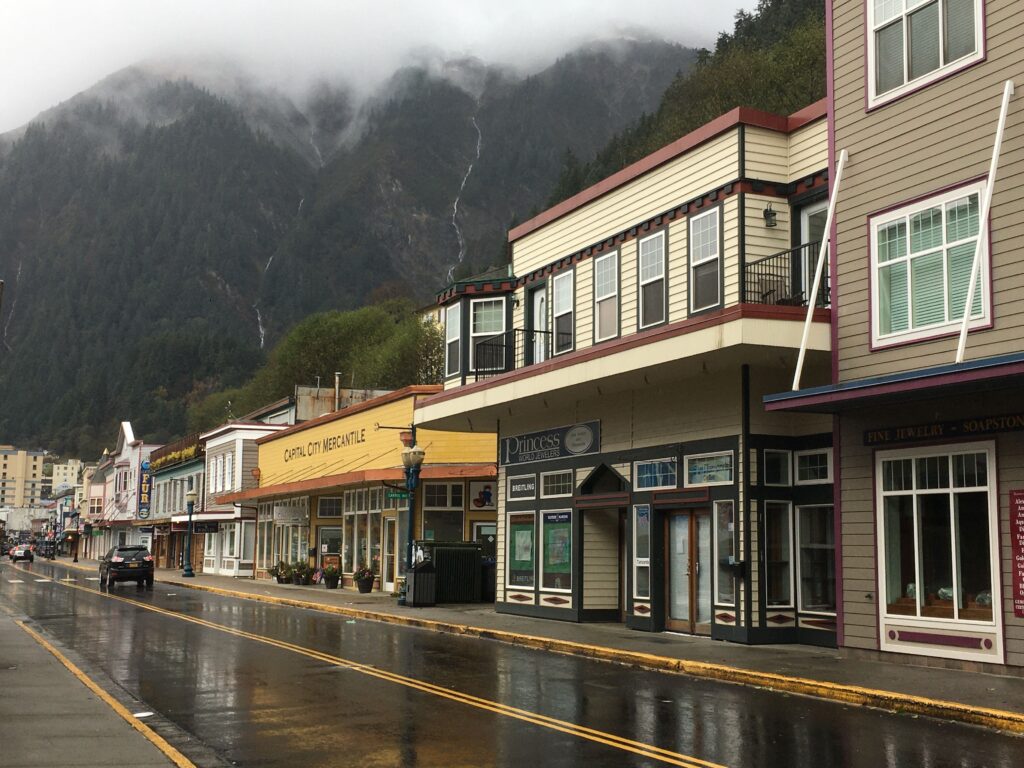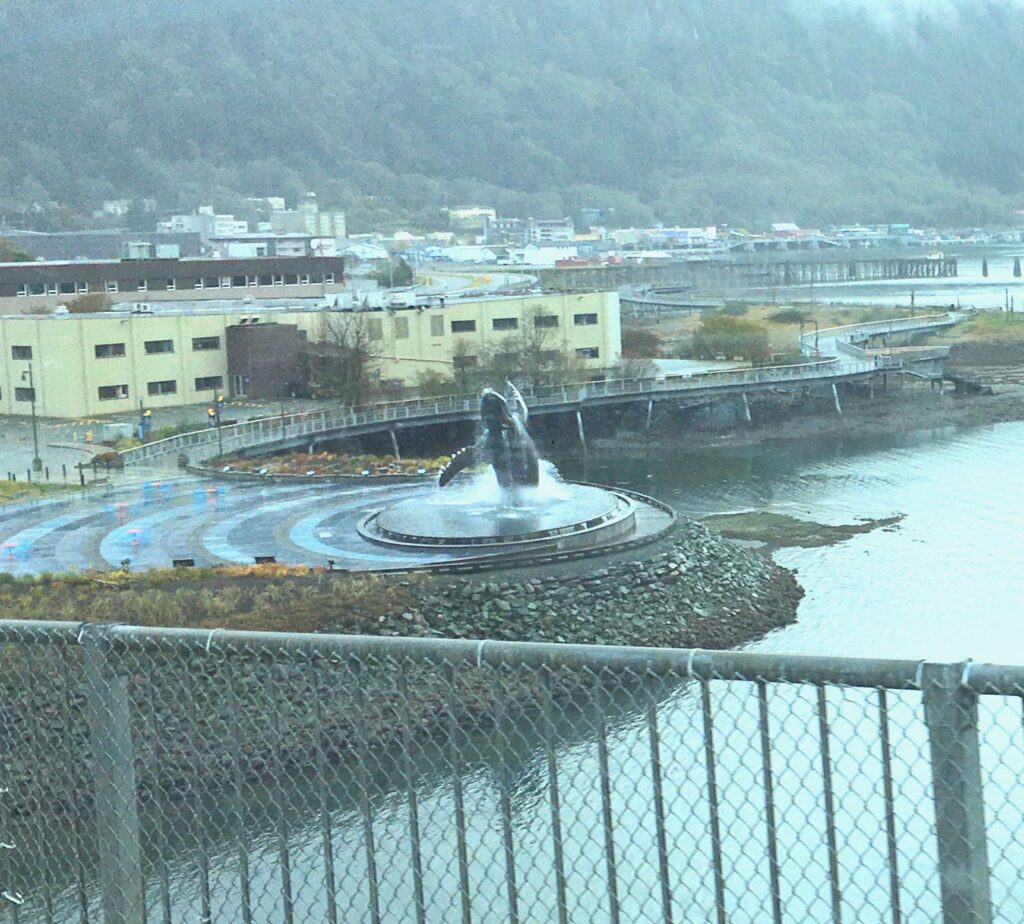 September 29 – October 4: My son, Connor, flew up to spend my birthday with me.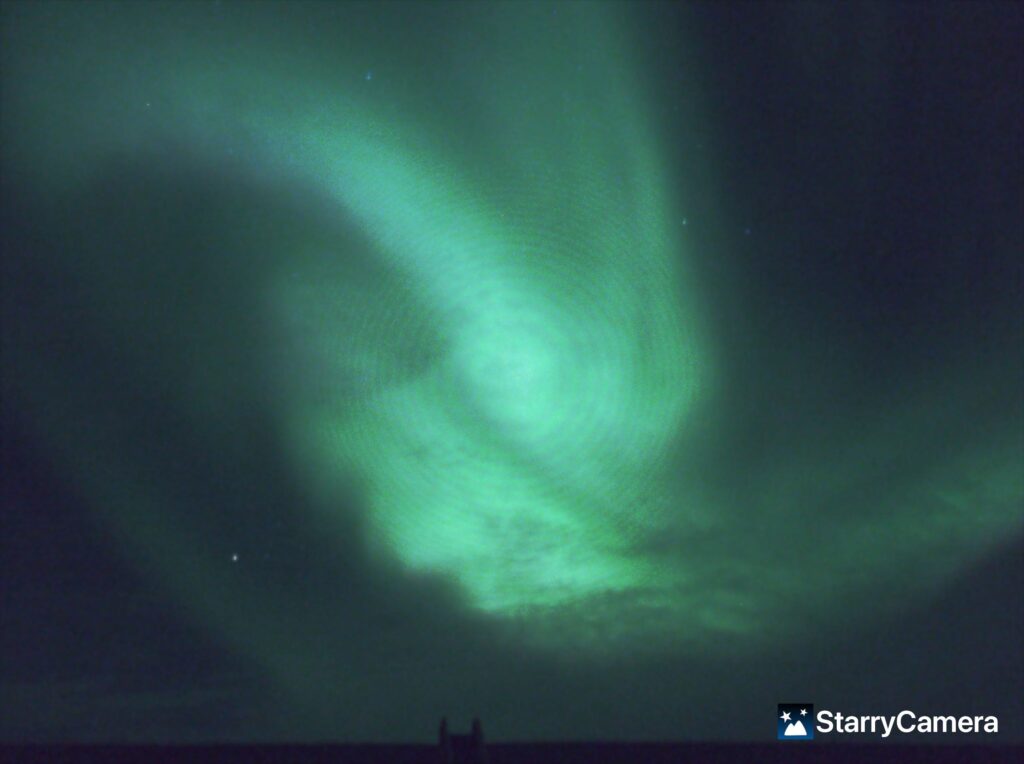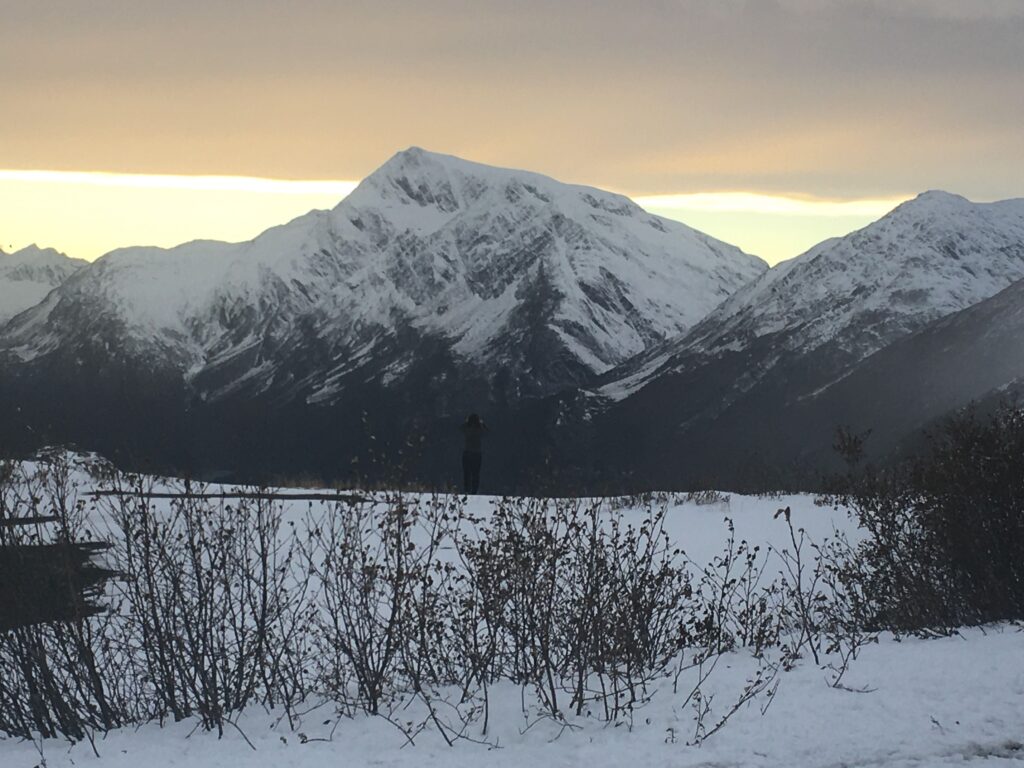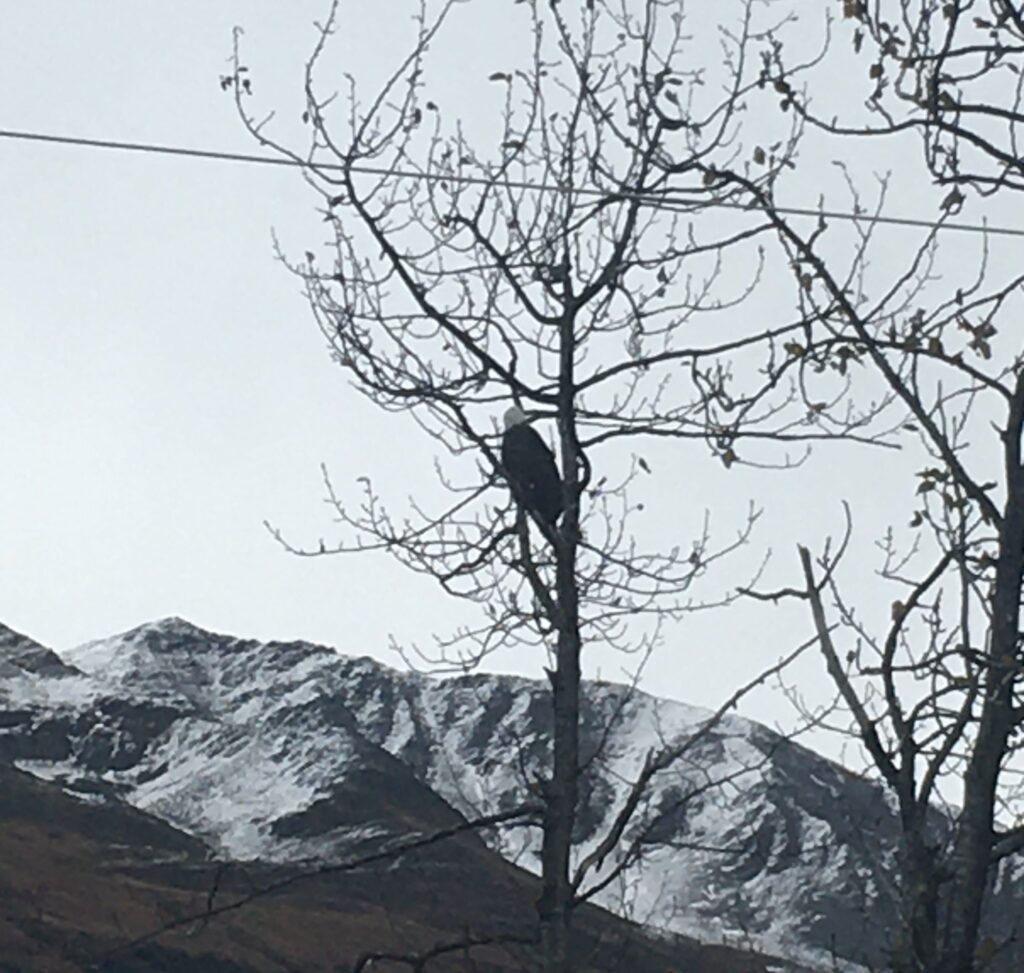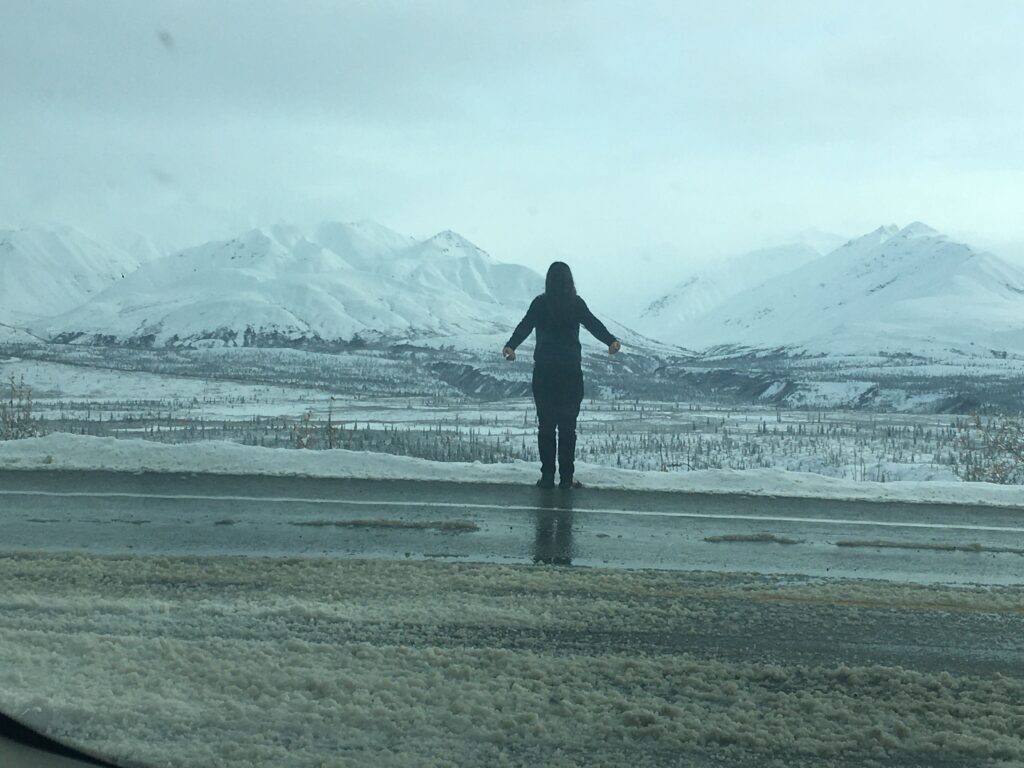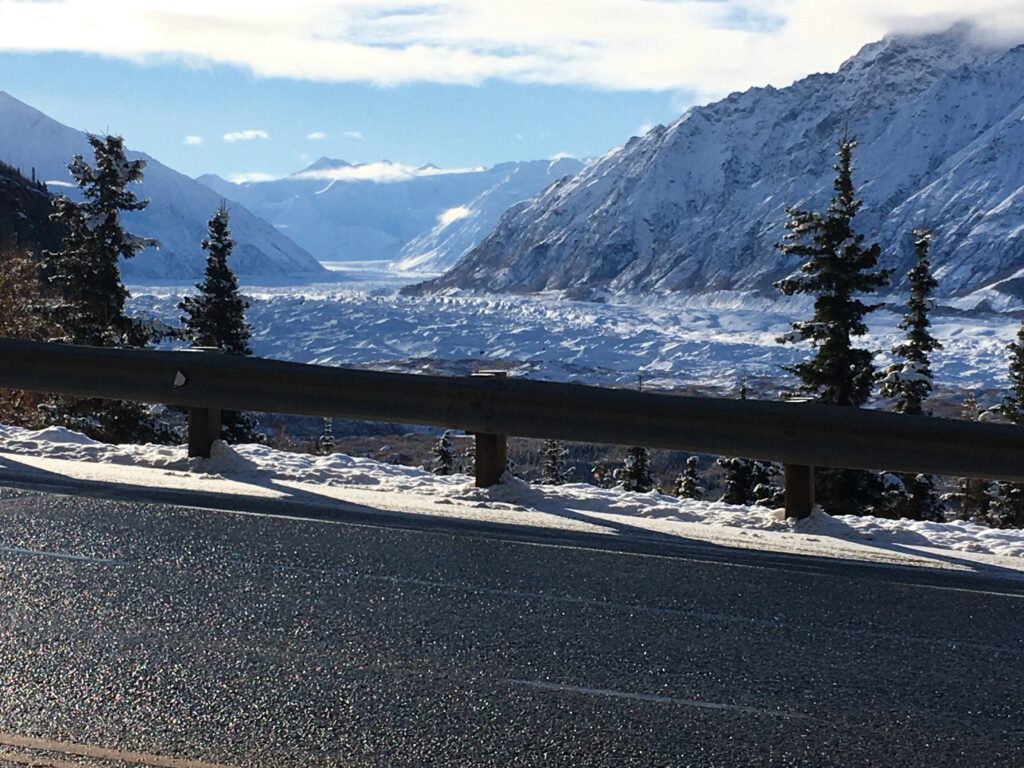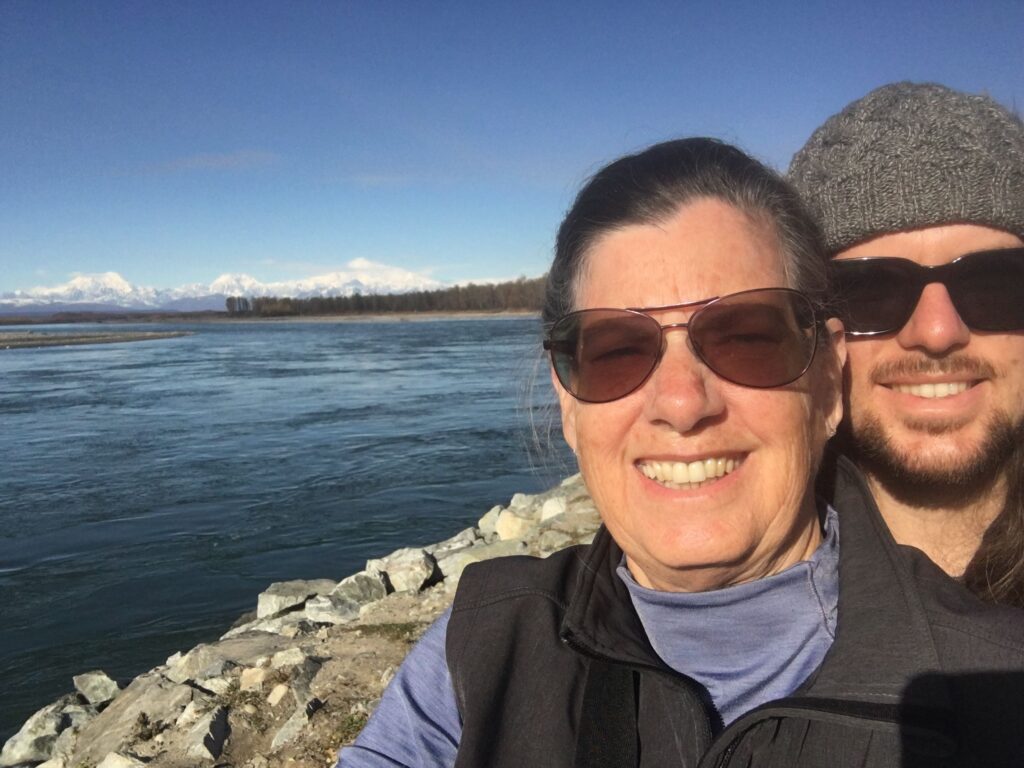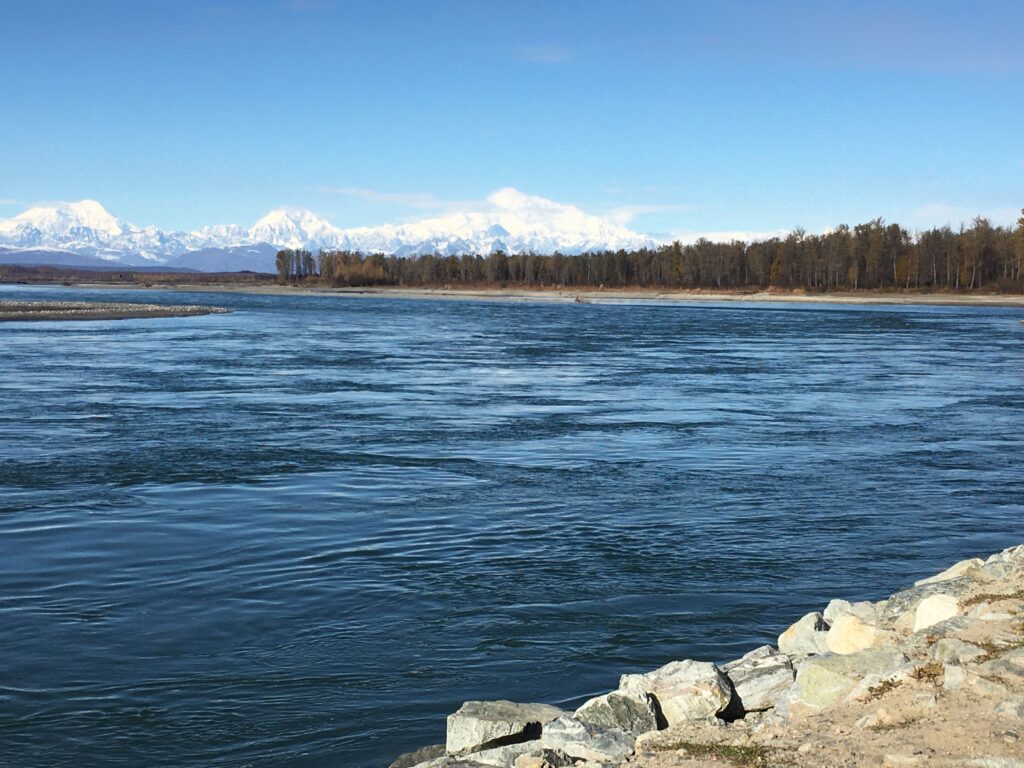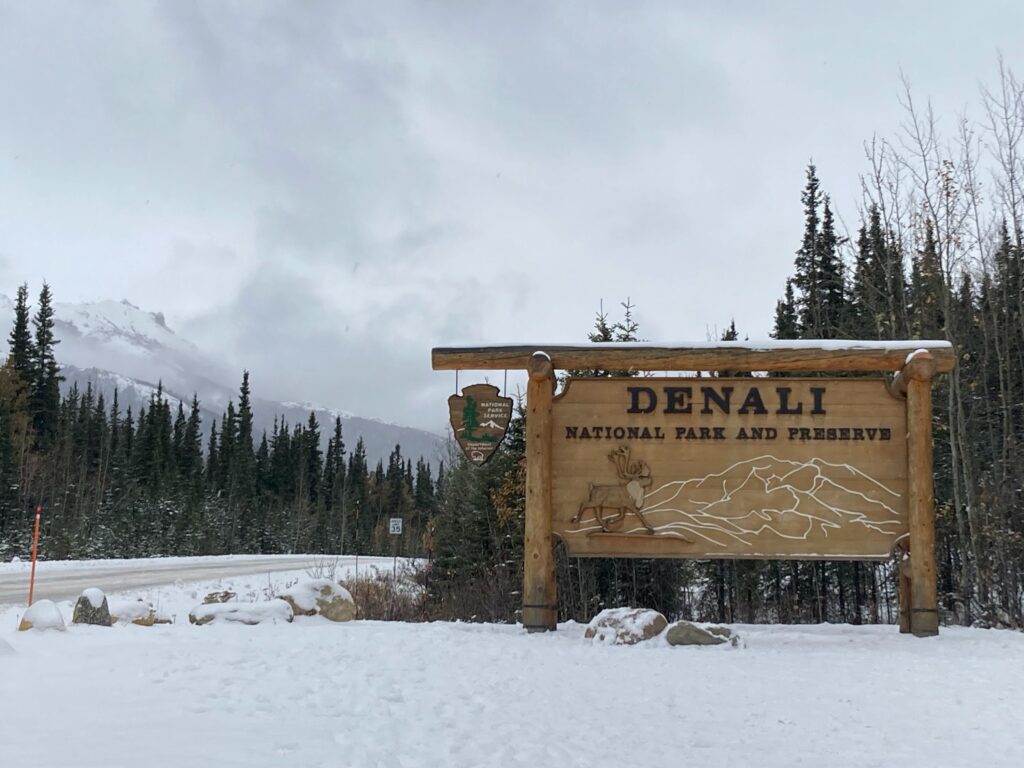 September 27: I got to eat authentic Eskimo food: Muktuk. Made from the blubber of a bowhead whale.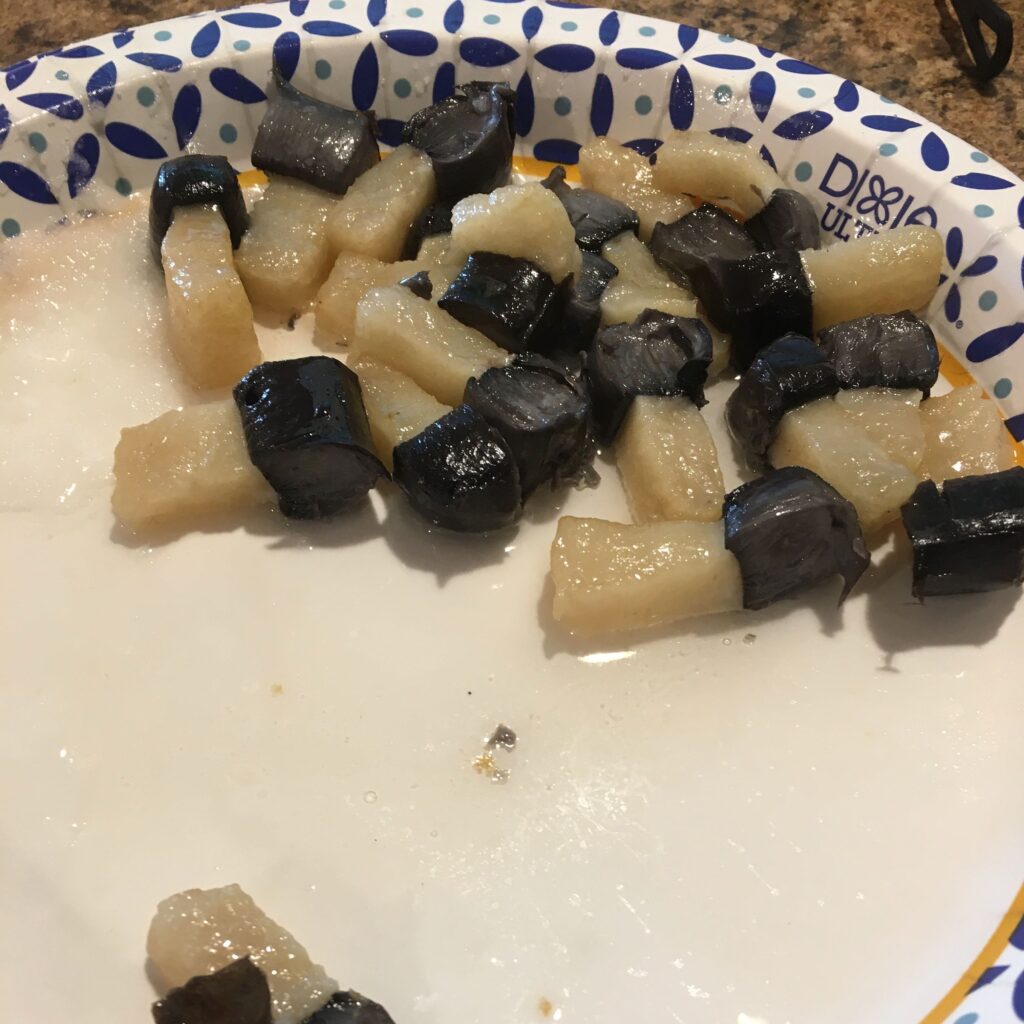 September 24: And winter arrives right on time for Alaska!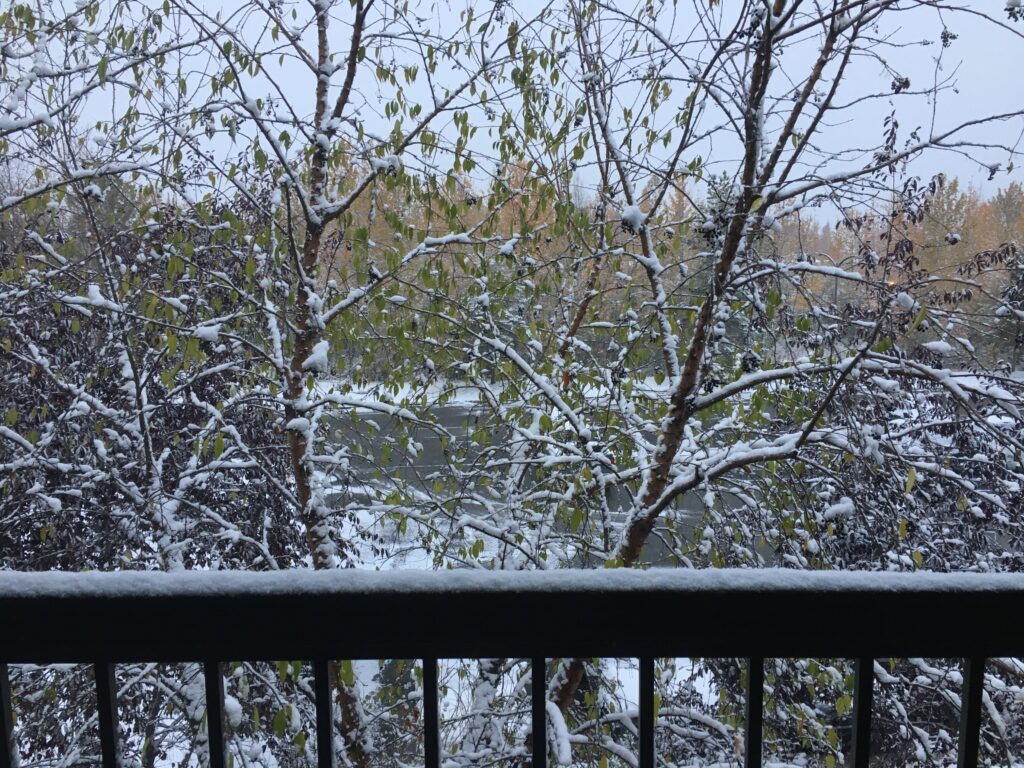 September 18: I took a short 3-mile walk at Creamer's Field and took in the fall colors of Fairbanks.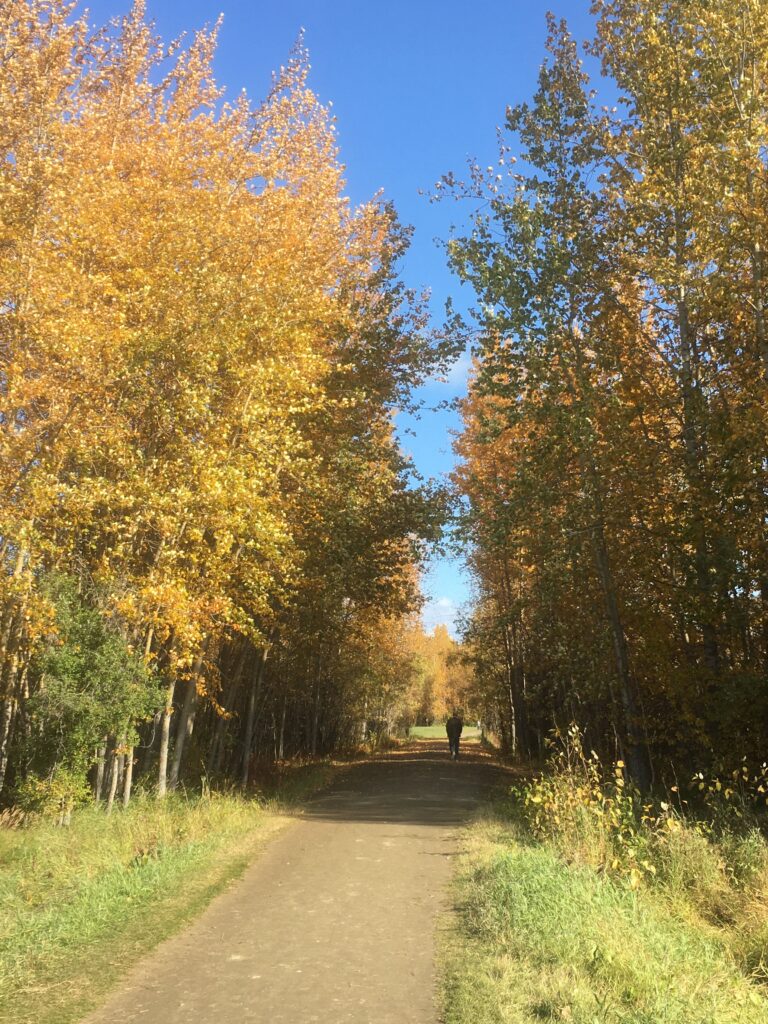 September 5 – 9: I was lucky enough to have a friend from California come visit. We worked with a loose itinerary. We were waitlisted for an Aurora Tour, but didn't clear. So it was all spontaneous.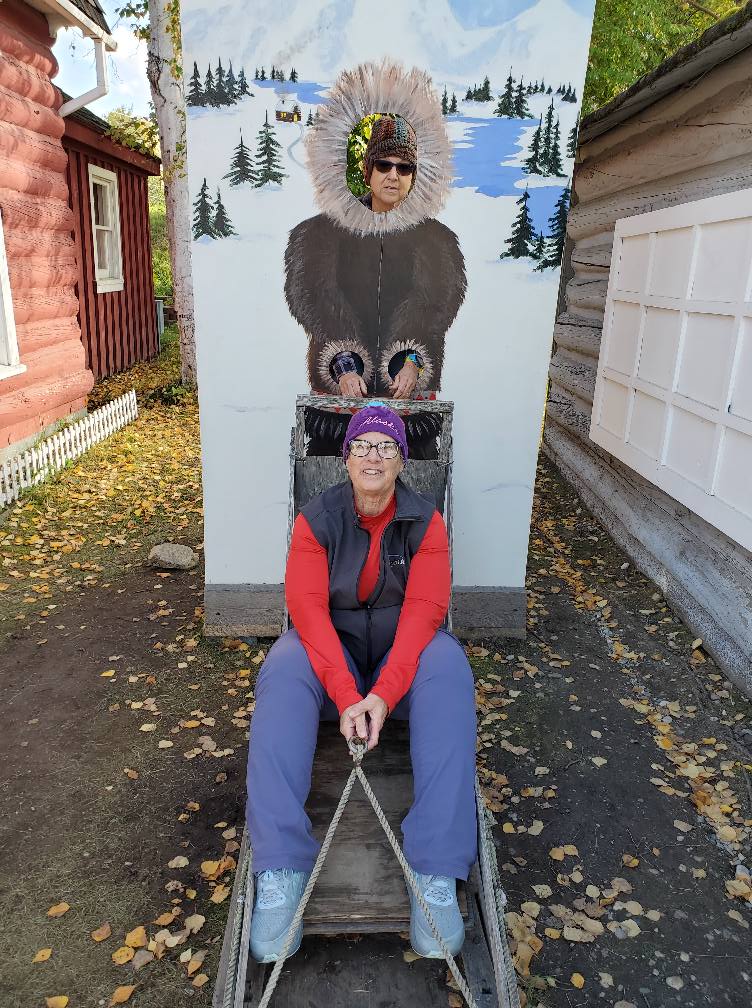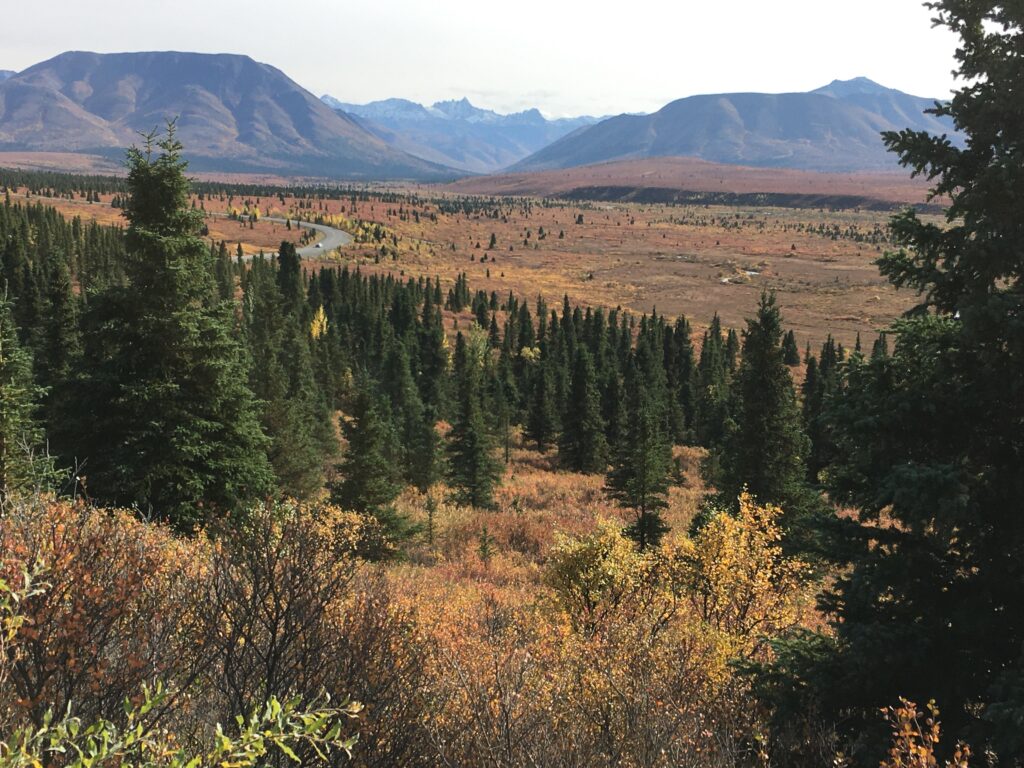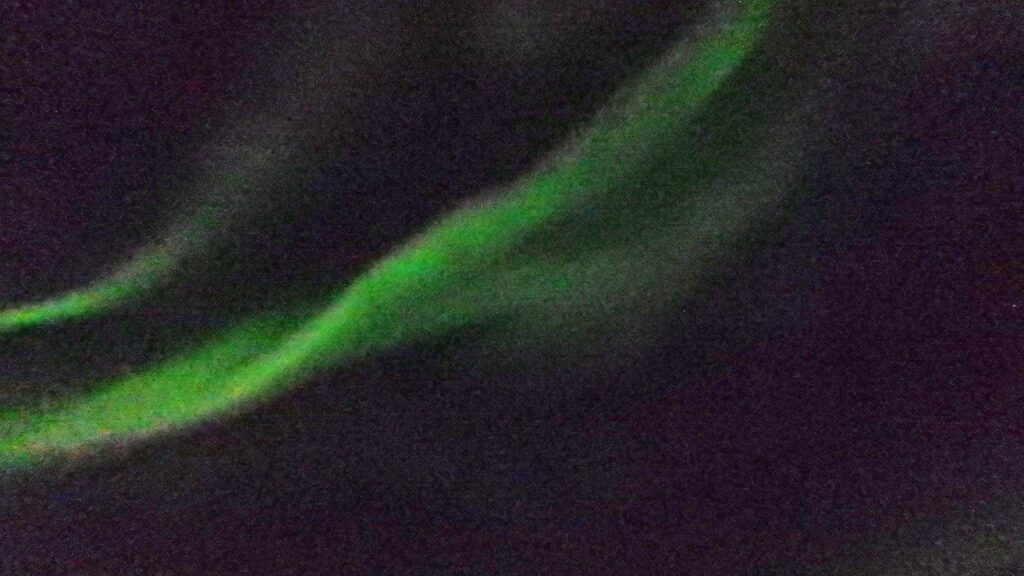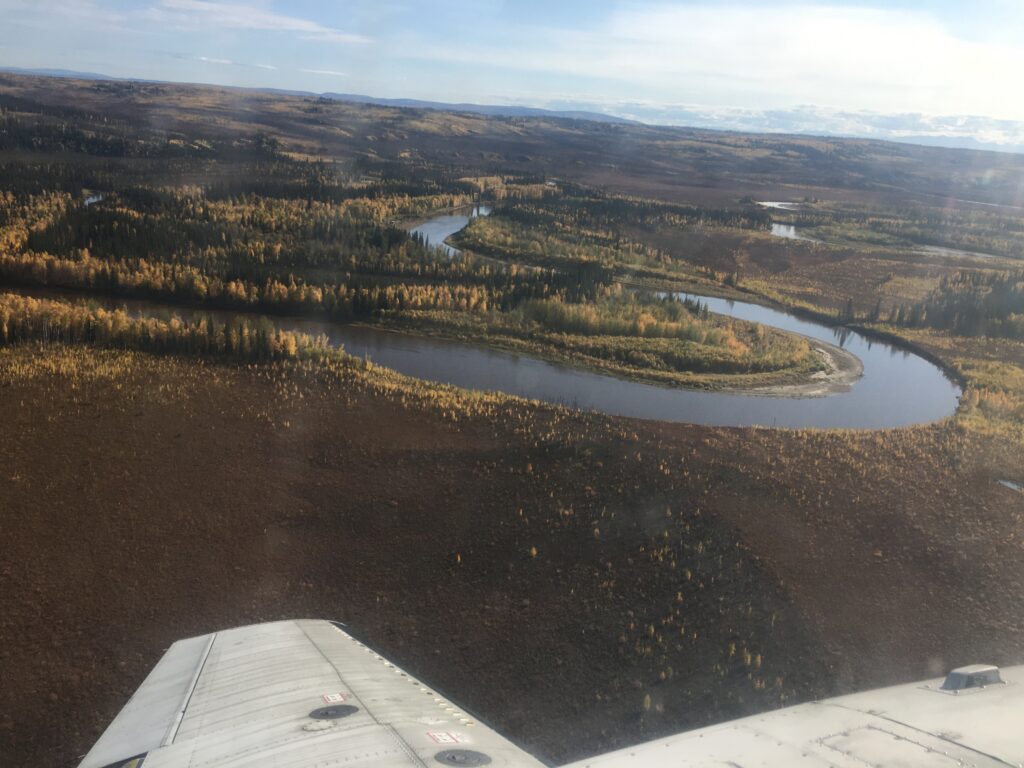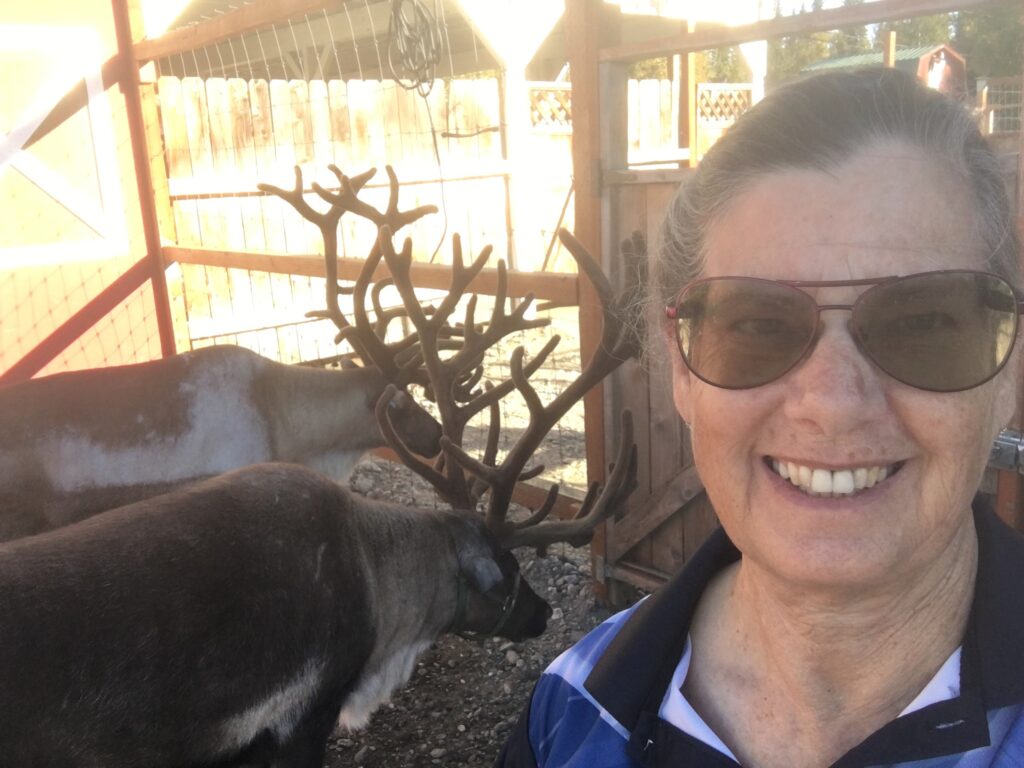 August 28: I had nothing planned for this weekend other than a quick trip to the Farmers Market. To my delight there was a marimba band playing.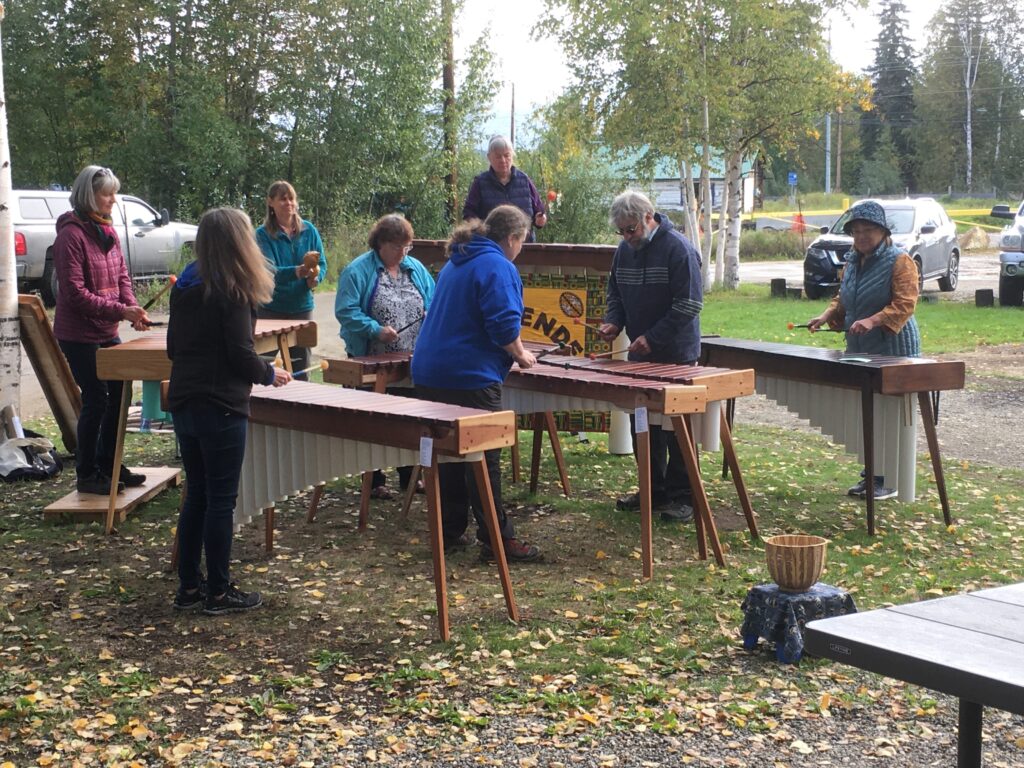 August 21: I walked around downtown Fairbanks in search of art, be it sculptures, quilts, statues, murals.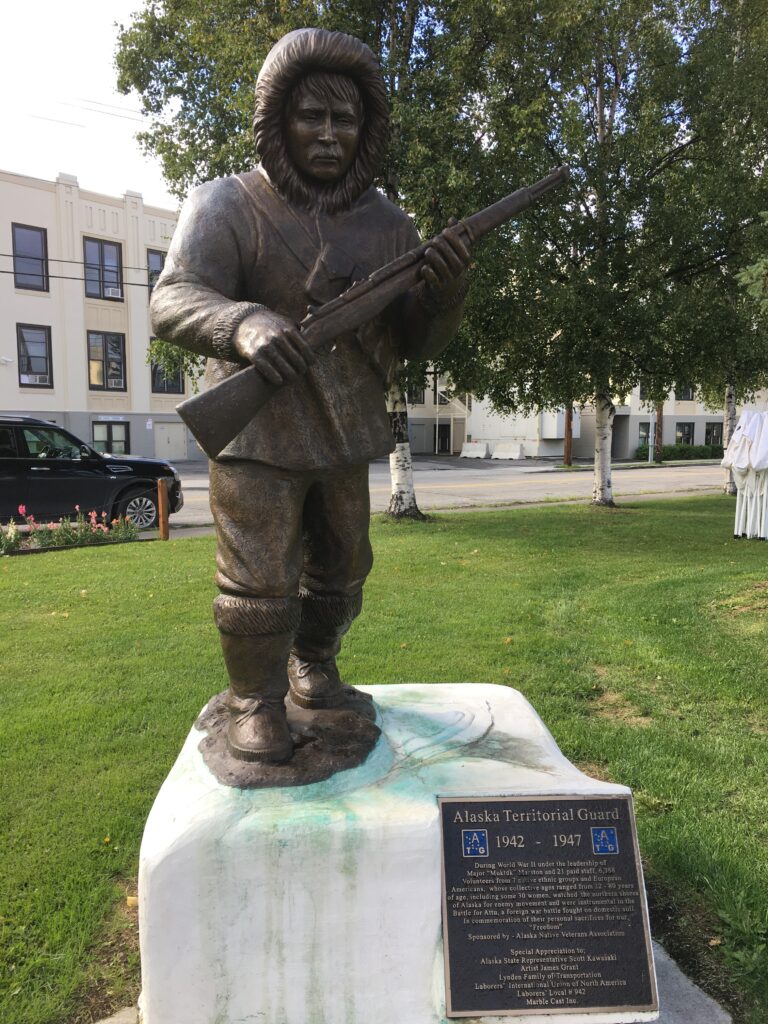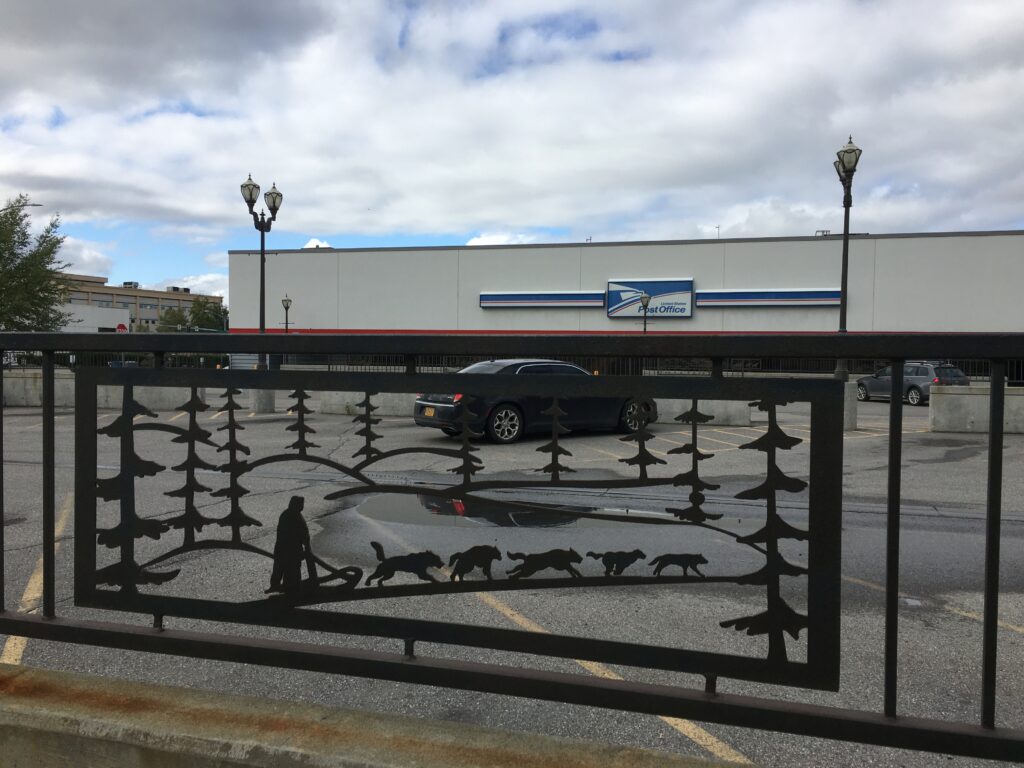 August 14: I visited a local tourist attraction in Fairbanks. I boarded the Discovery III Riverboat and got a history lesson as we cruised down the Chena River to a recreated native village.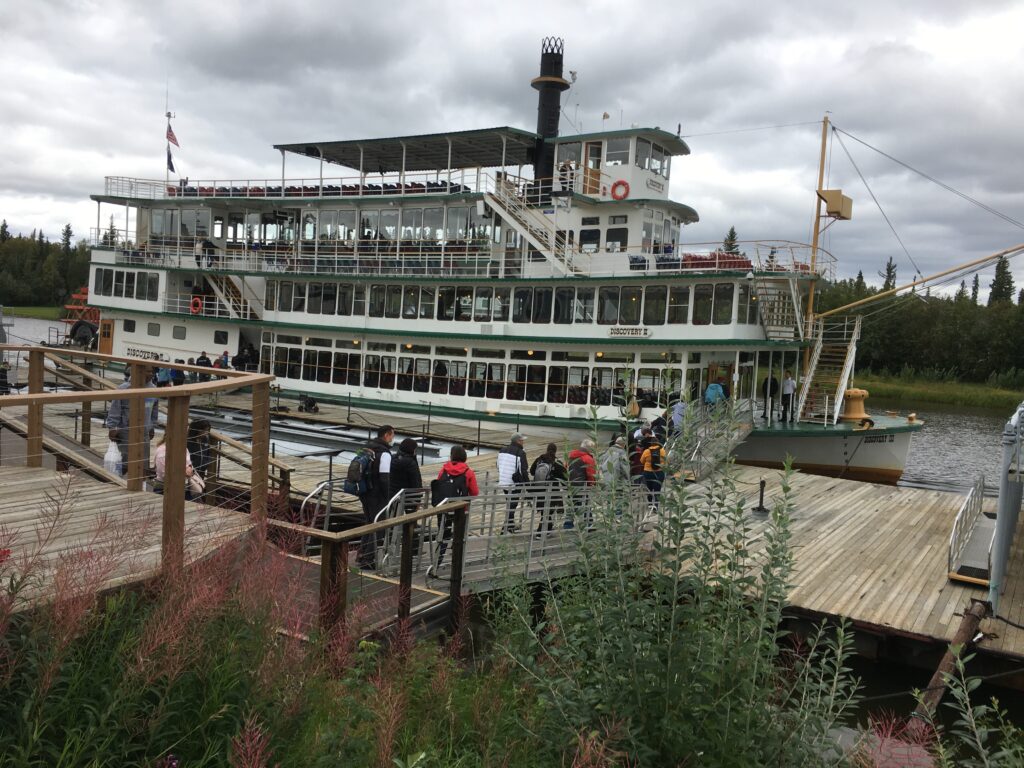 First attraction after starting our 3-hour cruise was a float plane takeoff and landing demonstration.
Before the boat docked, we paused in front of the native village and got a lesson on catching, prepping and smoking salmon.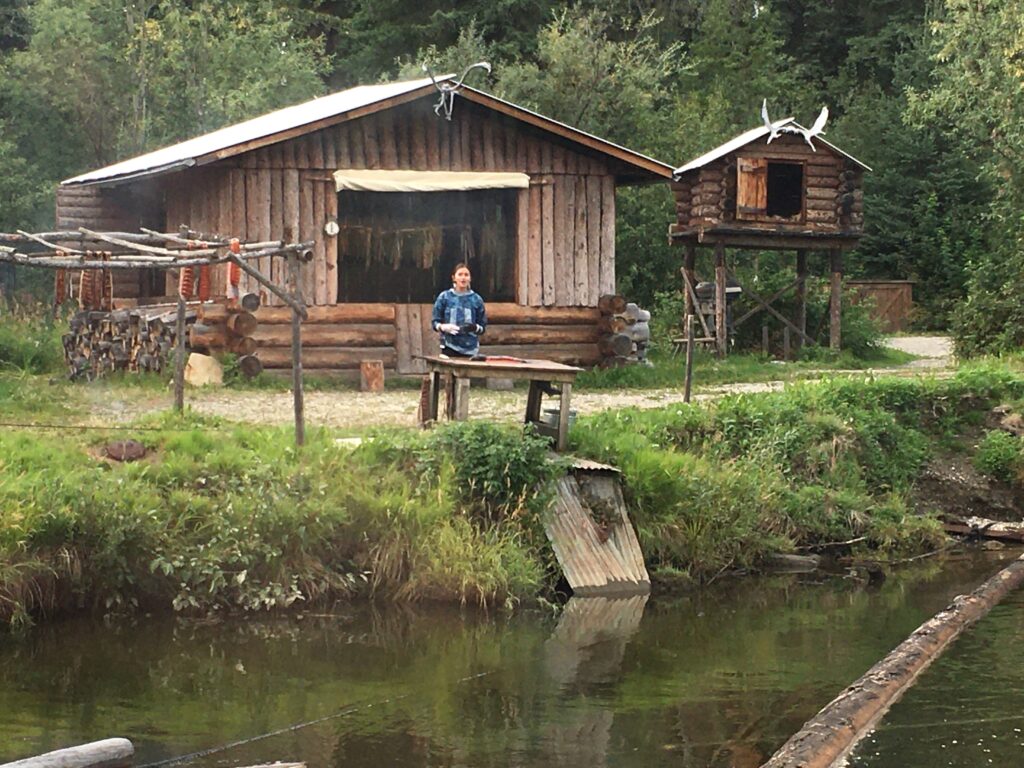 August 6-7: I took a road trip southeast of Fairbanks. I took my time and stopped at some of the tourist attractions. Just outside of Fairbanks is the town North Pole, where Christmas is celebrated year-round. His reindeer are nearby while he meets with his fans.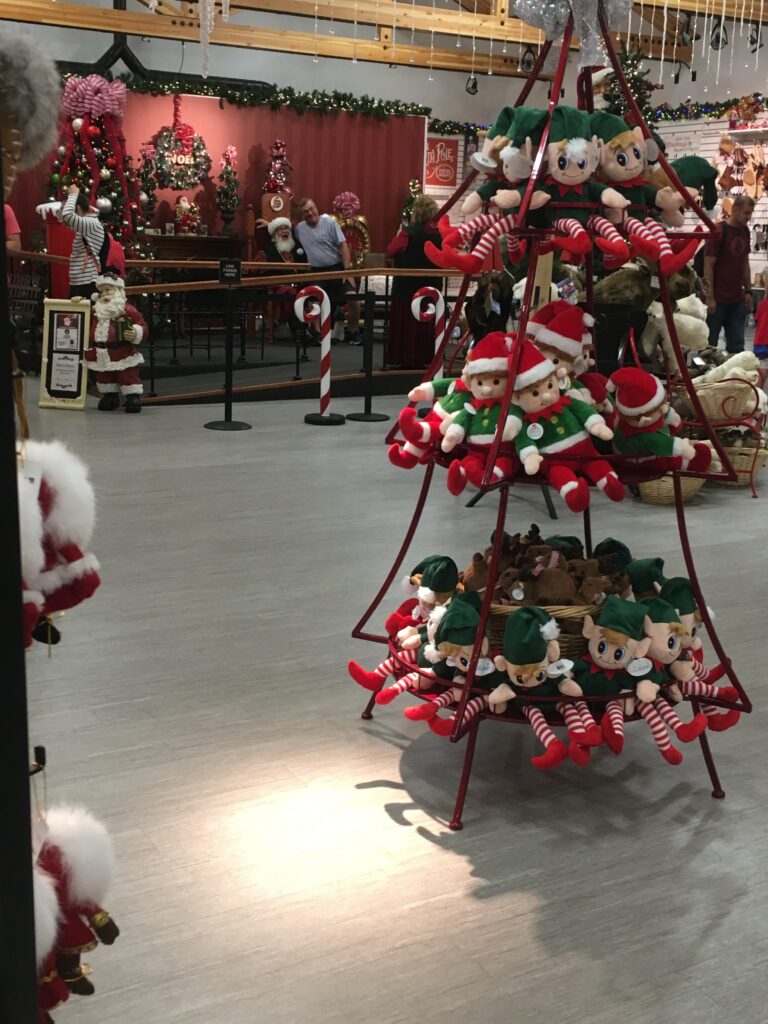 I also stopped at Delta Junction, which is the official end of the Alcan Highway.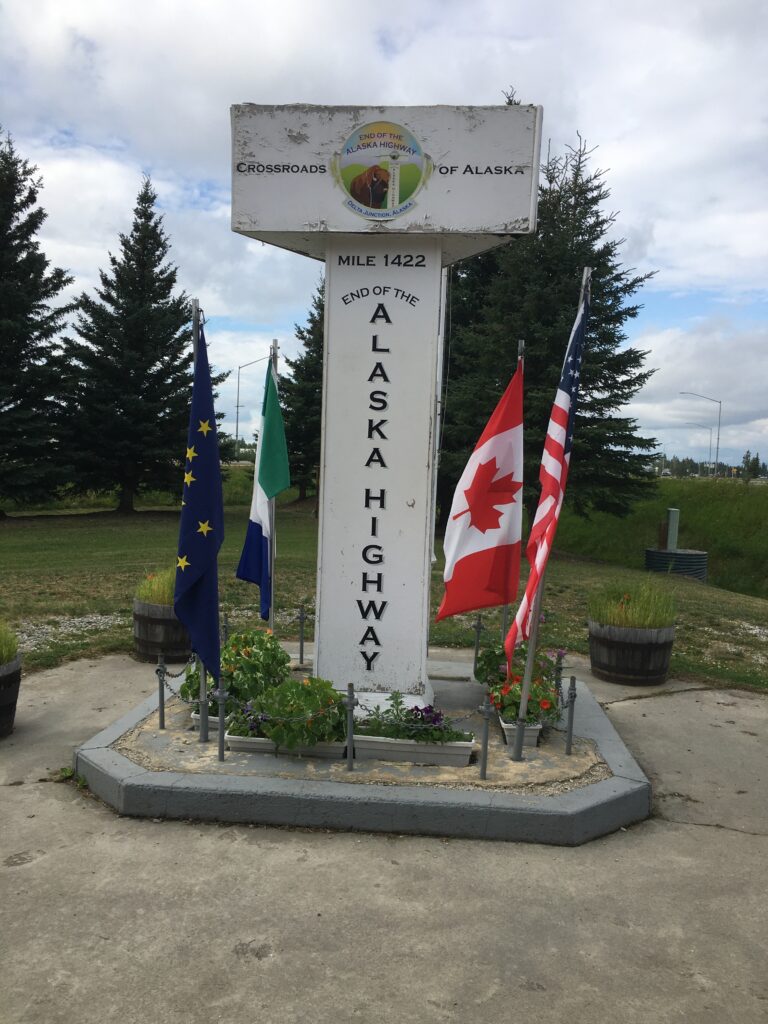 I stayed the night in a sweet B&B in Tok, then turned around and drove back to Delta Junction. While there I ate lunch and headed south on the Richardson Highway to Paxson. I could have driven on a gravel road to Denali National Park, but instead I turned around and headed back to Delta Junction. The scenery was amazing. I did stop at one place to view a series and beaver dams and a beaver lodge in the middle of their pond, but my highlight was that I saw a total of 5 moose!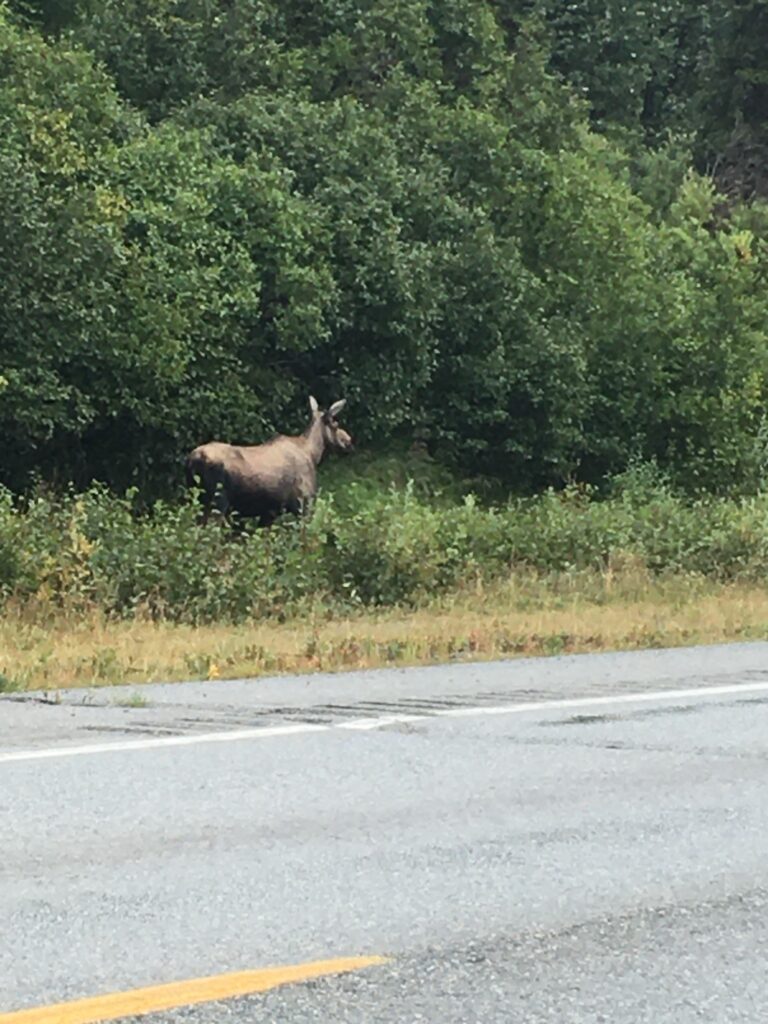 July 31: Eilson Air Force Base hosted the Arctic Lightning Air Show on Saturday & Sunday. Each military branch was represented here in addition to the Civil Air Patrol and local businesses and non-profit groups. The highlight was The Blue Angels.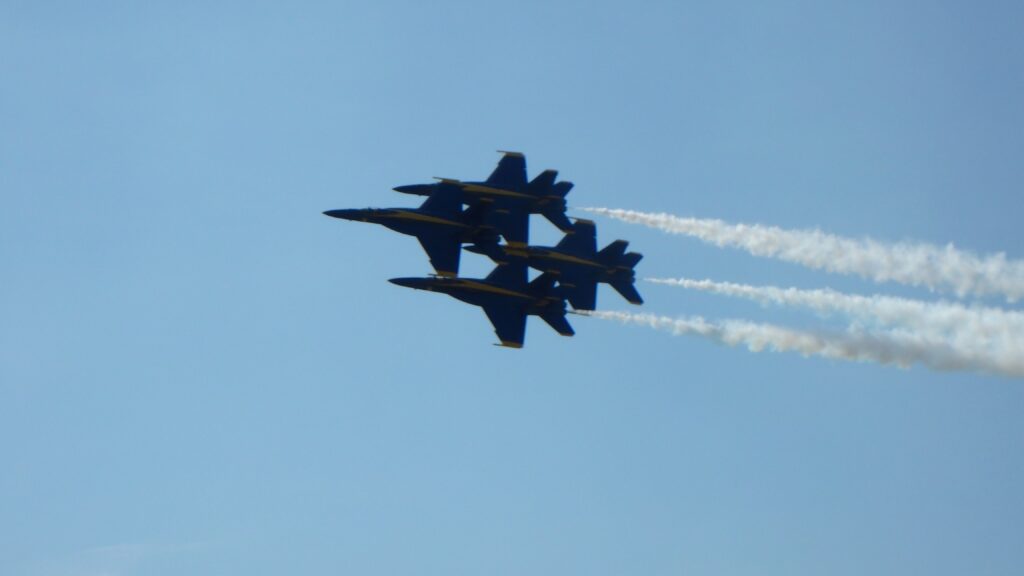 July 24: This weekend was the World Eskimo-Indian Olympics. I watched just a few of the events — Ear Pulling, Two-Feet High Kick, One-Foot High Kick, Ear Weight, Blanket Toss, and Knuckle Hop. Yes, these are not anything you will see in the regular Olympics. But, they once were training that prepared the natives for survival in the harsh weather conditions of Alaska. Additionally, native groups sang and danced.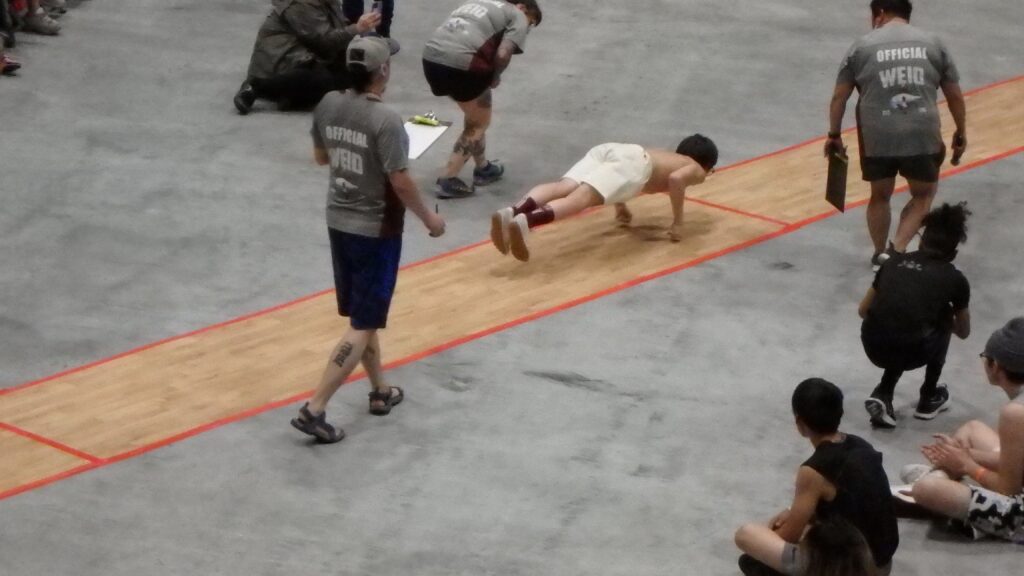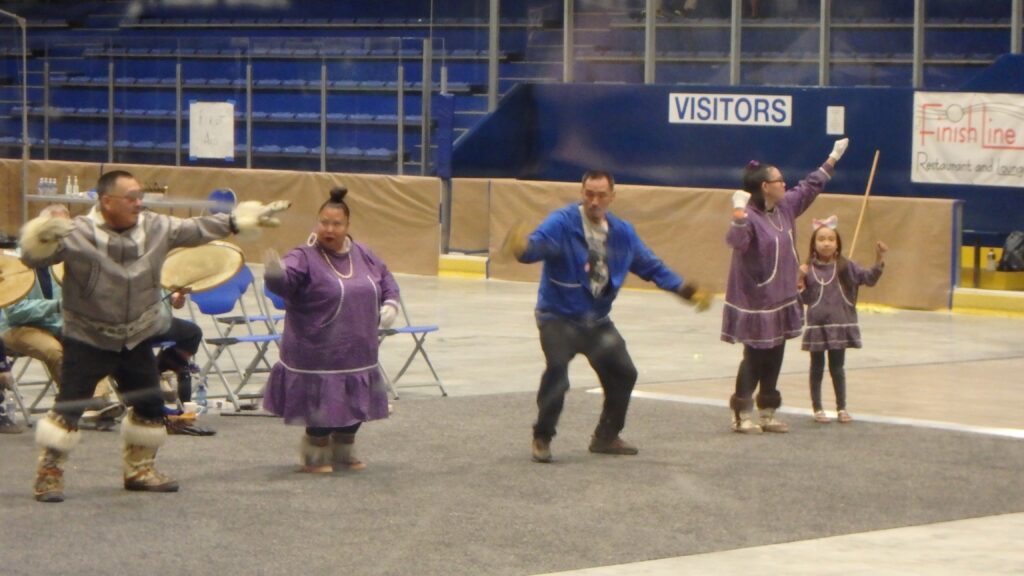 July 18: I flew back to Fairbanks to return to work. At the end of the day I caught a ride on an airplane that was delivering freight to Anvik, Alaska. The route we followed took us past a the highest peak in North America: Mound Denali.
July 17: Another train ride, but just for 2 hours to Whittier and Prince William Sound. And new friends for life from back east. She and I actually shared a history in Northern Nevada — working at Harrah's Hotel/Casino in the 1970's.
Once in Whittier I went on a 5-1/2-hour cruise, checking out 26 glaciers.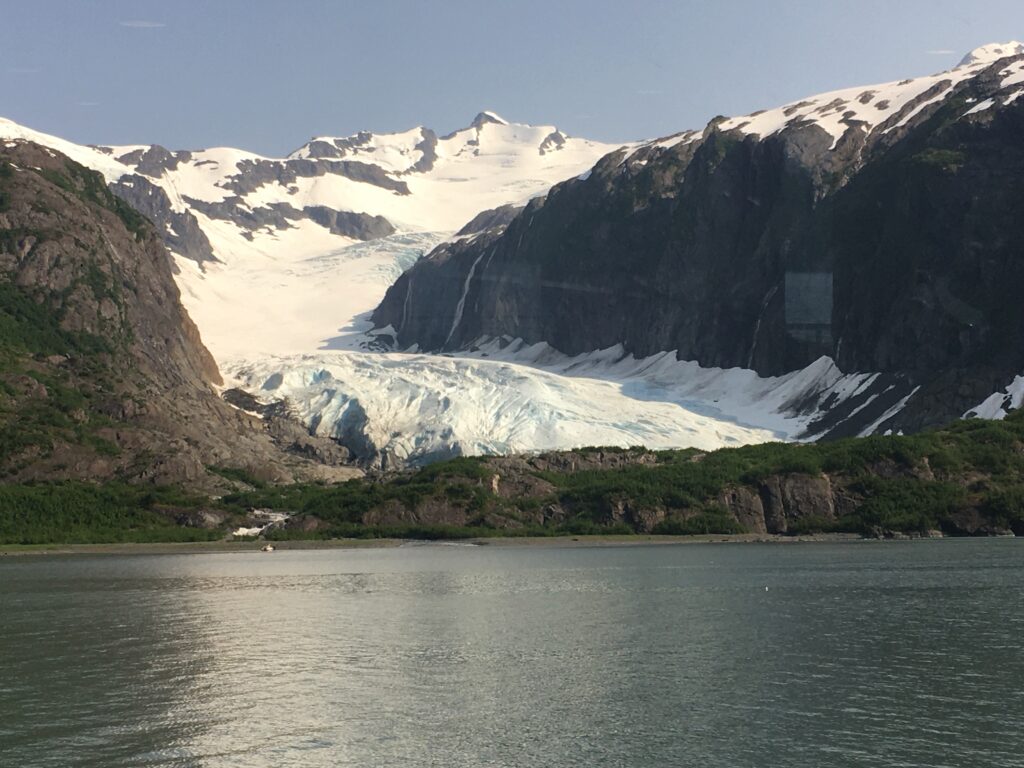 July 16: All Aboard! I took a 12+ hour train ride from Fairbanks to Anchorage on the Wilderness Explorer. This is a luxury rail card at the end of the Alaska Railroad's Denali Star. I met two lovely couples in the dining room section of the car. Of course, the scenery was great.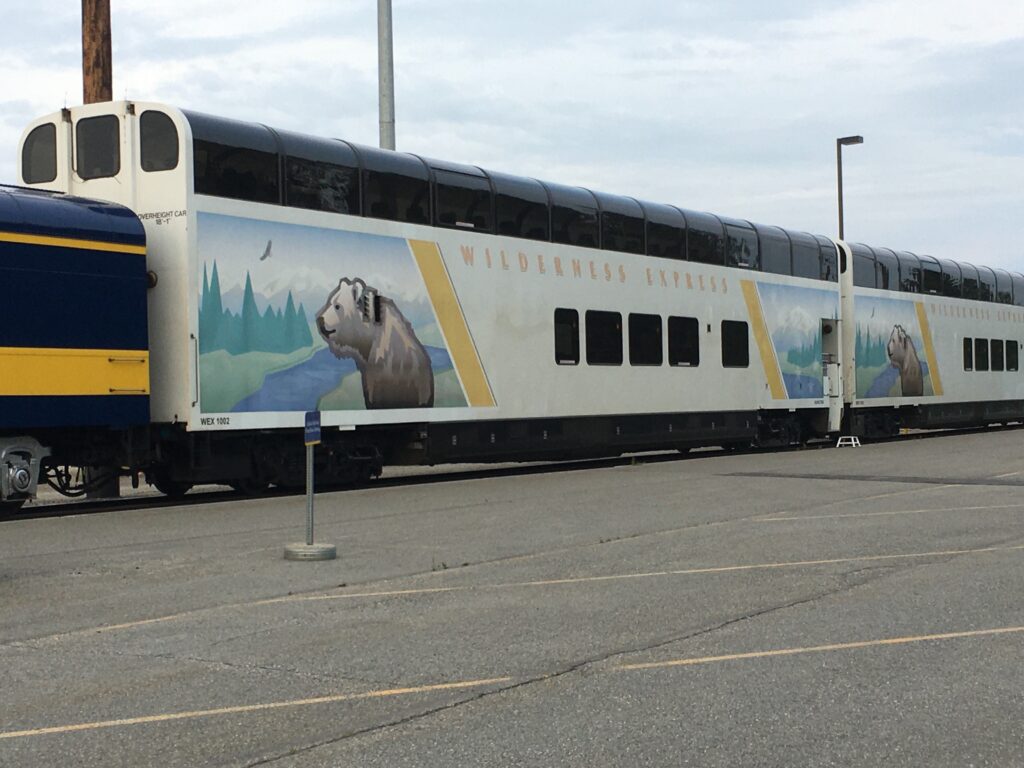 I spent the next 2 night at this place. I cannot even begin to pronounce the name.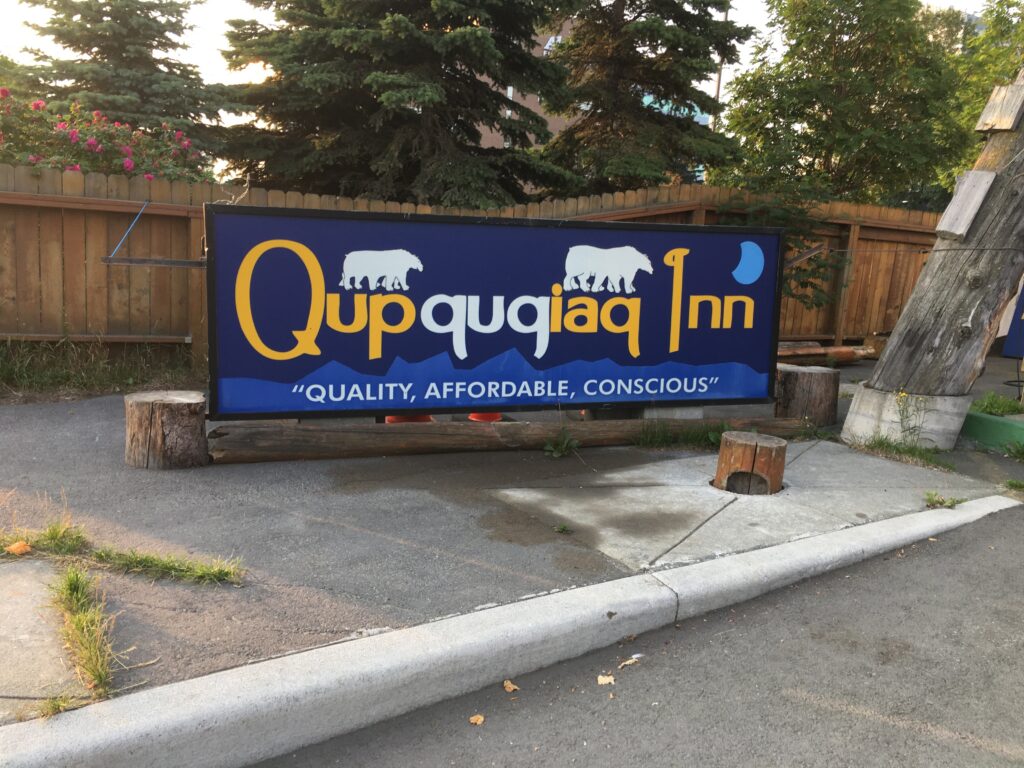 July 10: I went for a walk, first to Pioneer Park to visit the Pioneer Air Museum and learned a little bit about the early days of flying in this state. One of the more interesting pilots featured in this museum was that of Captain Marvel Crosson. They had it right when they made Captain Marvel a female in the Marvel Movies. In the 1920's this Captain Marvel was the first female pilot of Alaska. She went on to compete in air races and unfortunately, met her demise in one.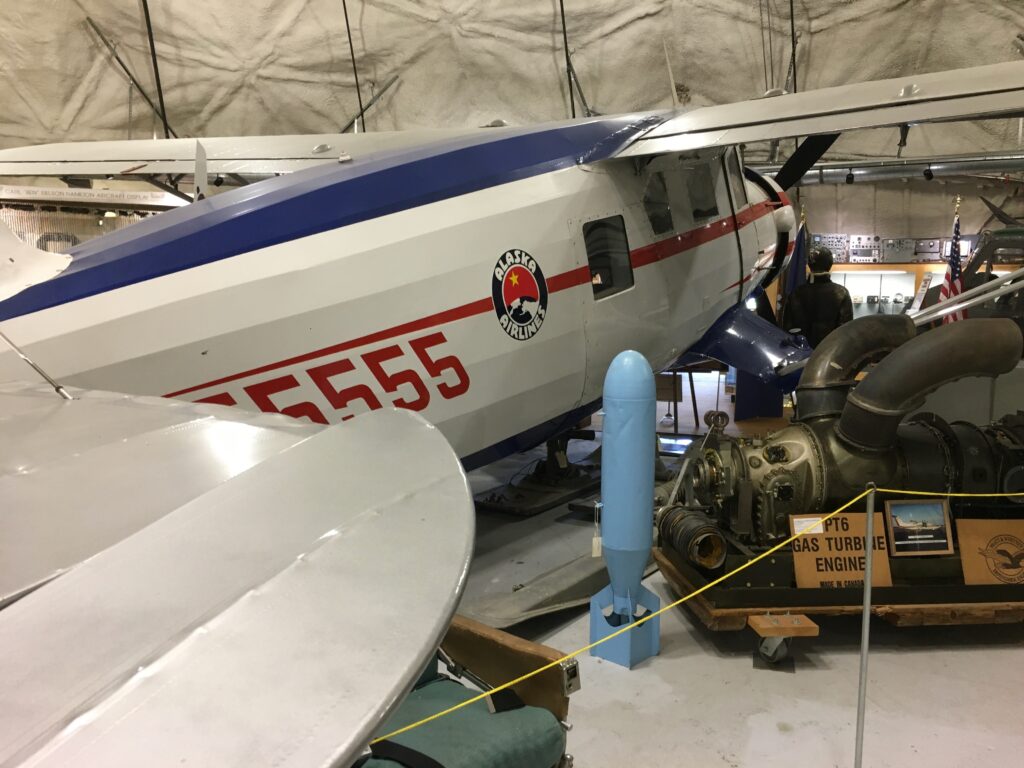 After leaving the museum, I walked to downtown Fairbanks. Along the way I saw some log cabins, log church, and log library dating back to the early 1900's. Then I hopped on a bus, donned my face mask and enjoyed my ride back home.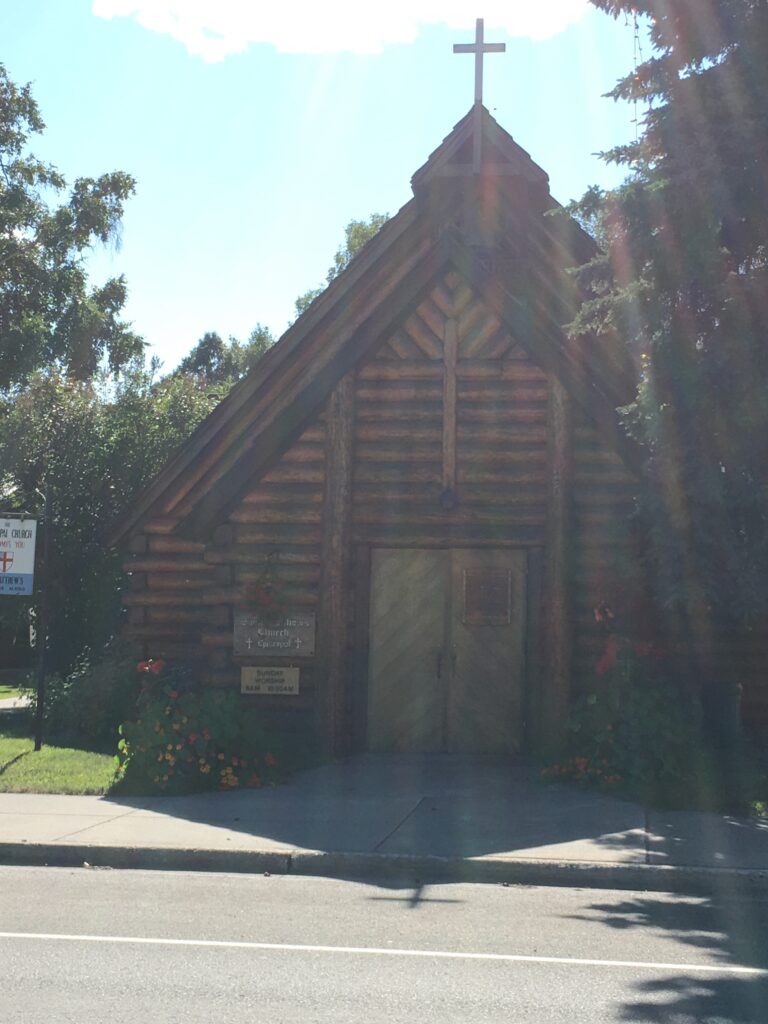 July 4: Happy 4th of July to one and all. I think the fireworks celebration was last night. I heard some booms off in the distance but I was too tired to walk to the window and look. I've been working some long hours and so sleep is precious to me. Besides, with the 24 hours of daylight that we have here, the fireworks are mostly washed out. Already the days are getting shorter, so by the end of August, the light show of the Aurora will be visible once again.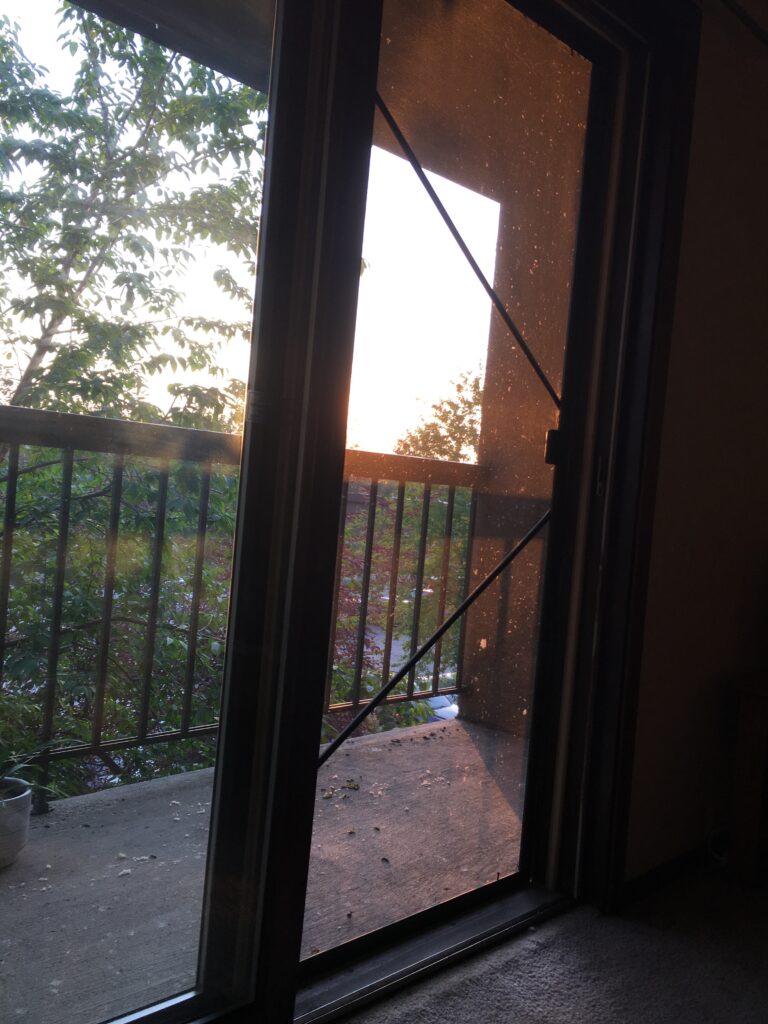 June 28, 2021: I was gently reminded that haven't contributed to this column in over a month. So, here is a recap of the past 4 weeks, or so.
June 28: Today I paid for a tour of the Large Animal Research Stations, LARS for short. This is part of the University of Alaska, Fairbanks and has been open for about 40 years. The research station keeps Muskox and Reindeer year round. On occasion, they also have Caribou, but not now. It depends on how many animals they can support.
Fun Fact: Reindeer are indigenous to Northern Europe and so may only be kept in captivity in Alaska. Caribou are indigenous to Northern-most part of North America and therefore are allowed to roam free. Reindeer and Caribou are close cousins.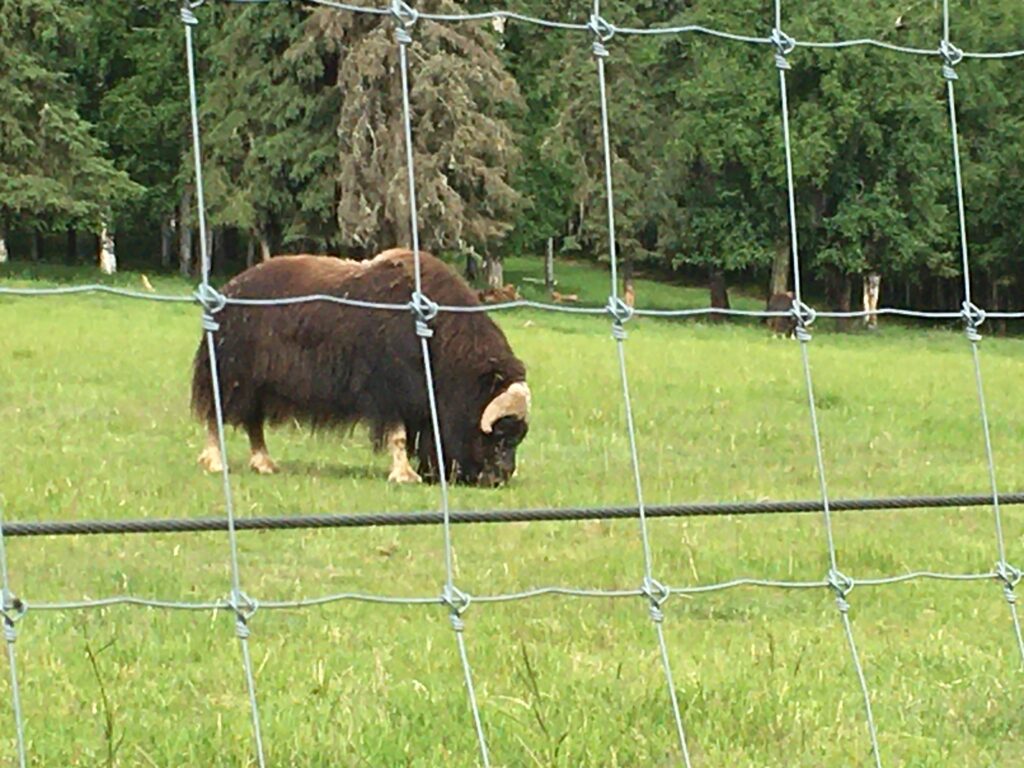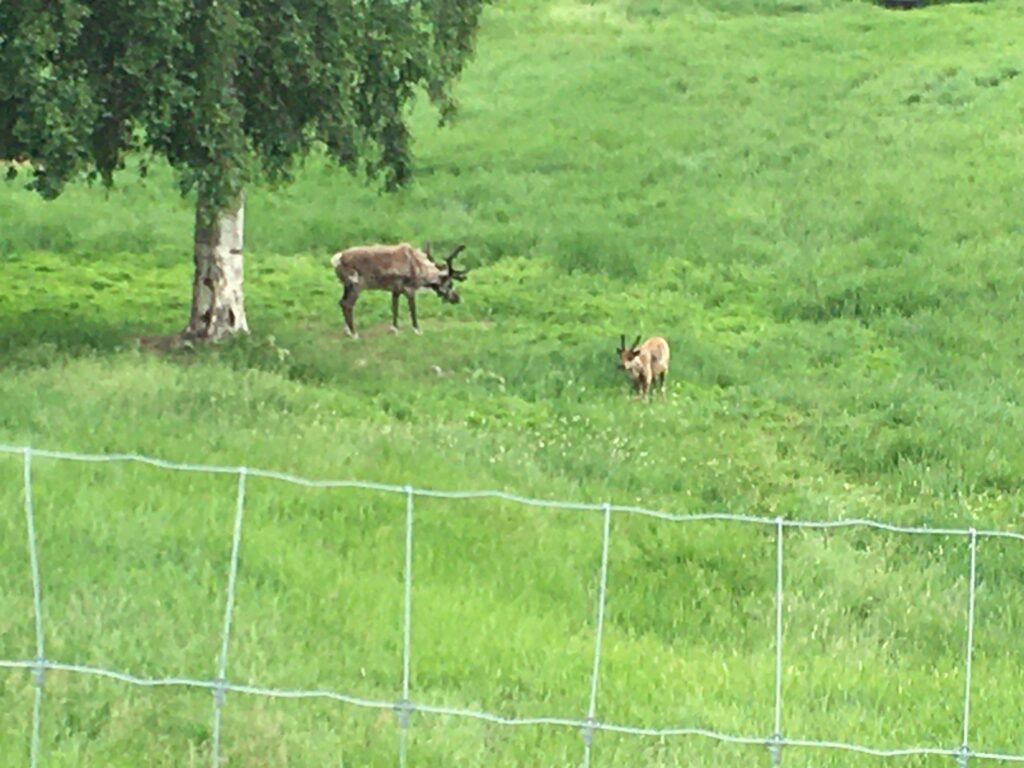 June 27: I walked through a wildlife refuge on the edge of Fairbanks. This is part of the bird migration route.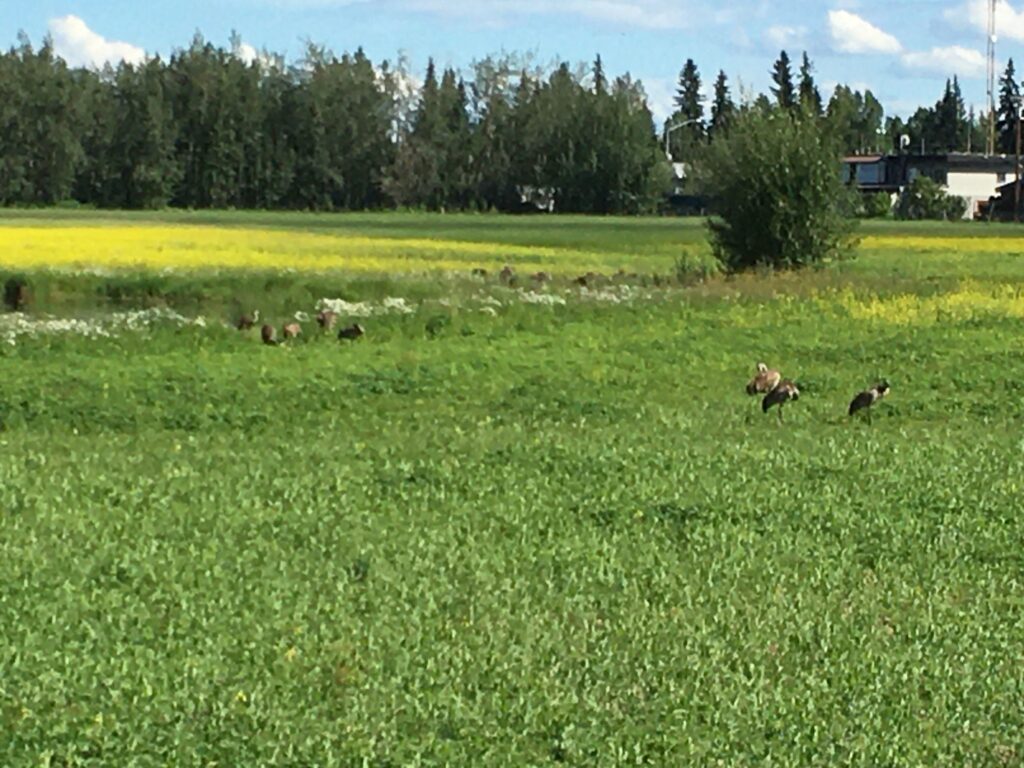 June 20: I walked to a nearby park with museums and interpretive trails. Then along the bike path that follows the Chena River.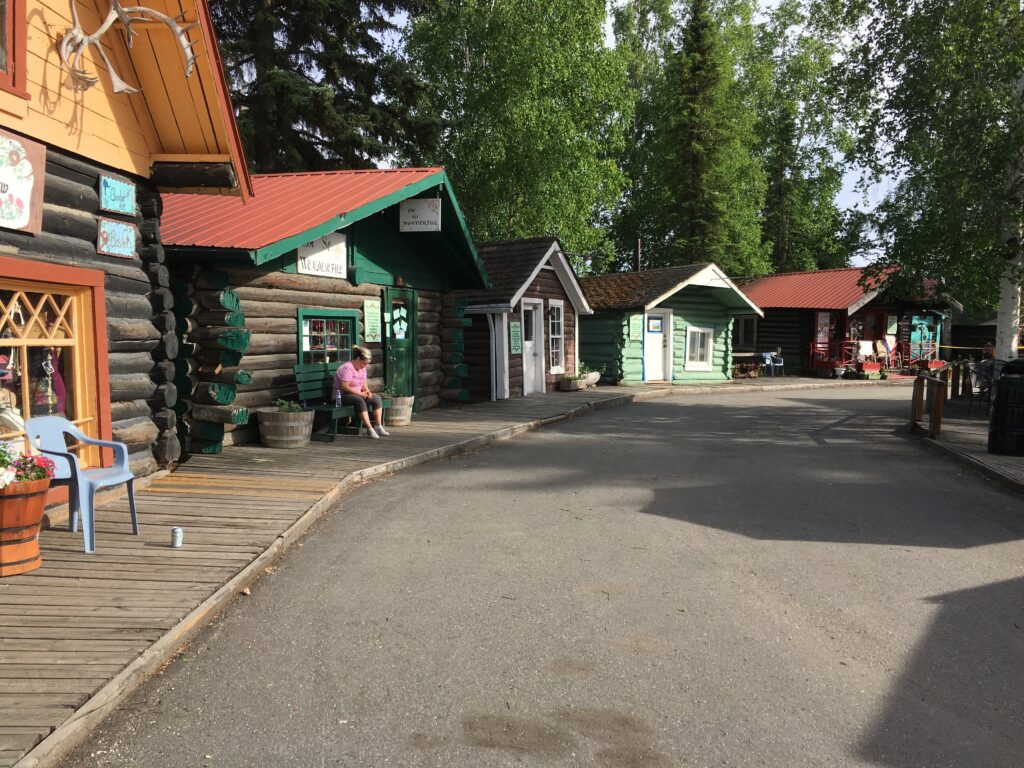 June 7: I stayed local and visited the Large Animal Research Farm at University of Alaska, Fairbanks. That is where they raise & study Muskox and Reindeer.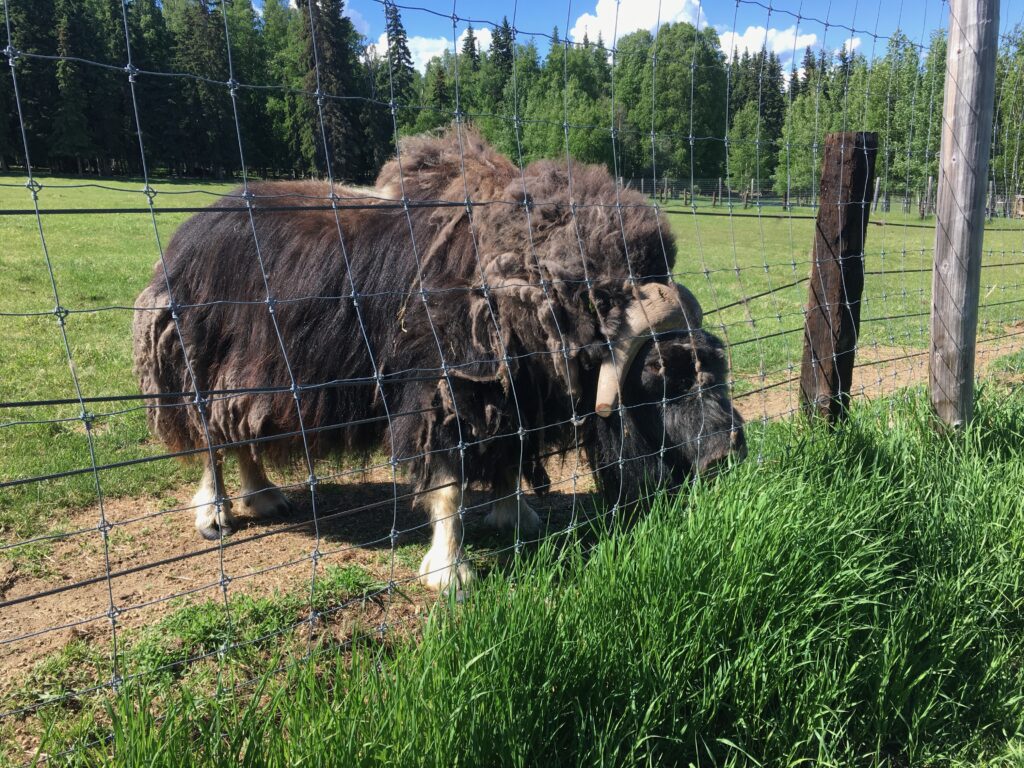 May 31: I drove south this day. I had read about an ice cave in a glacier and decided to check it out. I didn't make it to the ice cave, but I did see some spectacular view of the Alaska Range.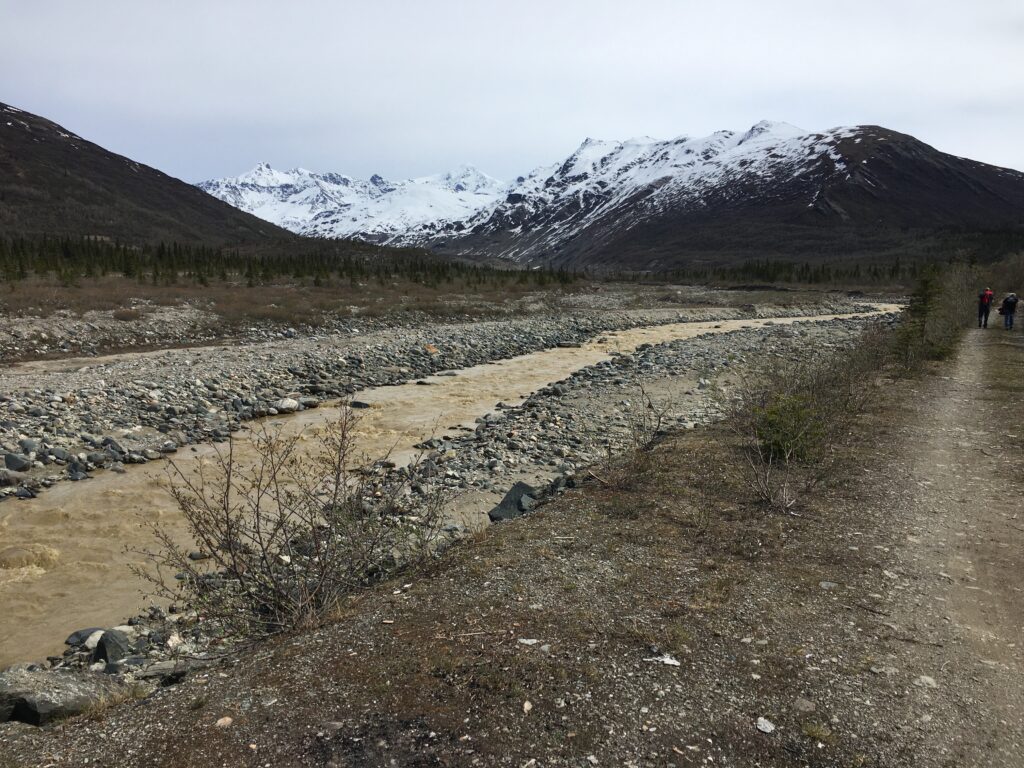 May 23 – 24, 2021: I joined a tour bus to the Arctic Circle.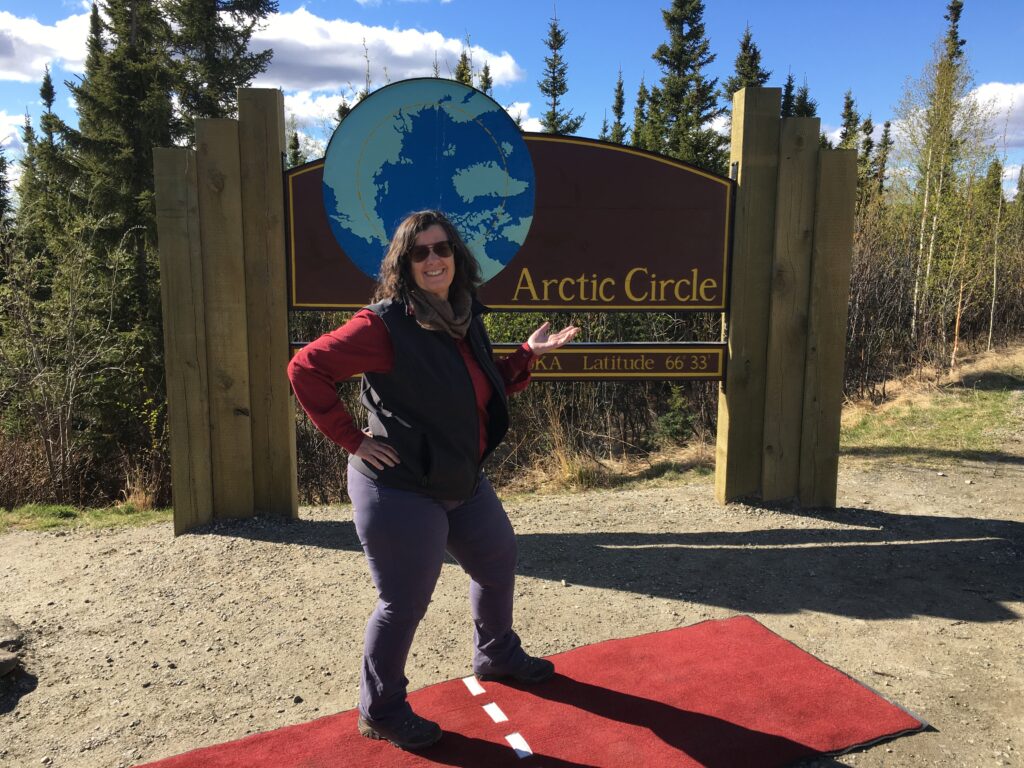 Then got a ride further north to Coldfoot Camp. The food was good. Accommodations were cozy and quaint. Scenery was beautiful.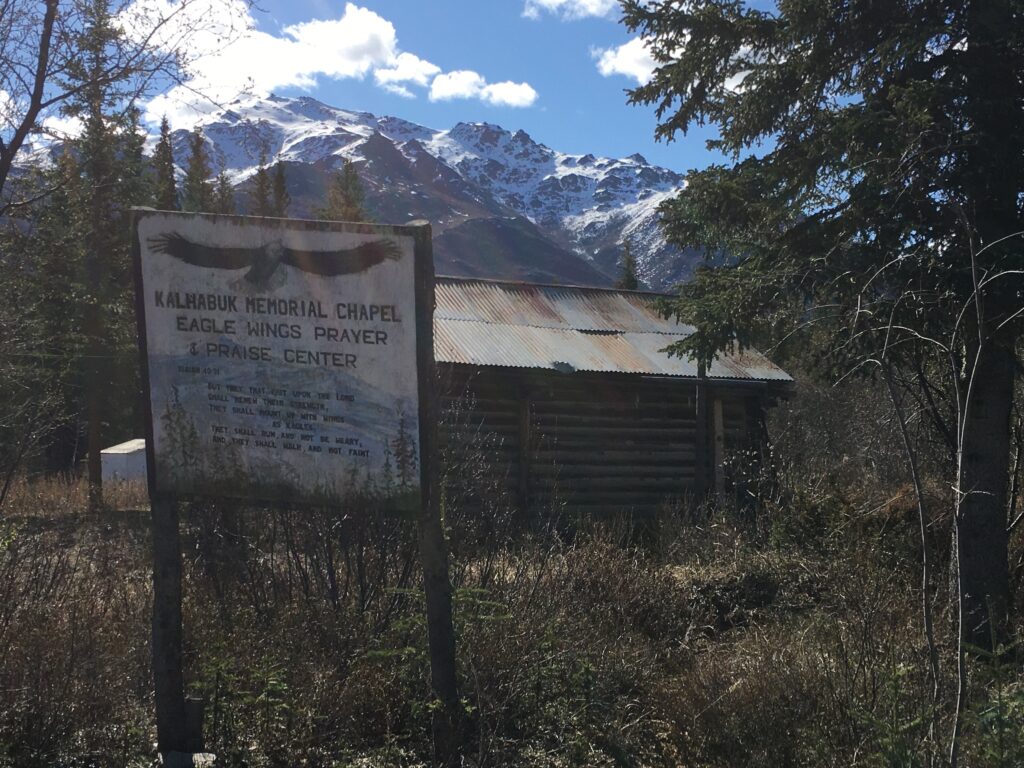 Finally, I caught a flight back to Fairbanks.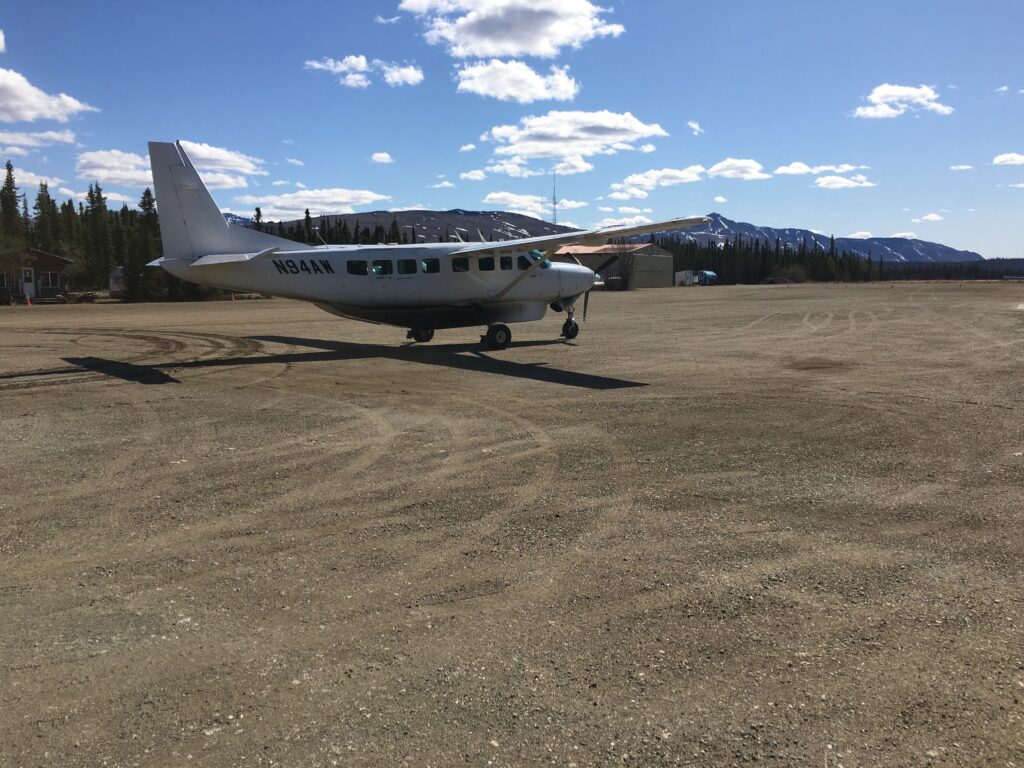 May 21, 2021: Sorry for not posting anything the past couple of weeks. I haven't much to report. Last week I worked 6 days in a row, so Sunday I rested and did laundry and little else. Monday, I did drive around town and out of town. I drove out the Running Reindeer Ranch only to find out that I needed to schedule an appointment. Before turning back I snapped this photo of the Free Little Library at the entrance.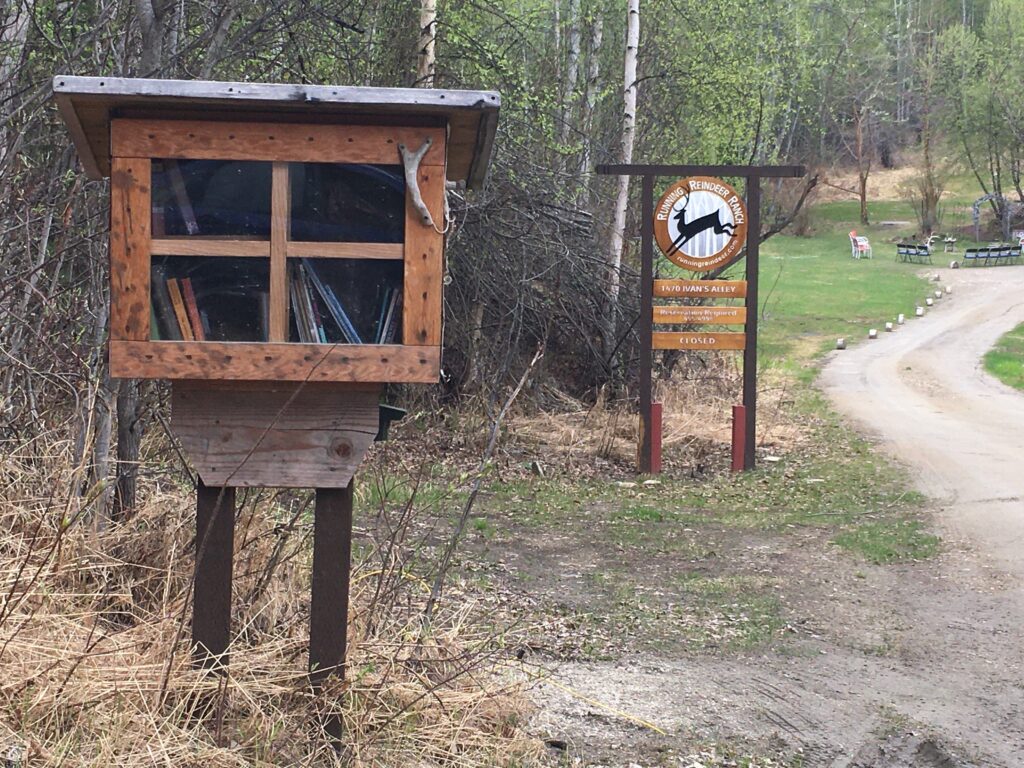 #####
May 9, 2021: Yesterday was wonderful. I got off to a late start, but with the long days only getting longer, I had plenty of time to drive to Denali National Park from Fairbanks. If I were to drive non-stop it is a two-hour drive. But I decided to stop and read road markers and just take in the views at various pullouts along Highway 3. I started around 11:30 am and returned by 9:30 pm with plenty of daylight left. Just about 20 miles out of Fairbanks I made my first roadside stop and got a glimpse of Denali. As it turned out, that was my only view of the elusive mountain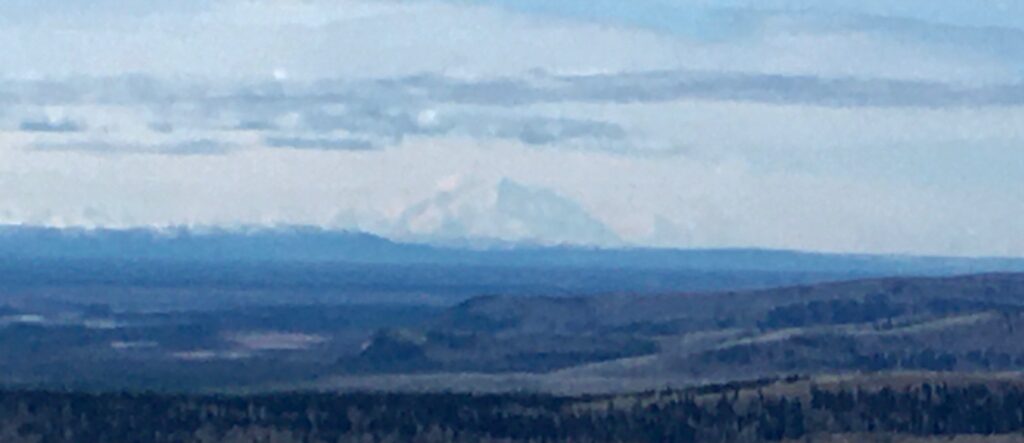 Along the way I enjoyed lunch at The Clear Sky Bar & Grill. I was the only customer when I arrived. By the time I left the place was filling up nicely. I drove deep into the park, onto a gravel road until I came to a closed gate. I was hoping to see Mount Denali, but it was another 10 miles away. That's not to say I didn't enjoy the views there, including watching 2 grizzly bears from a safe distance.
####
MAY 4, 2021: May the fourth be with you! I love this Star Wars reference. But this phrase (fourth, not force) gained notoriety in 1979 when the British Conservative party bought an ad praising Maggie Thatcher for winning the position of Prime Minister. They declared "May the fourth be with you" in big bold print.
And now back to me. I kept a low profile over the weekend. I filed my 2020 taxes and did laundry. Of course, I lost 1 sock in the process. Last week I had lost, then found a wayward sock in the laundry room. Then this time the may of that sock decided to go on its own adventure. Fingers crossed I find it again.
On the work front, I have a new skill – driving the forklift. I lift a pallet of freight, transfer it to a scale, then deposit elsewhere in the warehouse. Then back to the office and book the freight into the system. What fun!
####
APRIL 30, 2021: Hi! Thanks for checking in! I have been negligent on my posts, so I am going to recap the month of April now, and then hopefully I will add to this blog a couple of times a week.
After putting my belongings in storage and handing the keys to my car to my son, I boarded a plane to Fairbanks, via Seattle. Normally Fairbanks in April is nice, with mild climate. But not this year. It was -11 F when I landed. News reports stated that temps were 50 degrees below normal.
I am lucky enough to have arranged for a job that includes accommodation and transportation. I didn't drive around much the first 2 weeks, as the roads were covered in snow and ice. I always like to explore local museums, so I have been to the 3 primary ones: University of Alaska Museum of the North, Morris Thompson Cultural and Visitors Center, and Fountainhead Antique Auto Museum. Fun fact, one of the docents told me that the collection includes some of Bill Harrah's cars once on display in a warehouse in Sparks, Nevada. They weren't identified, so I don't know which ones they were.
In hopes of seeing the northern lights, I drove to Chena Hot Springs Resort, but drove back because they had no hotel rooms available. On my return, a couple of moose crossed the road in front of me. They were camouflaged by trees by the time I got out of my car and got my iPhone camera ready for taking pics.
I finally got to see a sweet display of the northern lights at the Chena Lakes Recreation Area at 1 A.M. I'm not much of a night owl, so crawling into bed a 4 A.M. ensured that I spent a lazy day on Sunday. You can read more about this event soon.
One more thing, without going into details about my job here, I now have a new skill to add to my resume: forklift driver.