(Latest update: August 23, 2019)
I created this web page for my friends and family who avoid social media to follow me on my adventures. I have found it difficult to budget my time properly to write articles while on the go. So instead I will update this page each time I have access to good WiFi.
Please check in here to see what I have added.
Cheers! Carolyn
Scotland!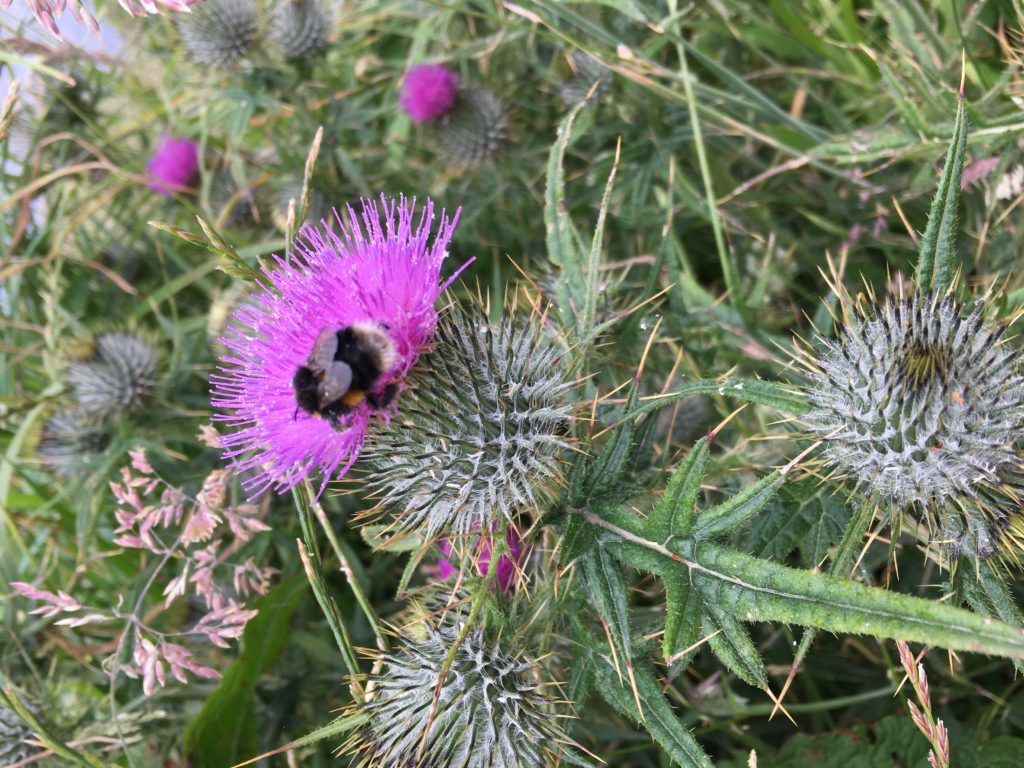 The Fishwives Path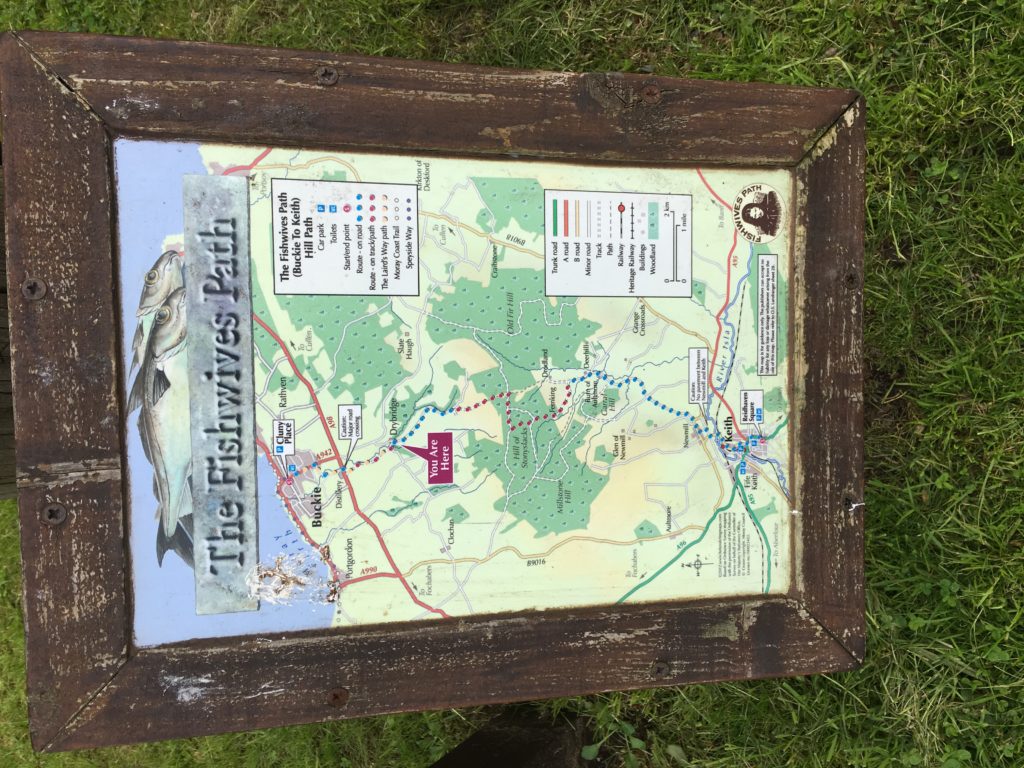 There was a time before WWI that the wives of the local fishermen carried about 40 pounds of fish for 15 miles from the small fishing village of Buckie to the market village of Keith. Following are highlights of that walk.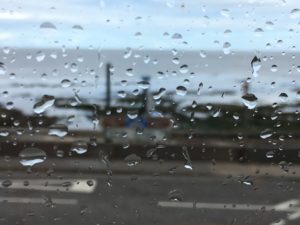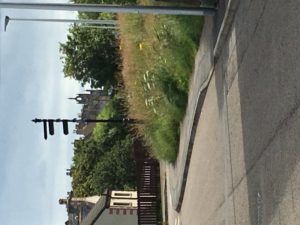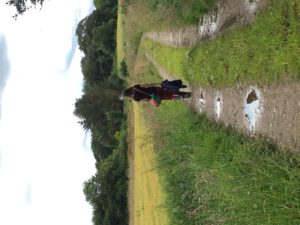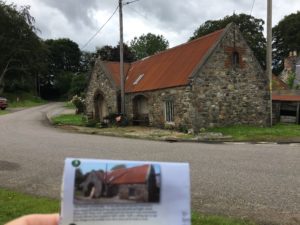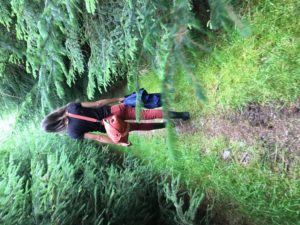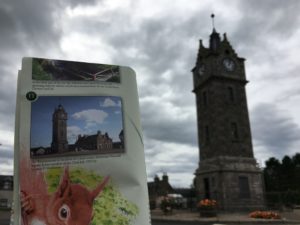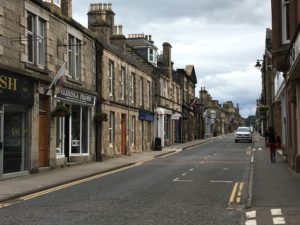 Fochabers Village Tour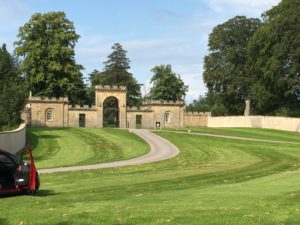 I visited the Fochabers Heritage Museum and met very delightful volunteers who shared their knowledge of the area so that I could explore on foot and via public bus. They even gave me a guide to the historical side of Fochabers.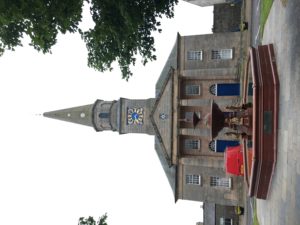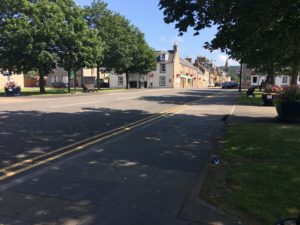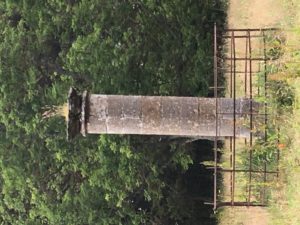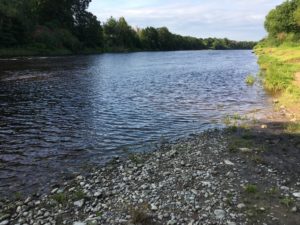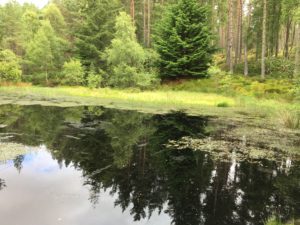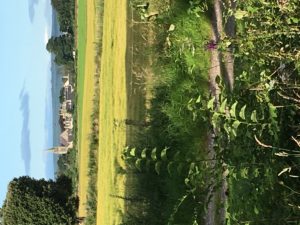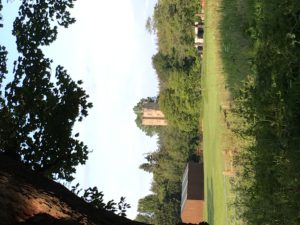 July 15 – 30: Gordon Castle Walled Garden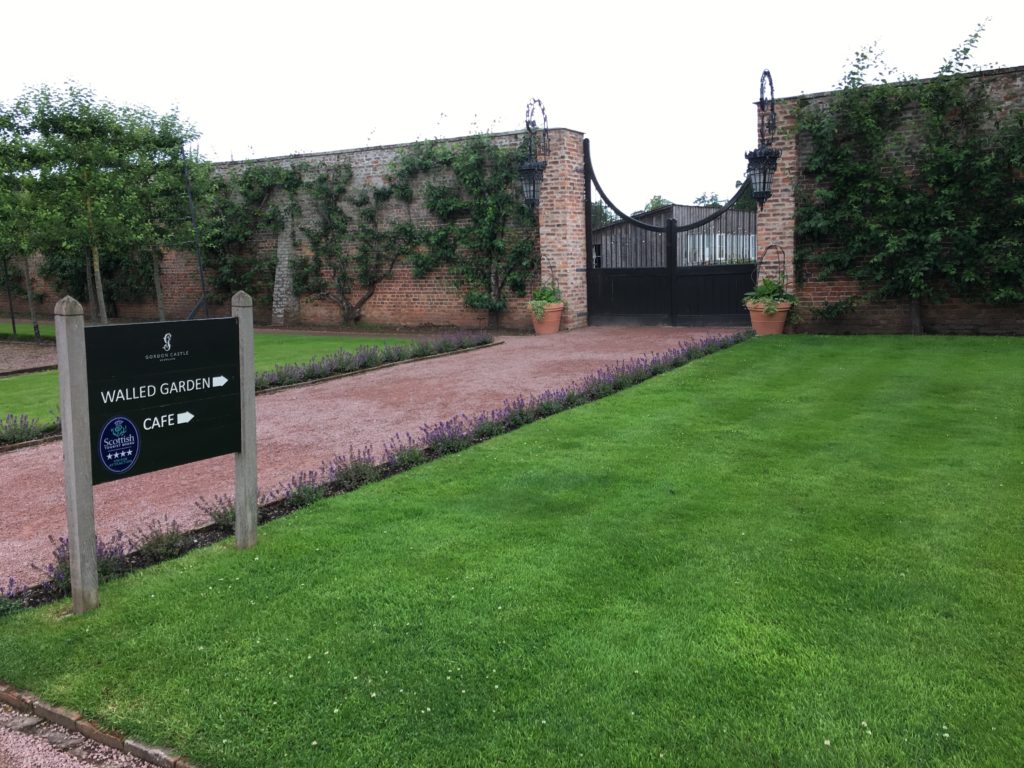 Now my working holiday begins at this little village of Fochabers. I signed up with Gordon Castle Walled Garden to stay for 2 weeks. As a guest here I agree to work 4 hours a daytime Monday through Friday and they provide a place to live, breakfast and lunch.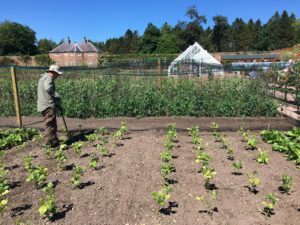 July 16: I officially started work. I met the gardeners on staff and the other 3 Wwoofers. (College students from France.) I was issued a pair of gloves and given my first assignment – weeding the onion beds. I was also asked to cut lettuce leaves for salad mix for the on-site cafe.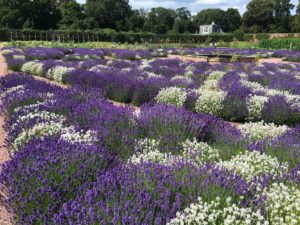 We got a break at 10 am, which included a cup of tea from the cafe. Then we finished our work day at 12:30 pm and were served a bowl of soup with bread for lunch. The remainder of the day is free to explore the area or whatever I choose to do.
July 17: I got a roommate, Laura, also from France, near Paris. She's between jobs as a book seller.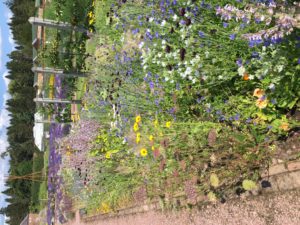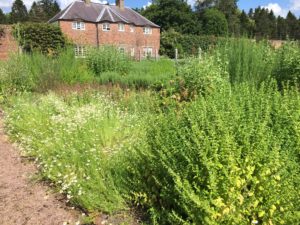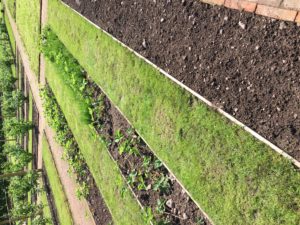 July 14 – A quiet day of rest.
July 13 – Stonehaven
I took a gander at the area map to see if there are any castle ruins I haven't visited yet near Aberdeen. Sure enough, Stonehaven fit the bill. This ancient village was home to Dunnottar Castle. This is where the Scottish Crown Jewels we're safely hidden for centuries until they found again and are on display at Edinburgh Castle.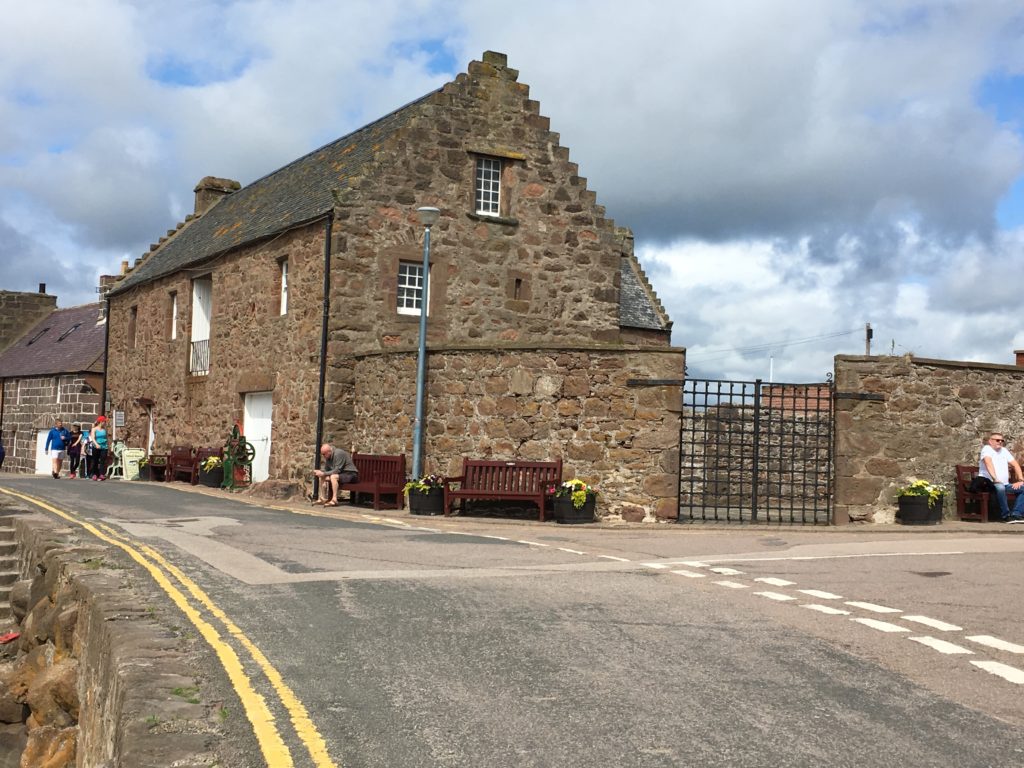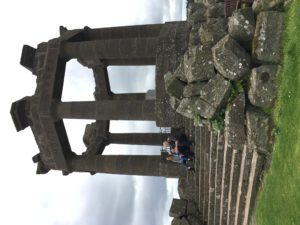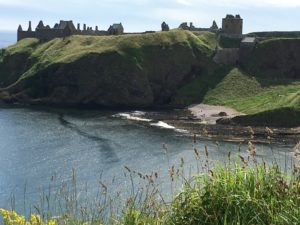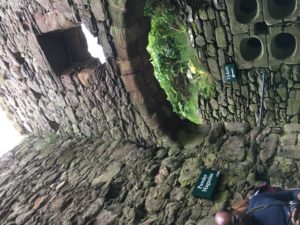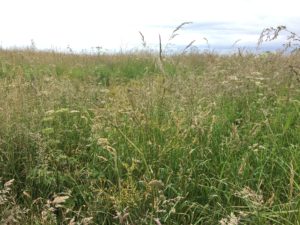 July 12 – Dracula's Castle and more!
Once again, I looked on the map to see what castle ruins are within a day trip of my hostel. As luck would have it, New Slains Castle was in the nearby village of Cruden Bay. This is purported to be the inspiration for Dracula's Castle when Bram Stoker wrote his novel Dracula.
When I boarded my bus I told the driver where I wanted to go. He recommended that I visit another site first, then walk over to the castle and finish up in Cruden Bay. Fortunately it was all well way marked and I had a very pleasant coastal walk.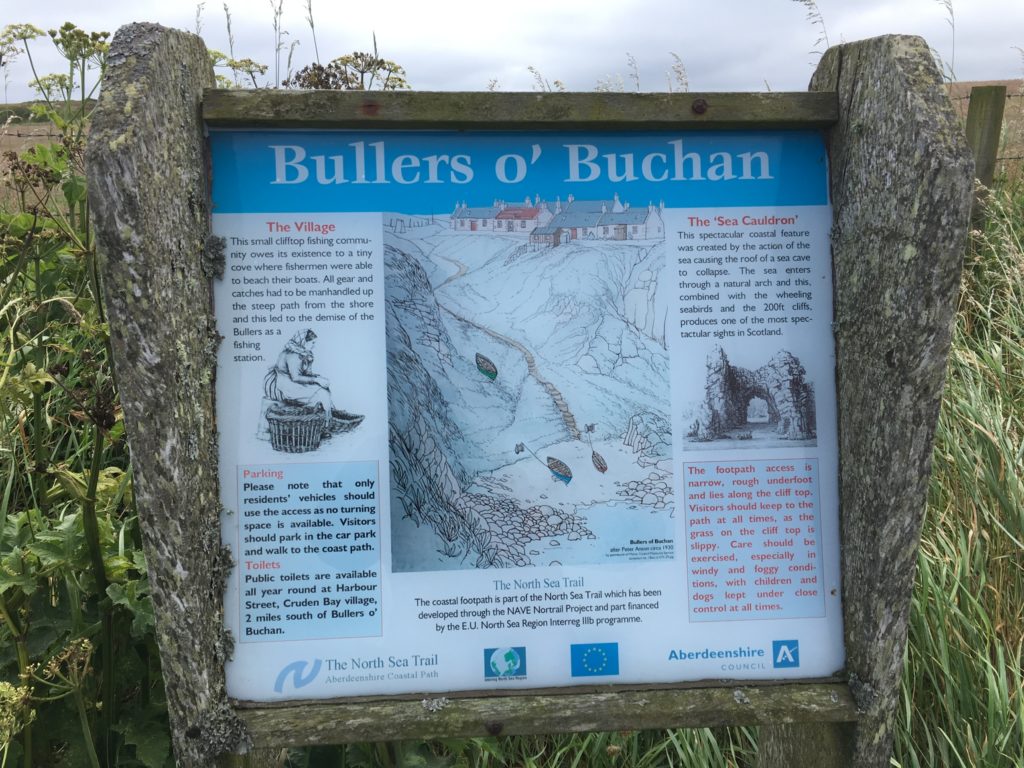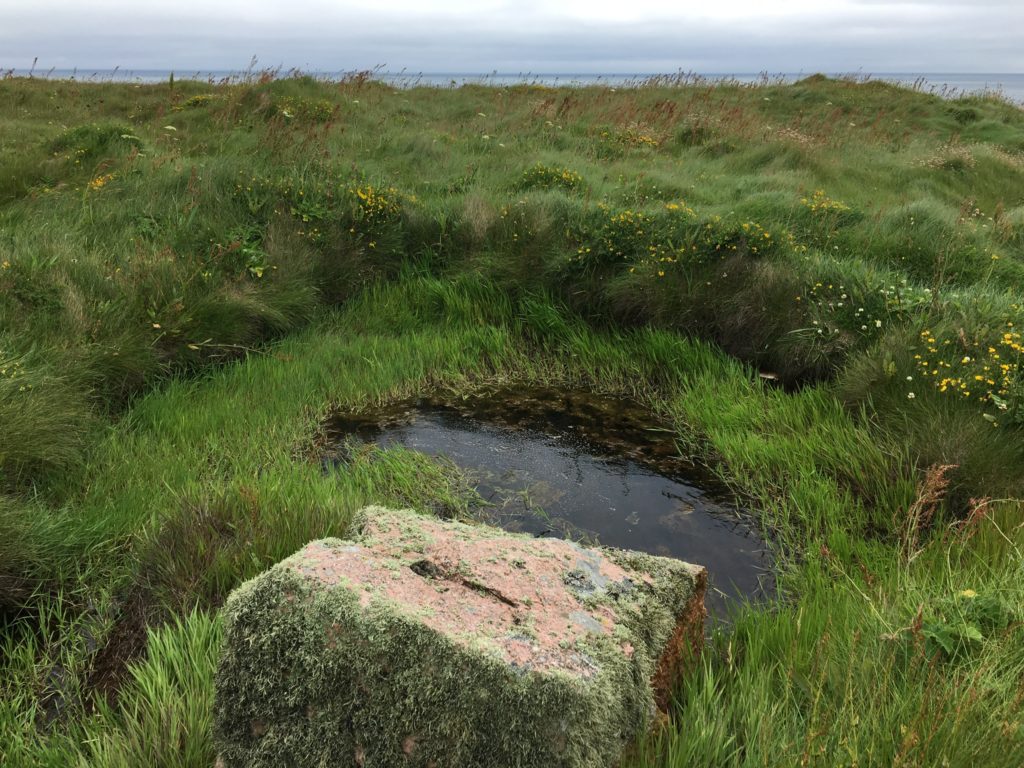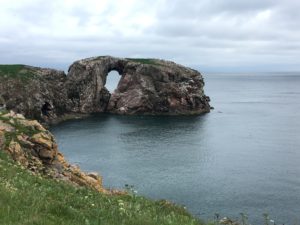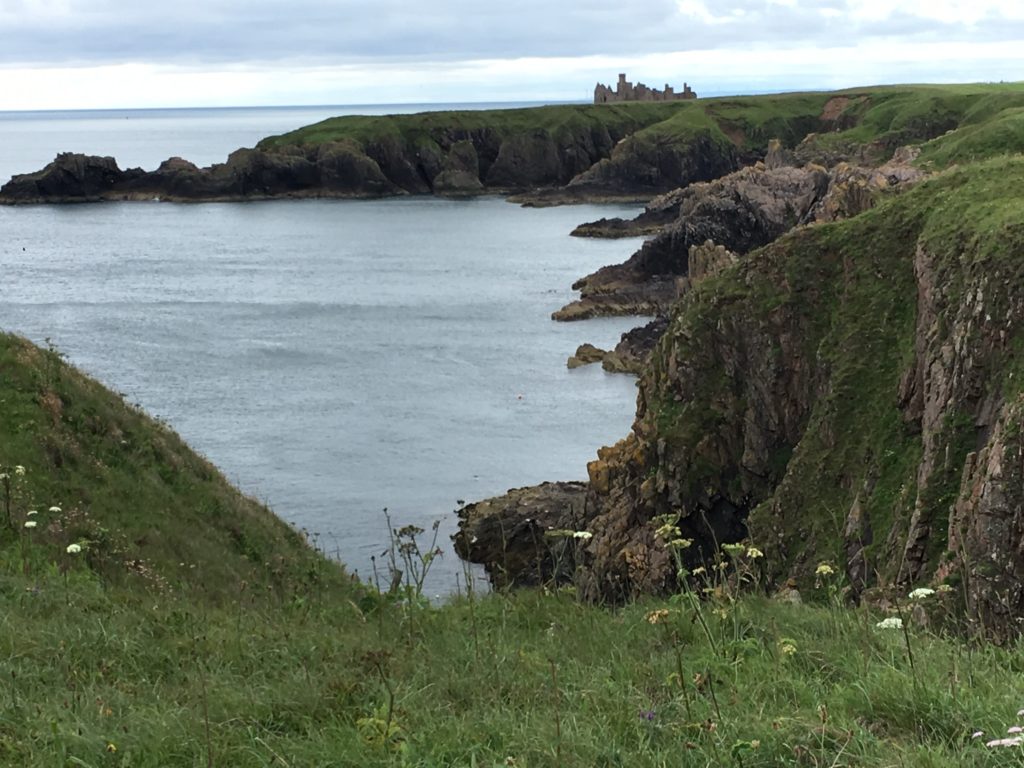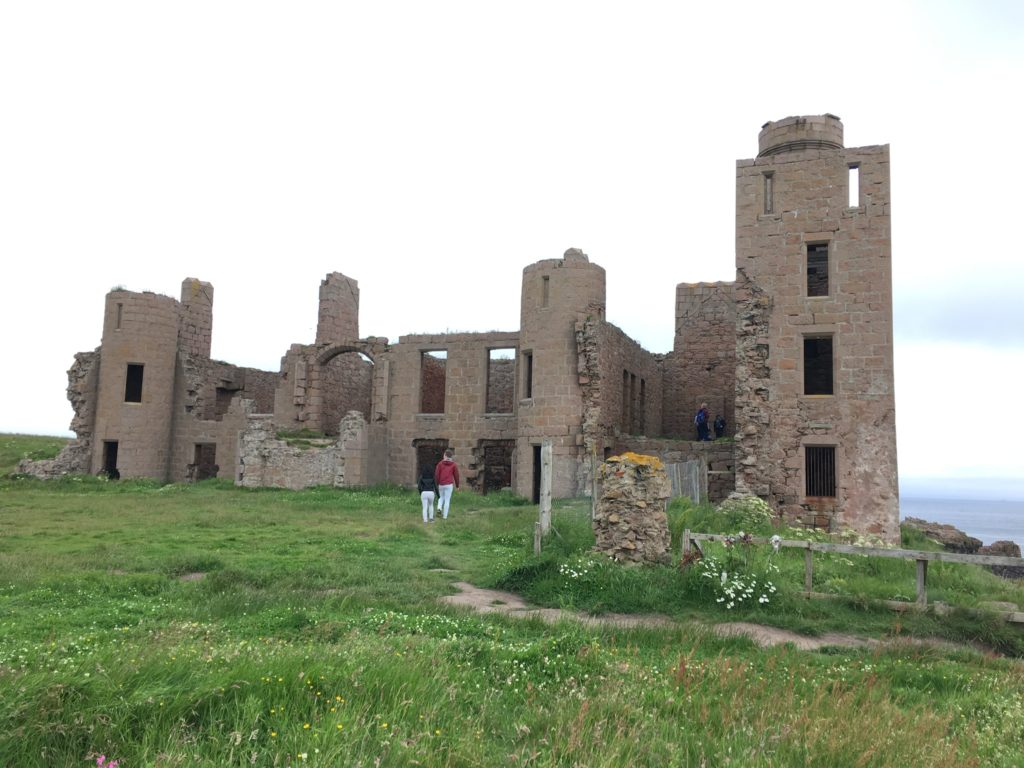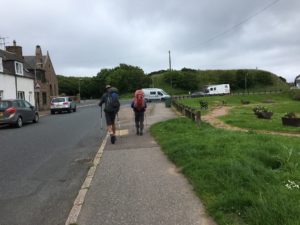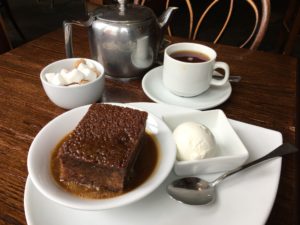 July 11 – Transition to Aberdeen
When I left Trish at Aviemore, I rode the next train to Inverness and checked into a hostel.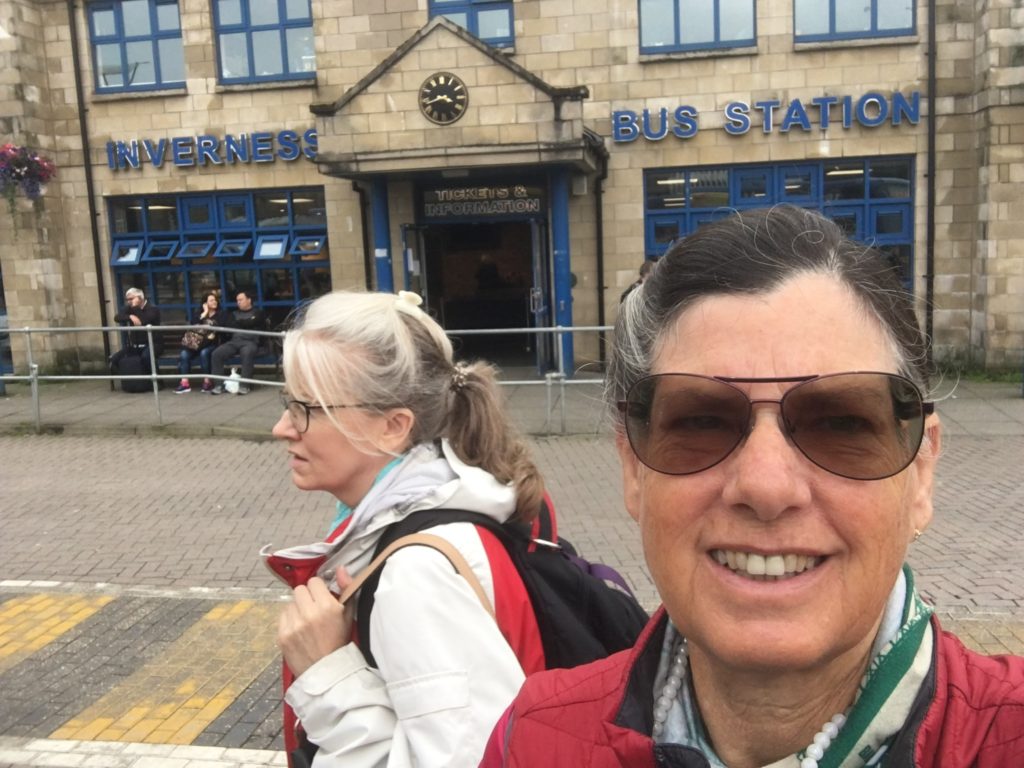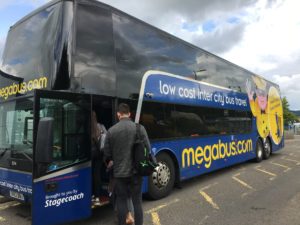 July 10 – Hiking with a friend from home!
I joined a gym a couple of years ago and met this amazing woman. She and I share a common interest of hiking and exploring the great outdoors. We often said that we should hike together but our schedules never synced. So last year, when I returned from my adventures in the UK she was already planning her 2-week vacation for this year, which was all about hiking in the Highlands. It wasn't until I was nearly done with my Ireland adventure that we chose a date, time and place to meet so that we could hike together for one day. She was bold enough to rent a car and drive on the wrong side of the road, and so we went to a trail that was nowhere near a bus stop or train station and it was on the east side of the Scottish Highlands. Trish and her friend, Nona, are the best hiking companions! We had to travel 5,000 miles, and to a foreign land to finally get to hike together.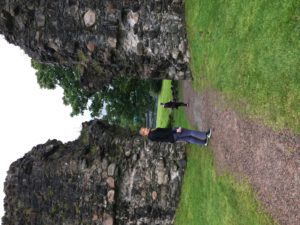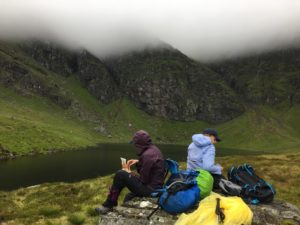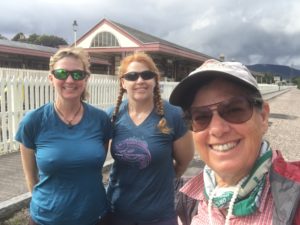 Glasgow
July 9 – Transition to Fort William
I'm on my way to meet a friend from my gym in Loomis, California.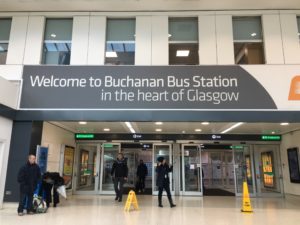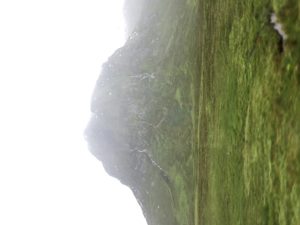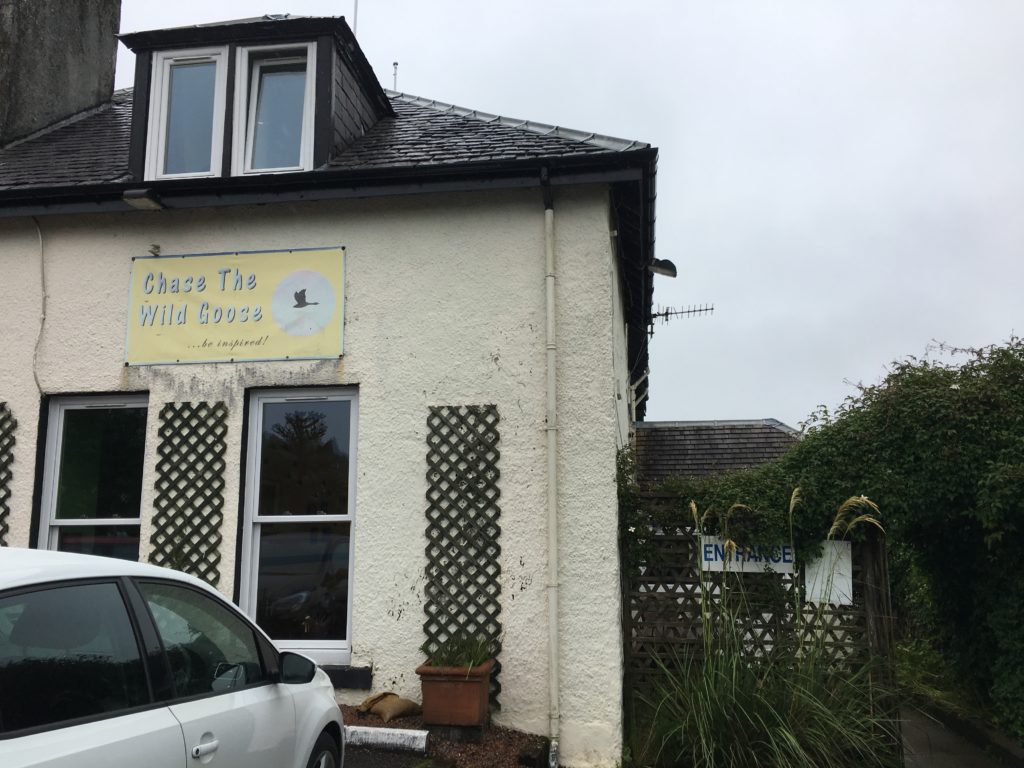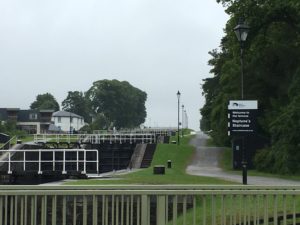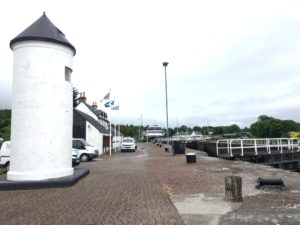 July 8 – Dunure & Ayr
I hadn't explored Scotland south of Glasgow, so I took a day trip to Ayr, a short train ride down the coast. And then I rode a bus a few miles south to Dunure so I could visit a castle ruin and also little harbor that was a location set for the TV series Outlander.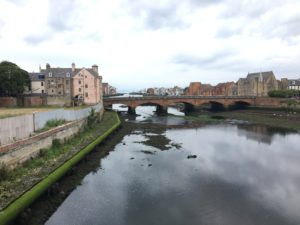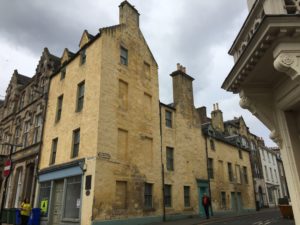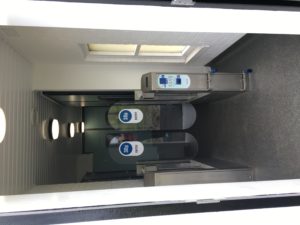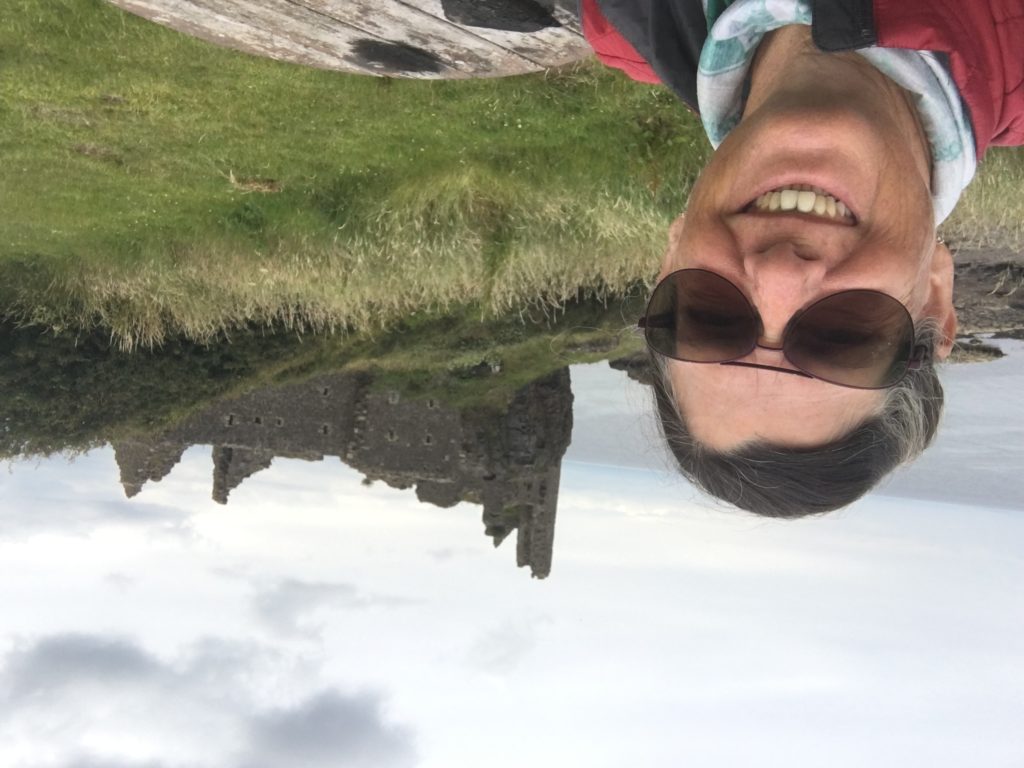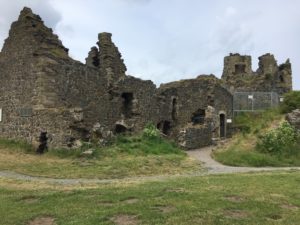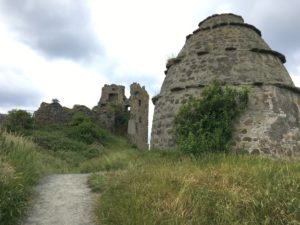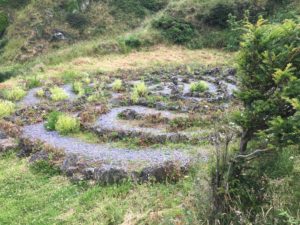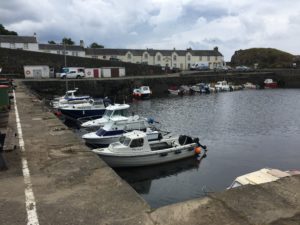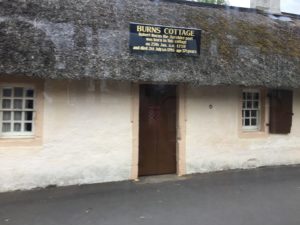 July 7 – Wallace Monument and Bannockburn Battlefield
A short bus ride from Glasgow is Stirling, home to a castle that I visited 2 years ago and two monuments / memorials I hadn't seen except from afar.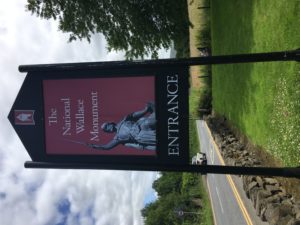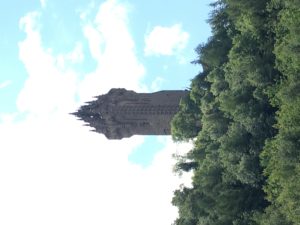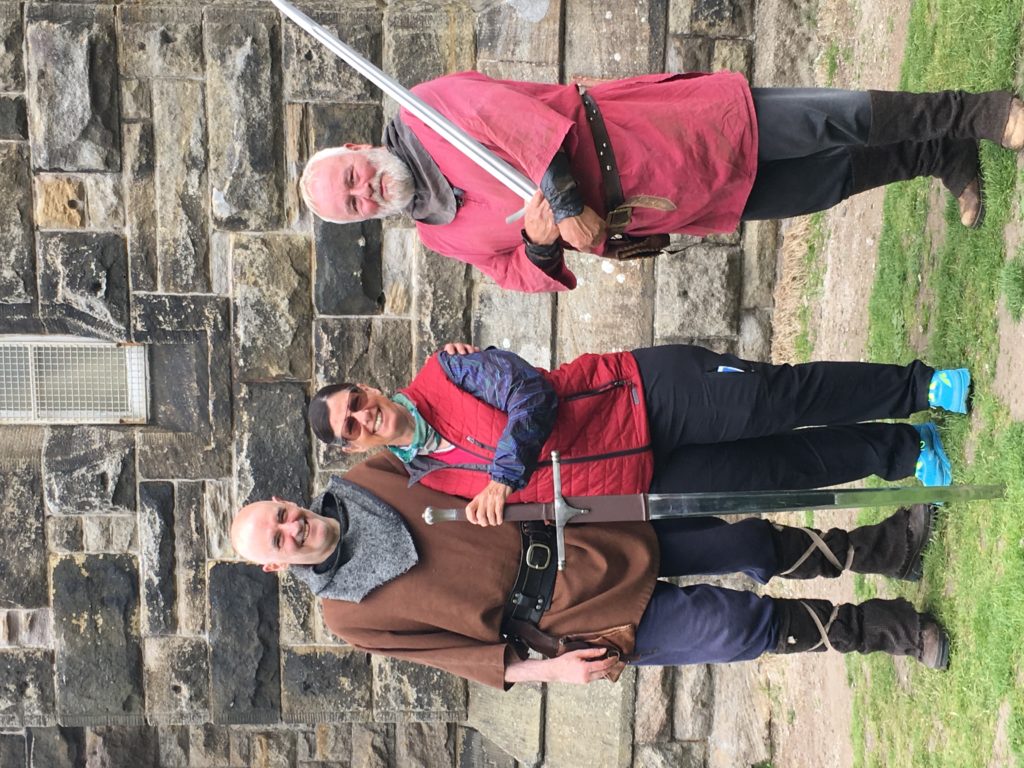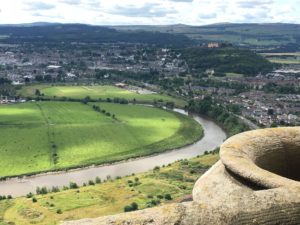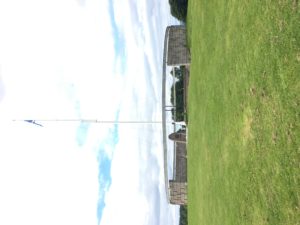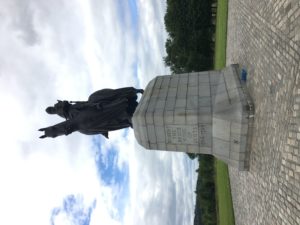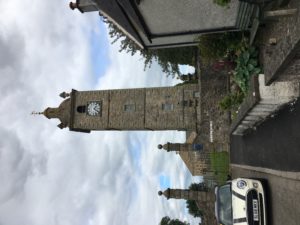 July 6 – Devil's Pulpit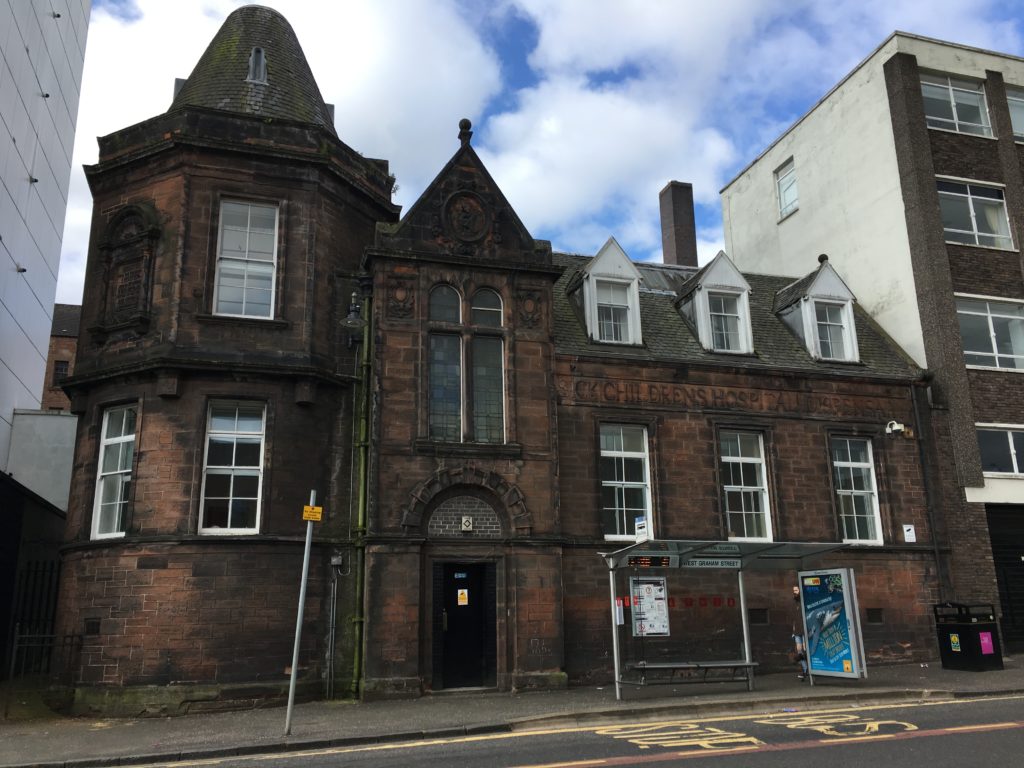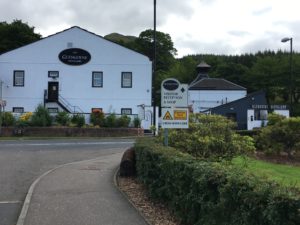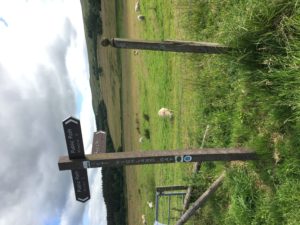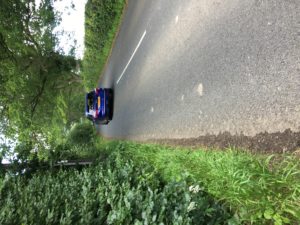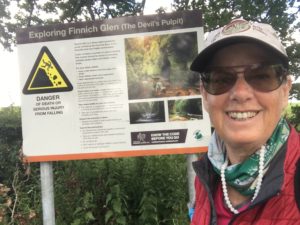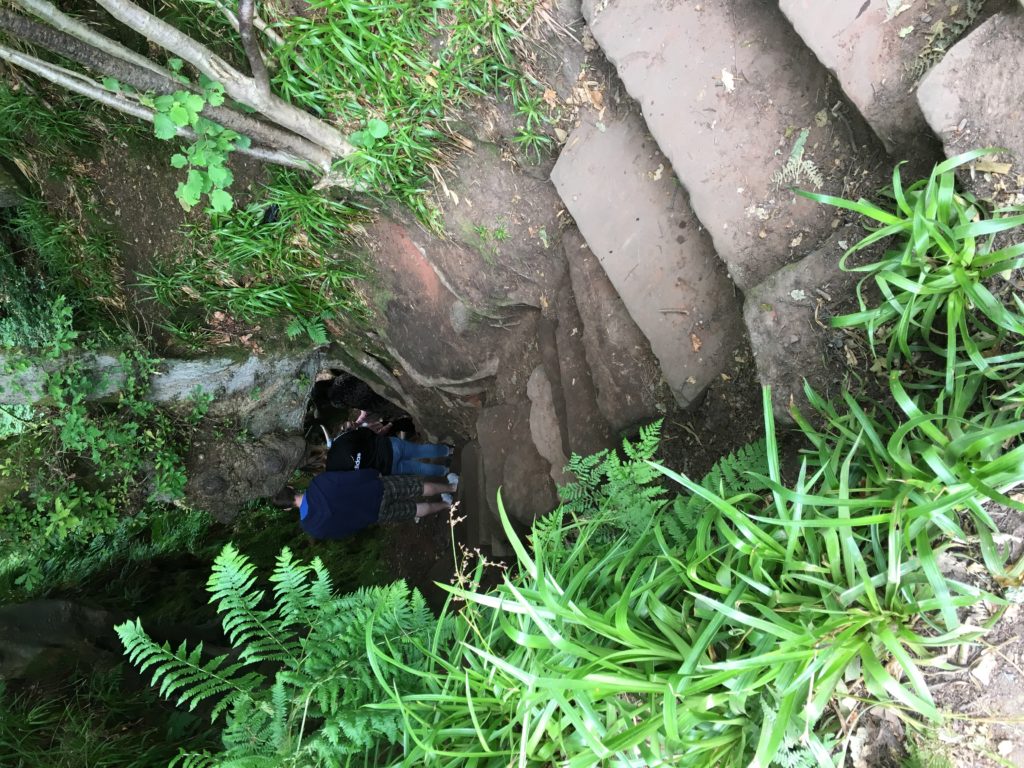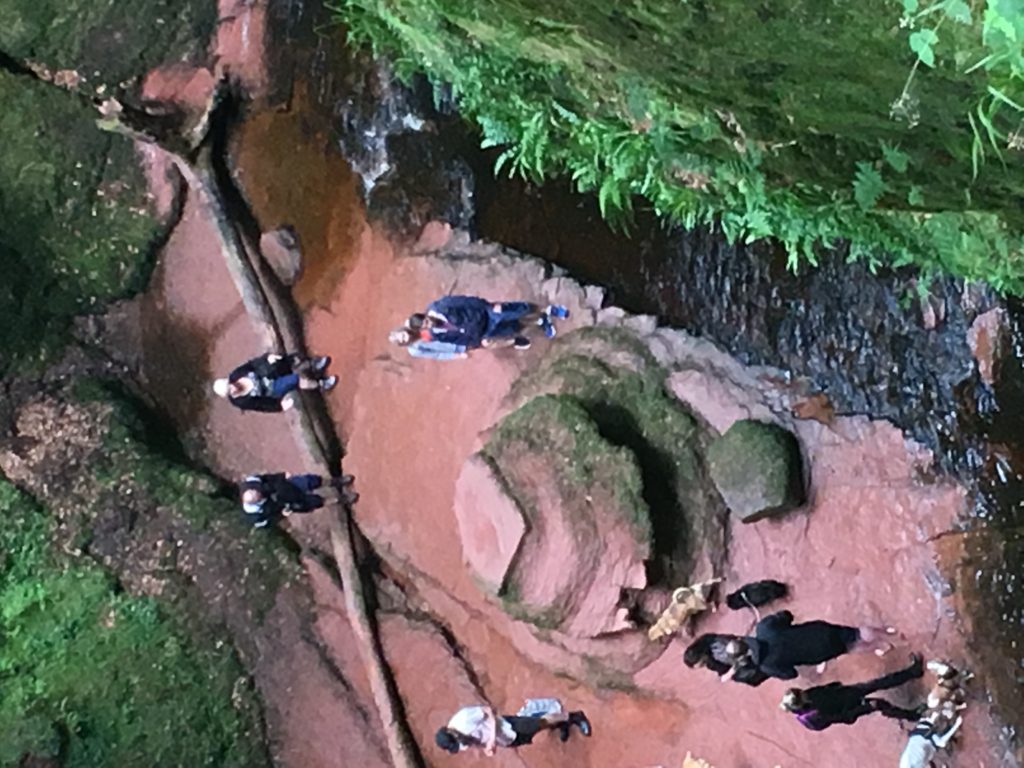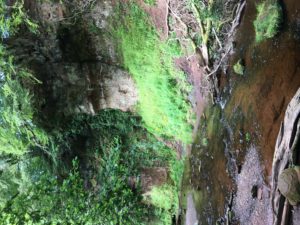 ####################
####################
Quiet time in Belfast
July 1 – 4
I decided to take some time to rest and catch up on my posts on my blog, as you will see below. This is my second visit here. It is a lovely city with a great transportation system. There are a few sights I wish to see, but top of my priorities is to bring this blog up to date and it is. Next, Instagram and Facebook.
Update: I got distracted and never blogged. Now that I am in Scotland, I shall fill in where I have been of late.
July 1 – I had an easy day. The bus stop was a short walk from my accommodation. I arrived at the stop the same time as the bus.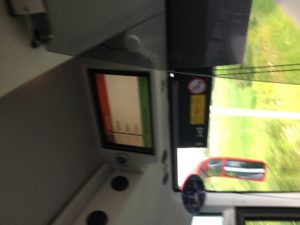 Upon arriving in Dublin I had to change buses. I caught the next one to Belfast.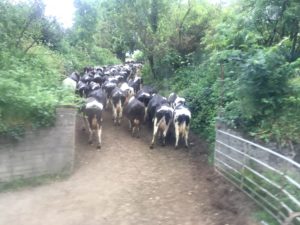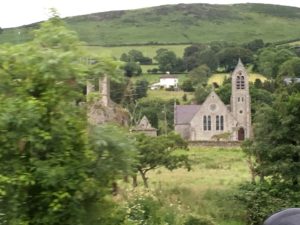 Fortunately, the train station is connected to the bus station, so the walk to catch the next train to Botanic Station was easy. Then I followed my GPS to the Lagan Backpackers hostel. I checked in for three nights. I took a short walk to the grocery store, relaxed the remainder of the day.
July 2 – Today was basically another rest day. I had some issues with my local mobile phone that took me a couple of hours to resolve. I sat inside the Vodafone store while on the phone with customer support for a long time. After I got one major issue resolved a salesman in the store gave me a lesson on how the data is used by my phone even when I wasn't using my phone. I shut off all data. I just wanted to use this phone for talk and text, not for internet access. With that out of the way, I just meandered back to the hostel and began researching and planning for my transition to Scotland.
July 3 – I walked over to the post office, packaged up my sleeping bag & pad and a couple of other items and shipped them home.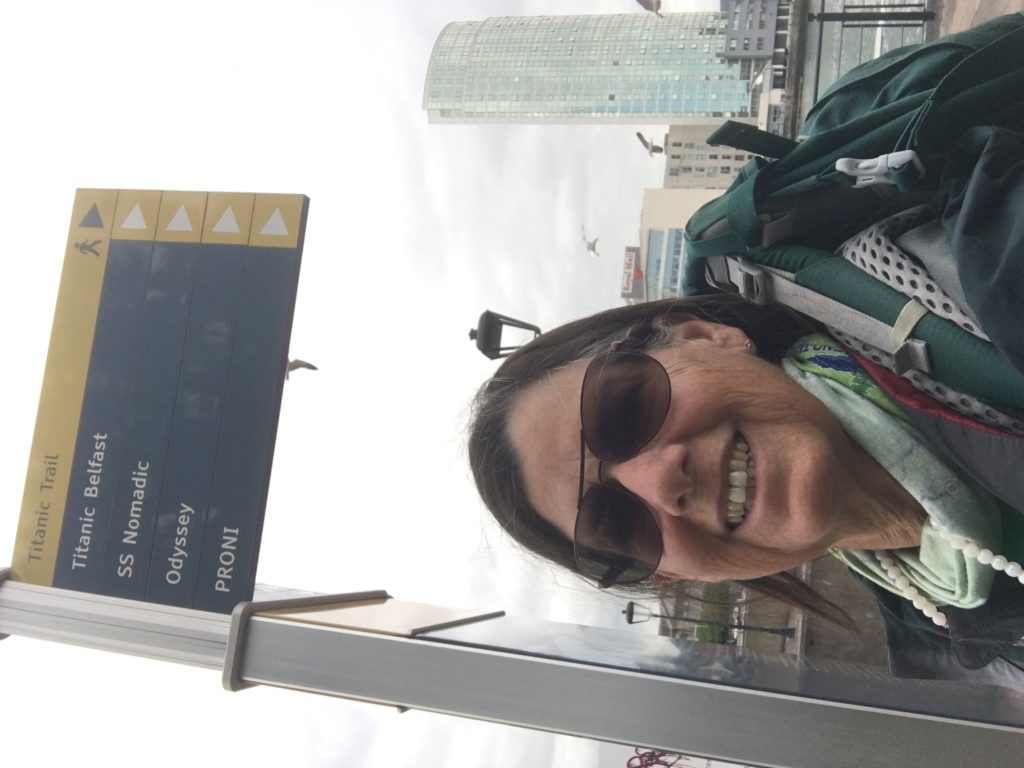 Then I decided to follow the way markers for the Titantic Trail. It starts at the city hall where they have a memorial to those who died at sea.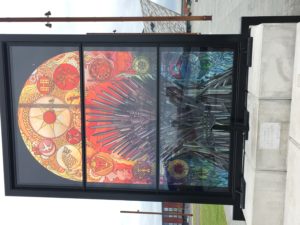 The trail took me past several stained glass monuments. They are part of a series of 6 glass monuments featuring characters and landmarks from The Game of Thrones tv series. It's entitled Glass of Thrones. I chose not to pay the £15.50 admission fee. Instead I treated myself to a tea and cake at a cafe next to it. There were a couple of musicians playing traditional Irish folk music. So worth the price of admission.
July 4 – Happy 4th to my fellow Americans!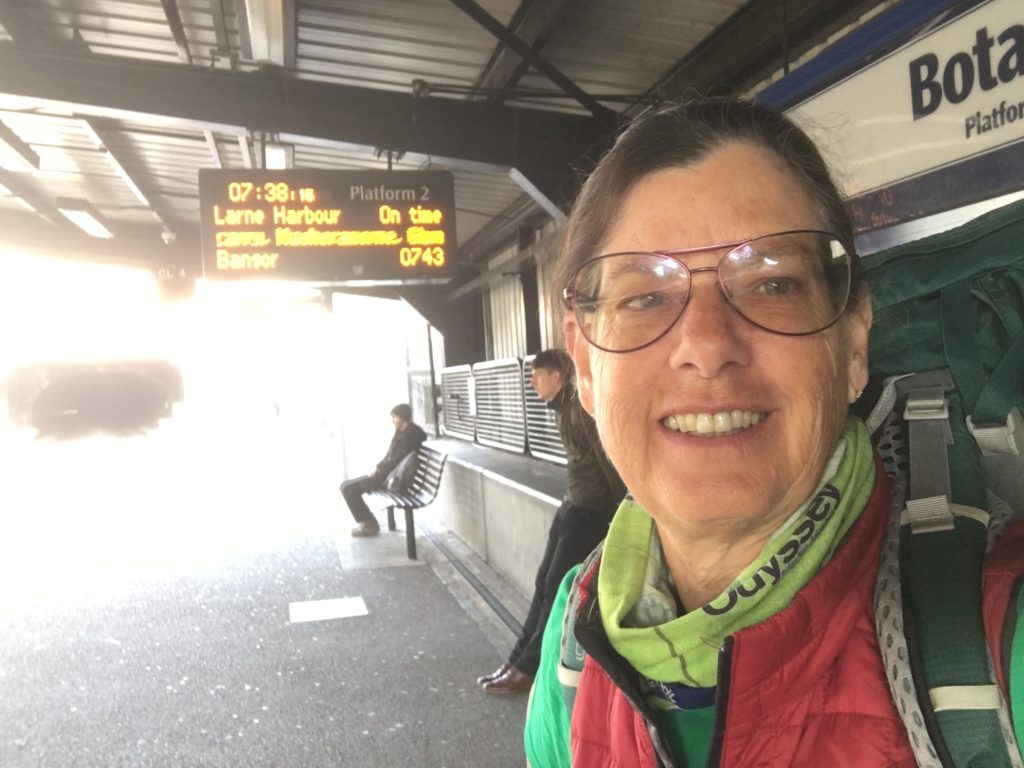 Today I rode the train to the little port village of Larne. The train station is connected to the ferry terminal so that was easy. I had about an hour to wait before boarding the ferry. I did have to walk through security. My bags were X-rayed and the security officers were very personable and friendly, as I was the first and only passenger checking in. Others arrived closer to boarding time.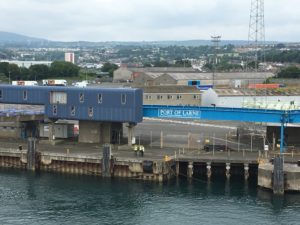 We had to ride a bus onto the ferry. Once parked we were allowed to roam around the passenger portion of ferry. I chose to hang out on one of the exterior decks.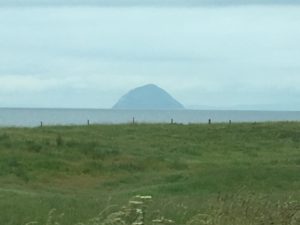 I chatted with a handsome young man for the duration of the ride (2 hours). I think his name was Mark. He offered to drive me on into Glasgow. I accepted. We talked for another 2 hours until he dropped me off at my hostel. We probably will not meet again. I checked in and settled into my private room.
####################
####################
The Wicklow Way 2019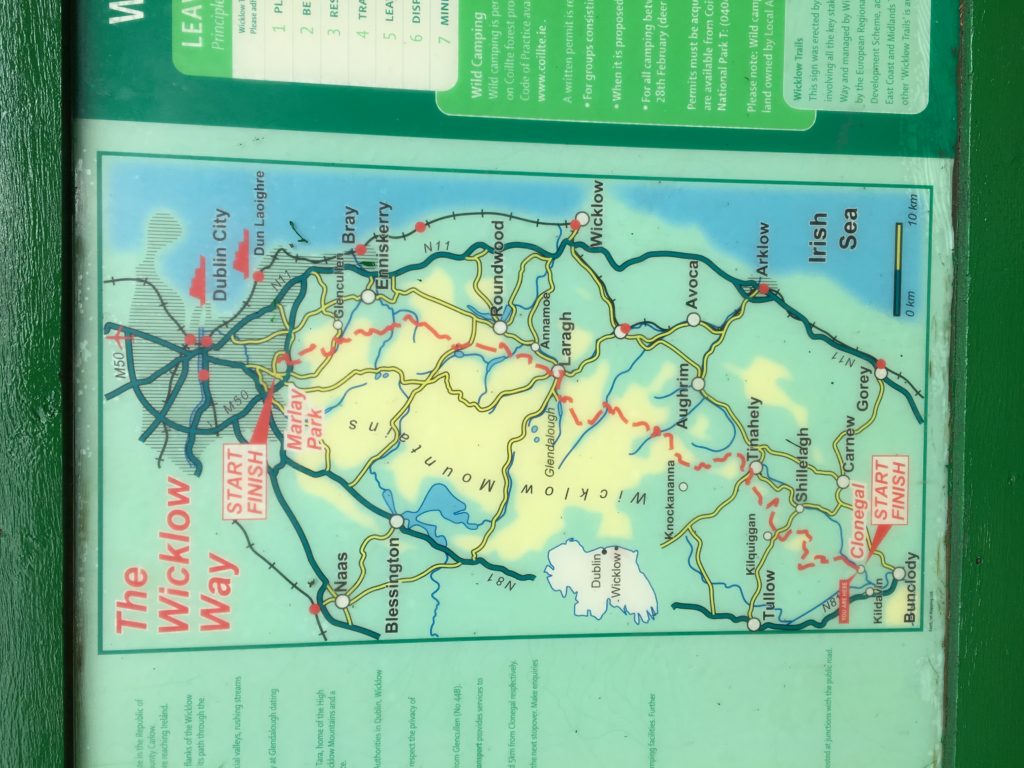 After a couple of weeks recovery I have embarked on an 80–mile, 7-day trek through the Wicklow Mountains. I am having my backpack delivered to each night's accommodation. And I have already met some amazing ladies.
Sunday, June 30
Shillelagh to Clonegal
Last night I was totally off grid, so I couldn't review the trail description online. I relied on my memory of what I had read earlier. I knew it was supposed to be 13 miles, mostly on roads. With that in mind, I packed my hiking boots and donned my new Altra Torins. My host dropped me back at The Dying Cow, then took my backpack on to my accommodation in Bunclody.
I was pleased to see the sun shining. I was also hoping I packed enough snacks and water to get me to the finish point at Clonegal.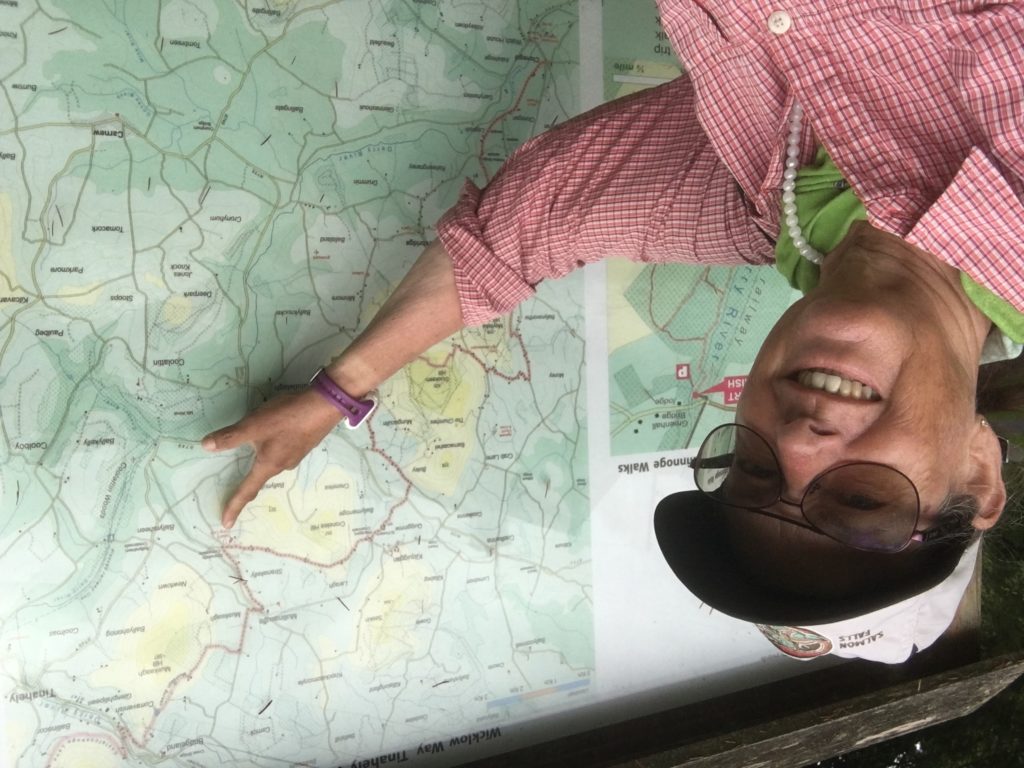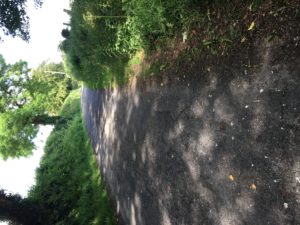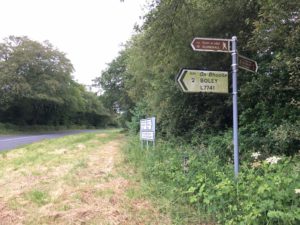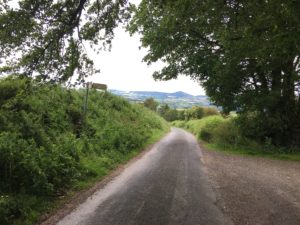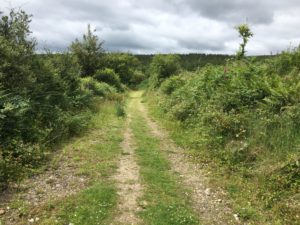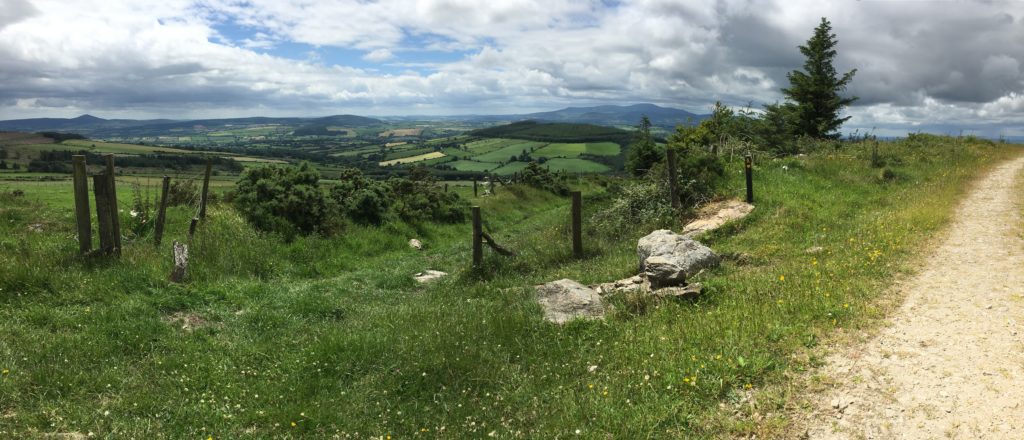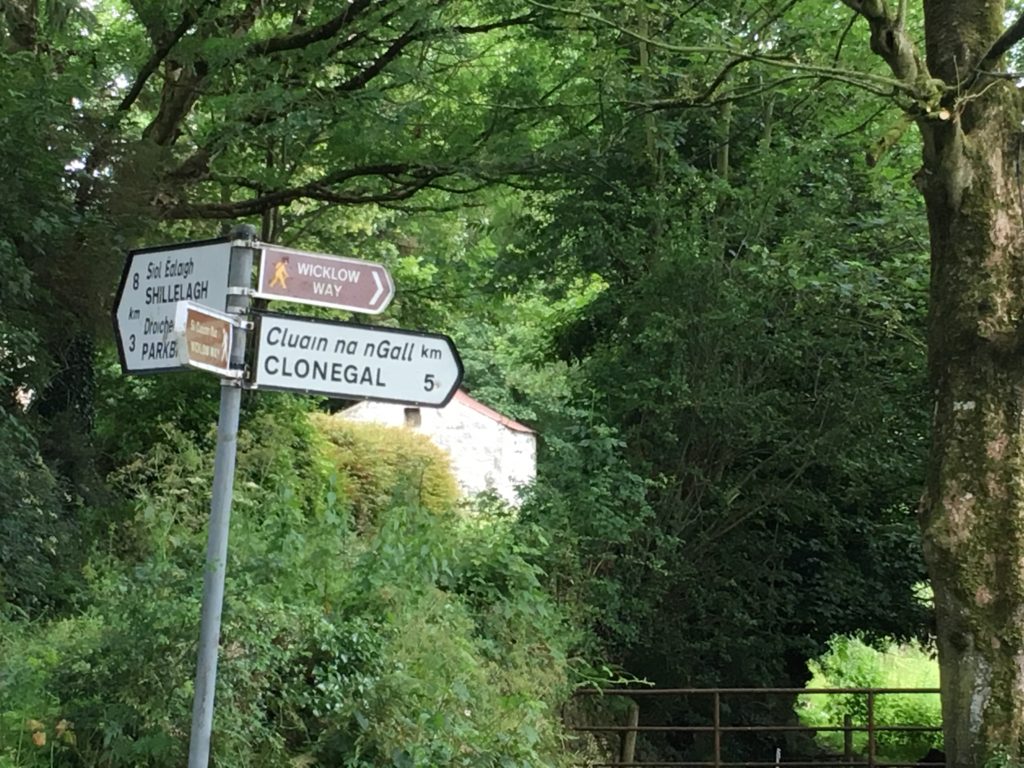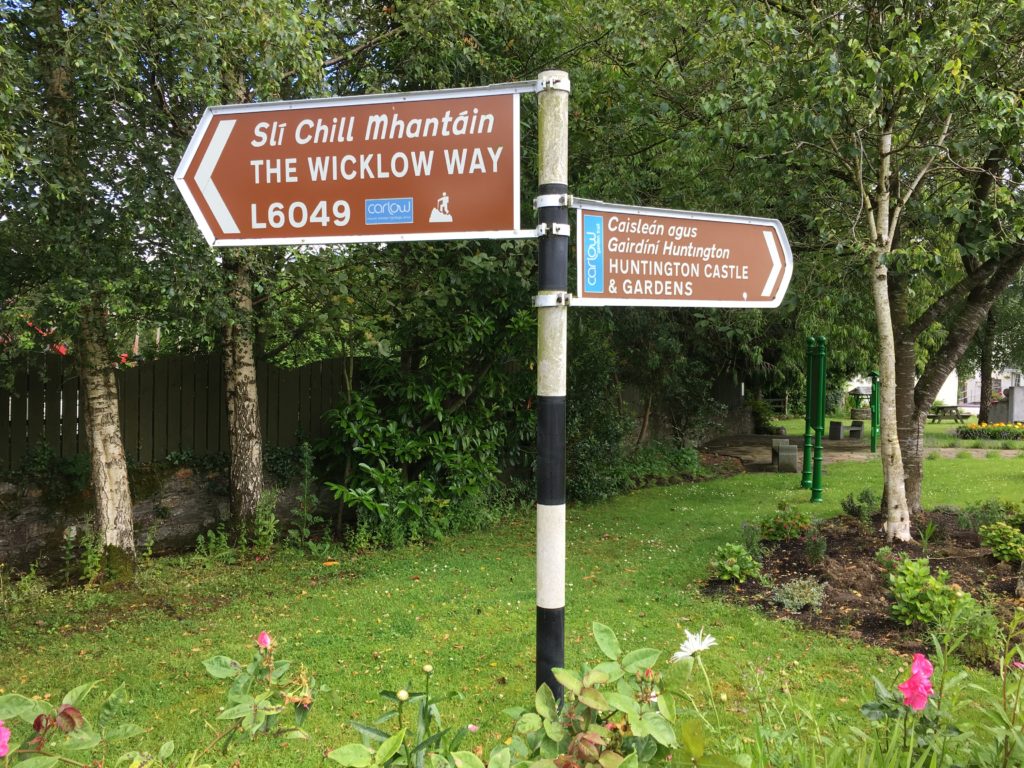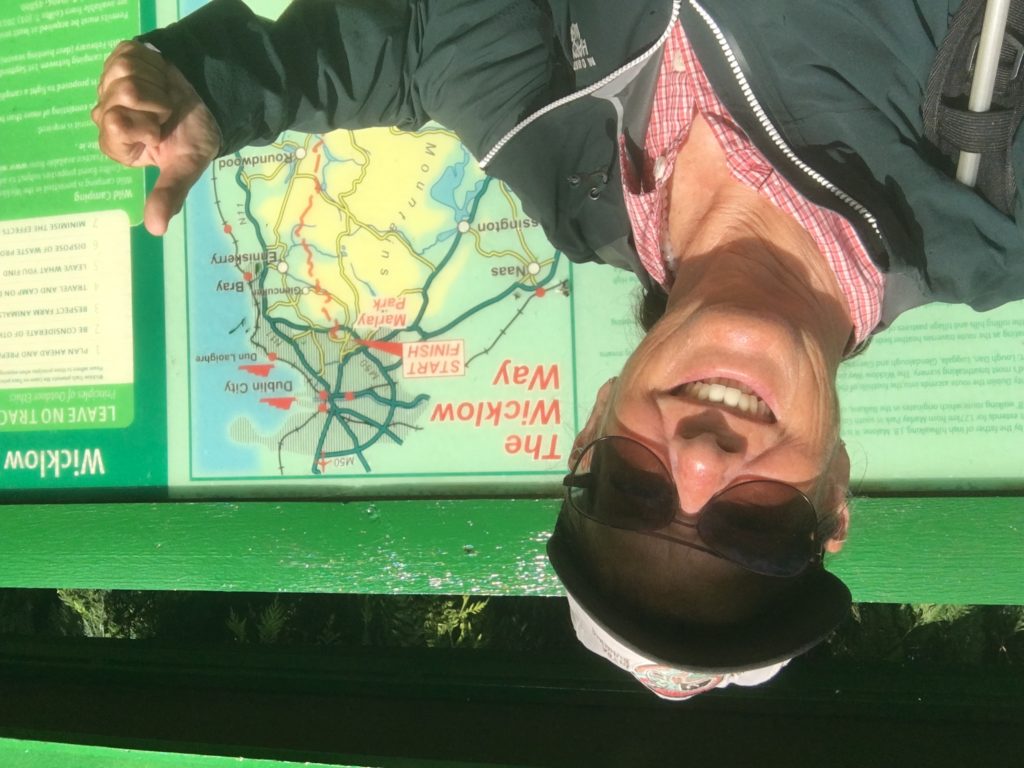 Today was very difficult for me. I tend to get emotional when a good thing comes to an end, and this ranks up there as one of the best experiences. I finally learned to read the distances on the All Trails Maps I was using and discovered that yesterday I finished short of my target 13 miles and had to make up for it today. I ended up walking 16 miles.
I was ready to throw in the towel a few times. I just didn't want to go any further. In order to help clear my mind of misery I turned on my Outlander music from seasons 1, 2 & 3. I was much further from the end of the trail that I had thought because the 3 hours of music ended precisely as I walked up to the trailhead marker.
####################
####################
Saturday, June 29
Moyne to Shillelagh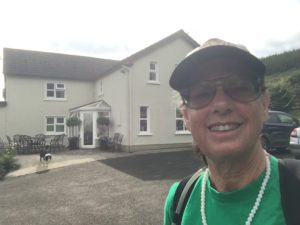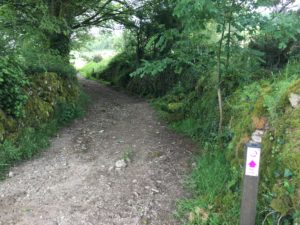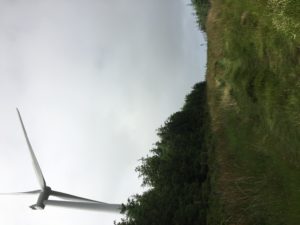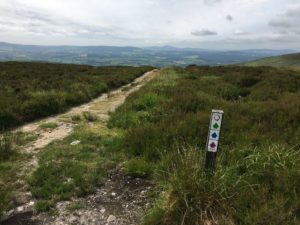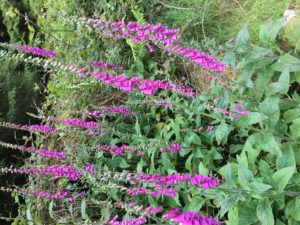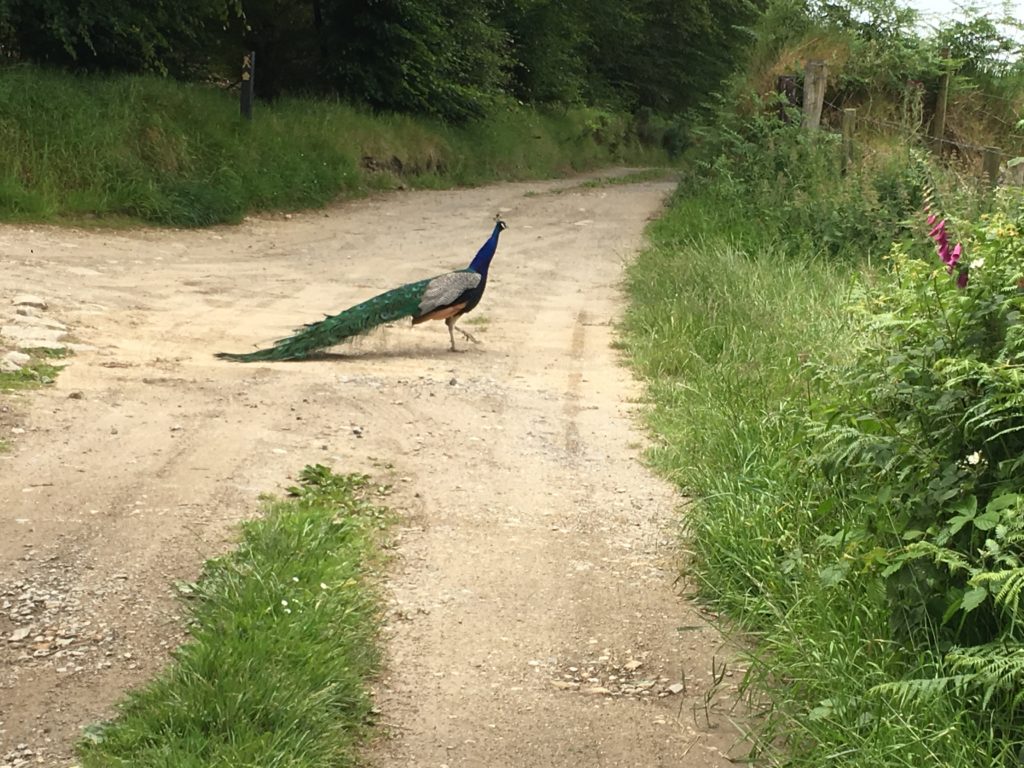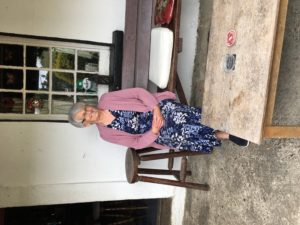 ####################
####################
Friday, June 28
Glenmalure to Moyne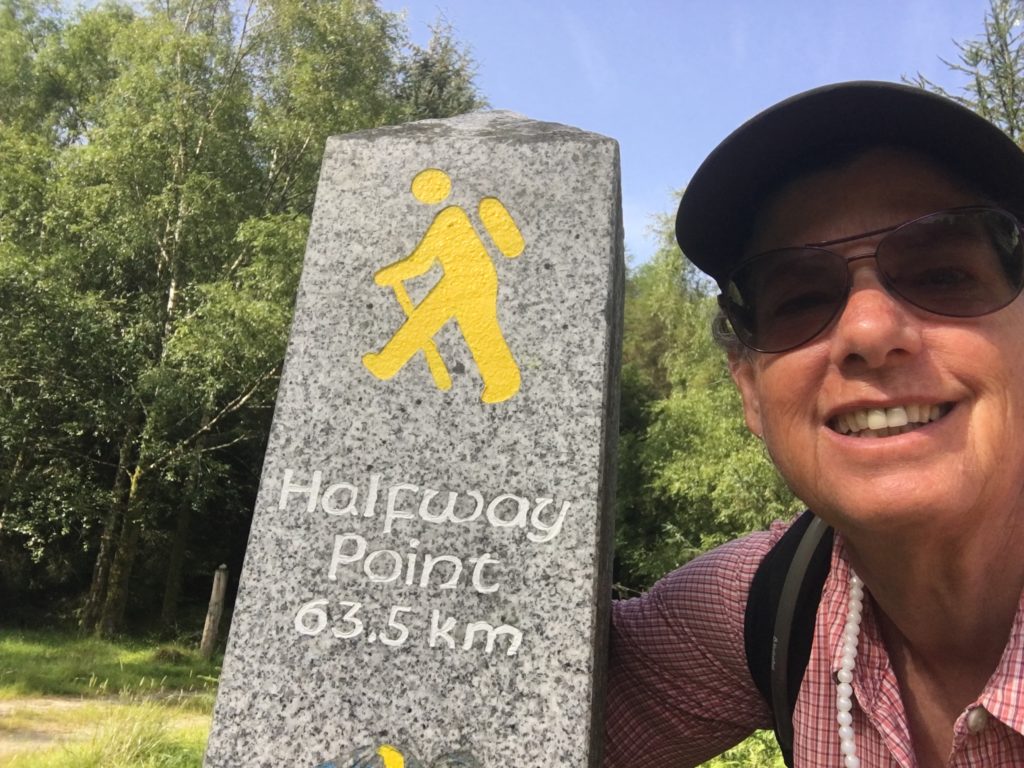 I had to stay in Glendalough last night because there was nothing affordable in Glenmalure. My driver was very sweet. He gave me a history lesson and explained how the forests were another arable crop.
Once again I was walking alone. But that was okay. I did pass a few hikers going in the opposite direction. One gentleman I met has walked these trails numerous times and was happy to share some of his insights. He even told me of a couple of shortcuts to consider on my way to Moyne & Shillelagh.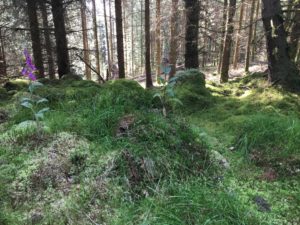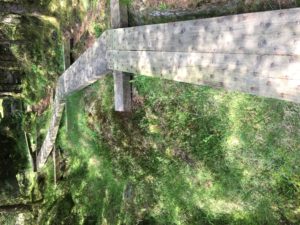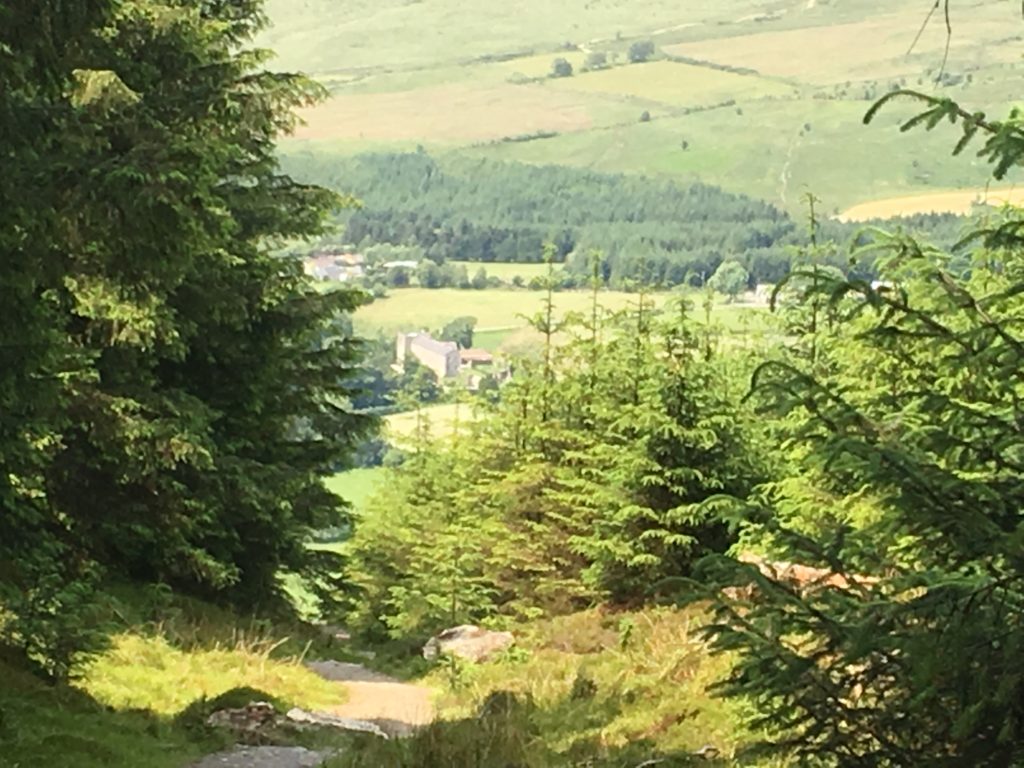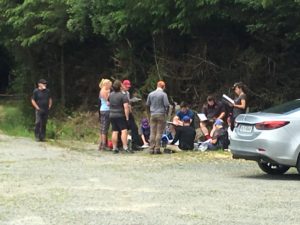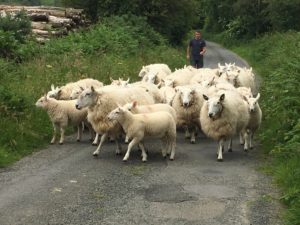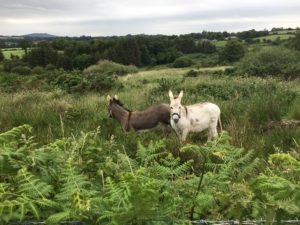 ####################
####################
Thursday, June 27
Glendalough to Glenmalure
I walked this day alone, as I was slow getting out of the hostel. I was in no hurry. Less than 9 miles. I did stop and chat with my new friend, Tiffani, since she got a ride to Glenmalure so that she could walk straight back to her accommodation in Glendalough.
When I arrived in Glenmalure I joined a group hikers, with whom I shared dorm rooms, for a pint of Guinness and a snack at the only pub in town.
And I got in one last visit with two other solo female hikers before they continued on ahead of me. Our paces and destinations were different from this point on.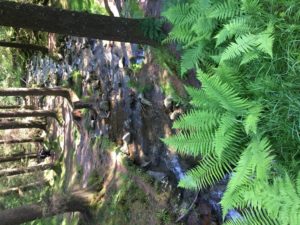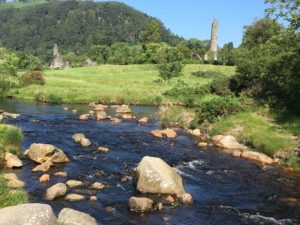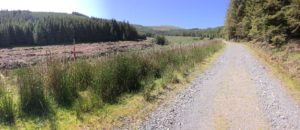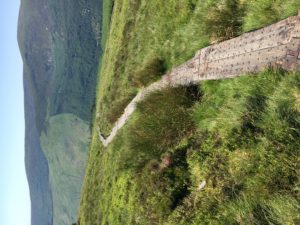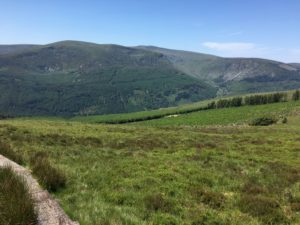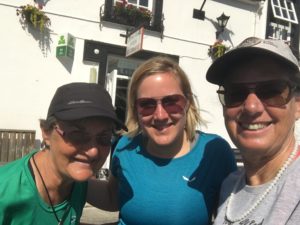 ####################
####################
Wednesday, June 26
Roundwood to Glendalough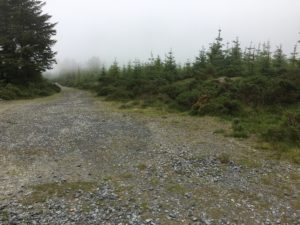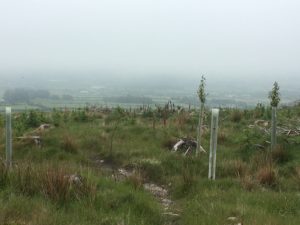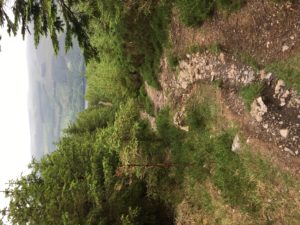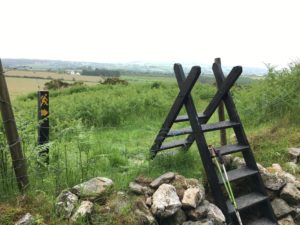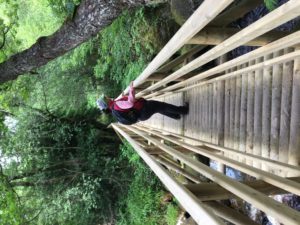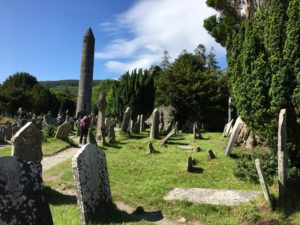 ####################
####################
Tuesday, June 25
Knockree to Roundwood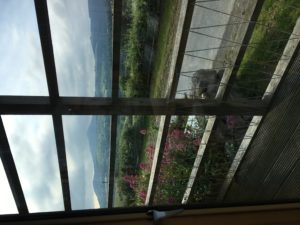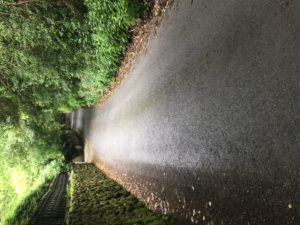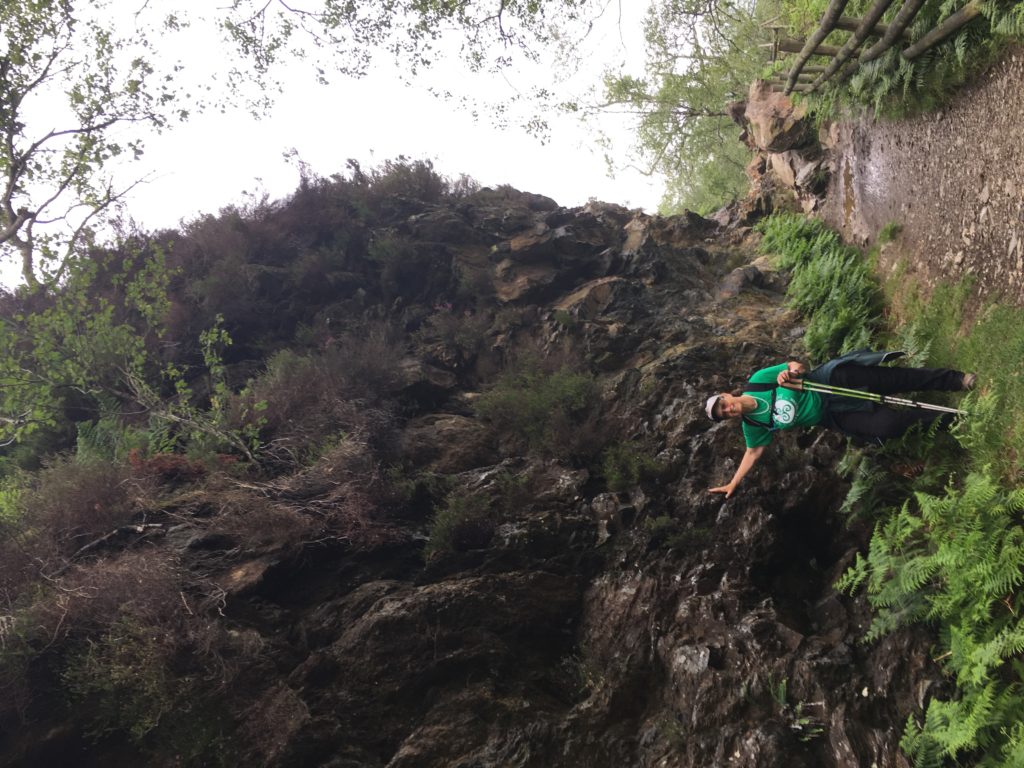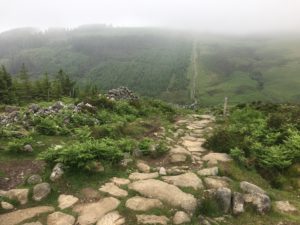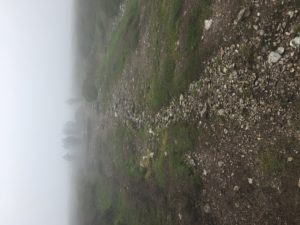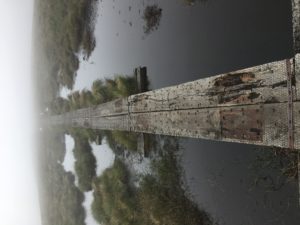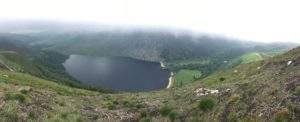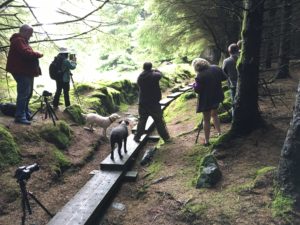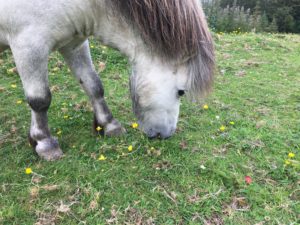 ######################
######################
Monday, June 24
Dublin to Knockree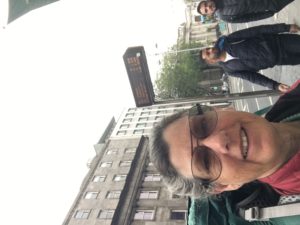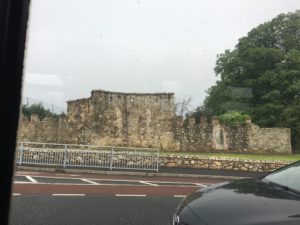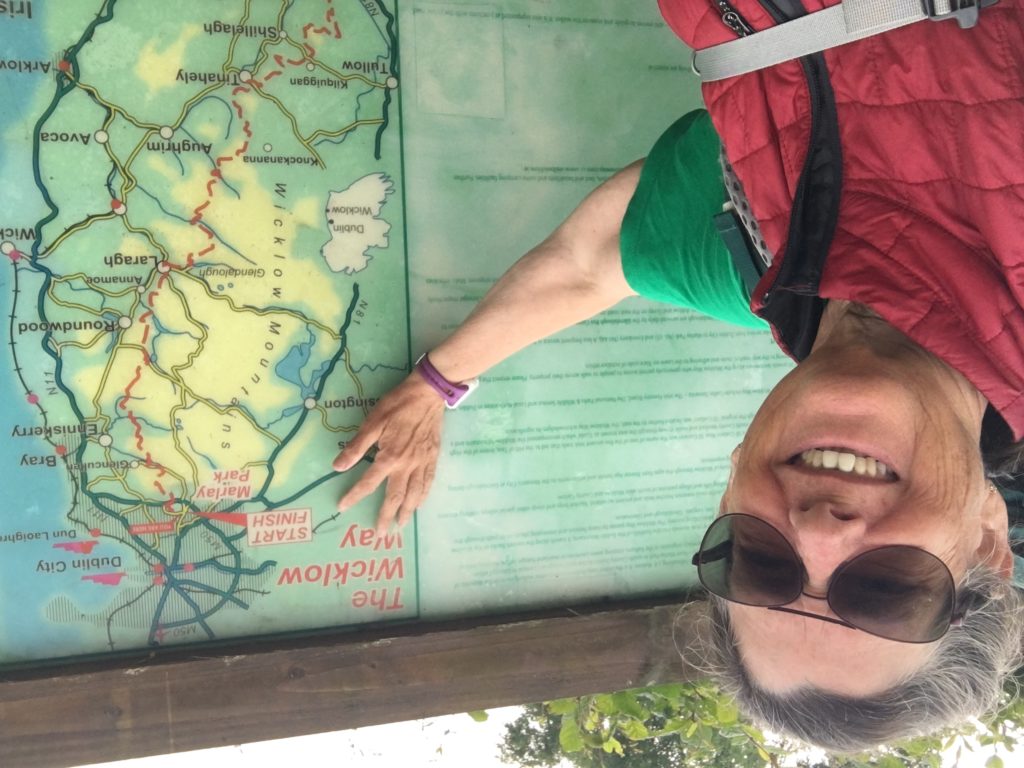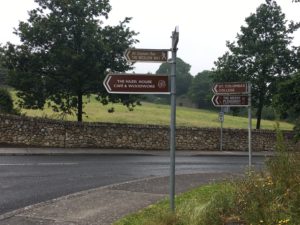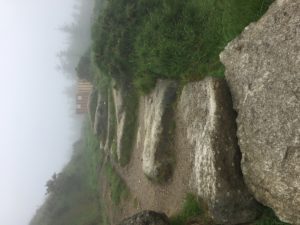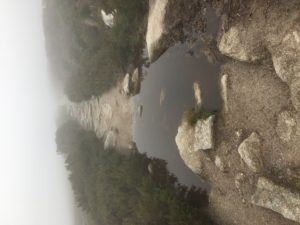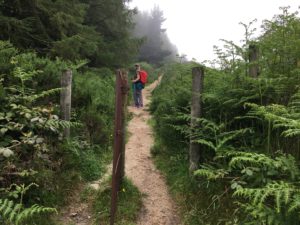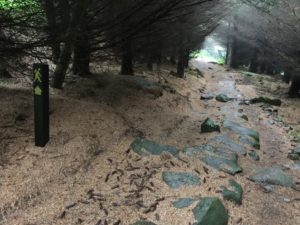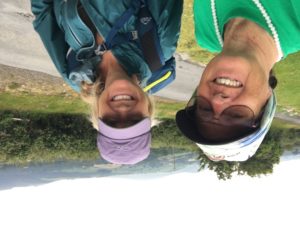 ####################
####################
June 21 – 23
Dublin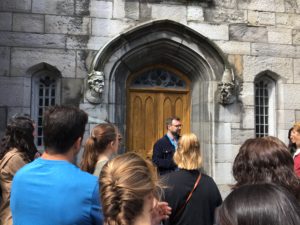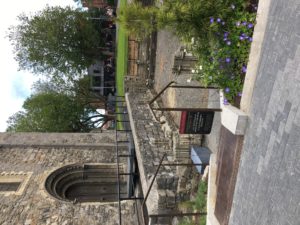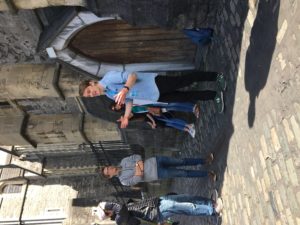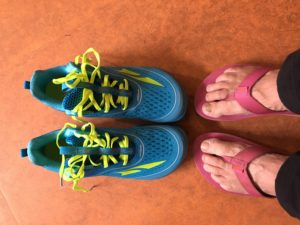 ##########################
##########################
The Ireland Way 2019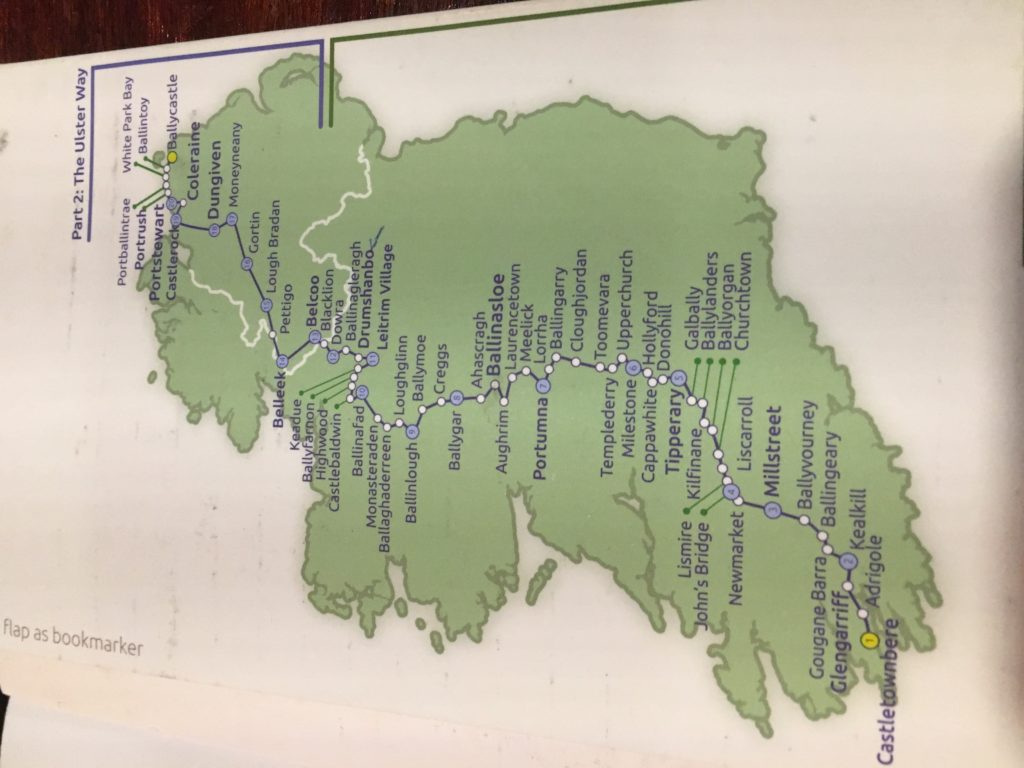 My most recent updates will be here:
June 18 – 21
Ballycastle
I returned to Ballycastle and stayed in the Backpackers Ballycastle hostel. It is a quiet week here so I actually had a four-bed dorm room all to myself. (I'm getting spoiled on the Causeway Coast. I had the same arrangement at Rick's Causeway Hostel after Mary returned home.)
I did not lounge around much. One day I rode a bus to Cuendun to view some caves used in filming Game of Thrones. Then walked most of the way back on quiet country roads.
The next day I rode a bus to/from a nearby castle ruin. Then strolled down the beach, around town, and into a book launch party.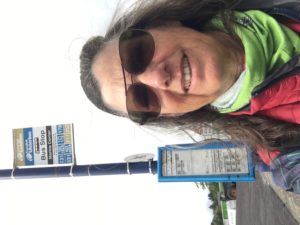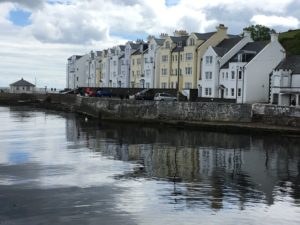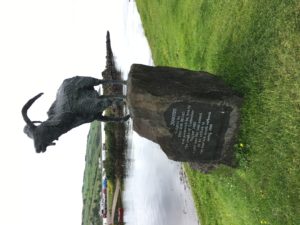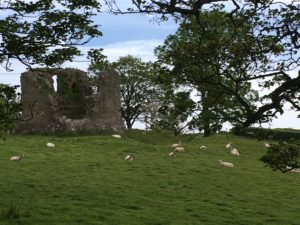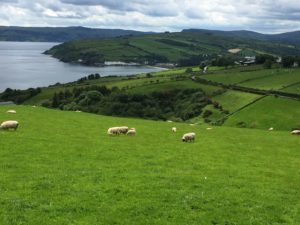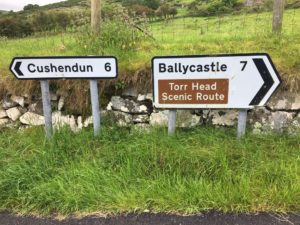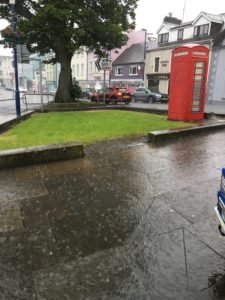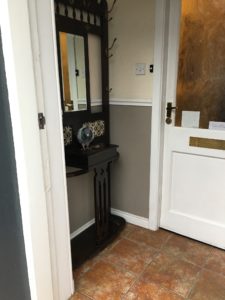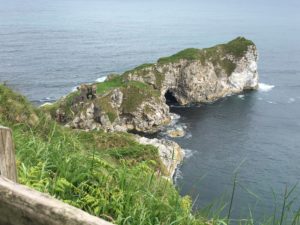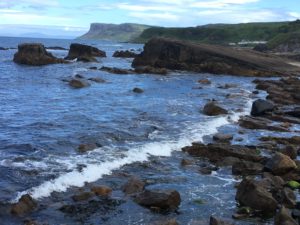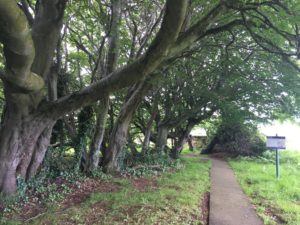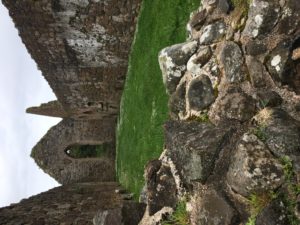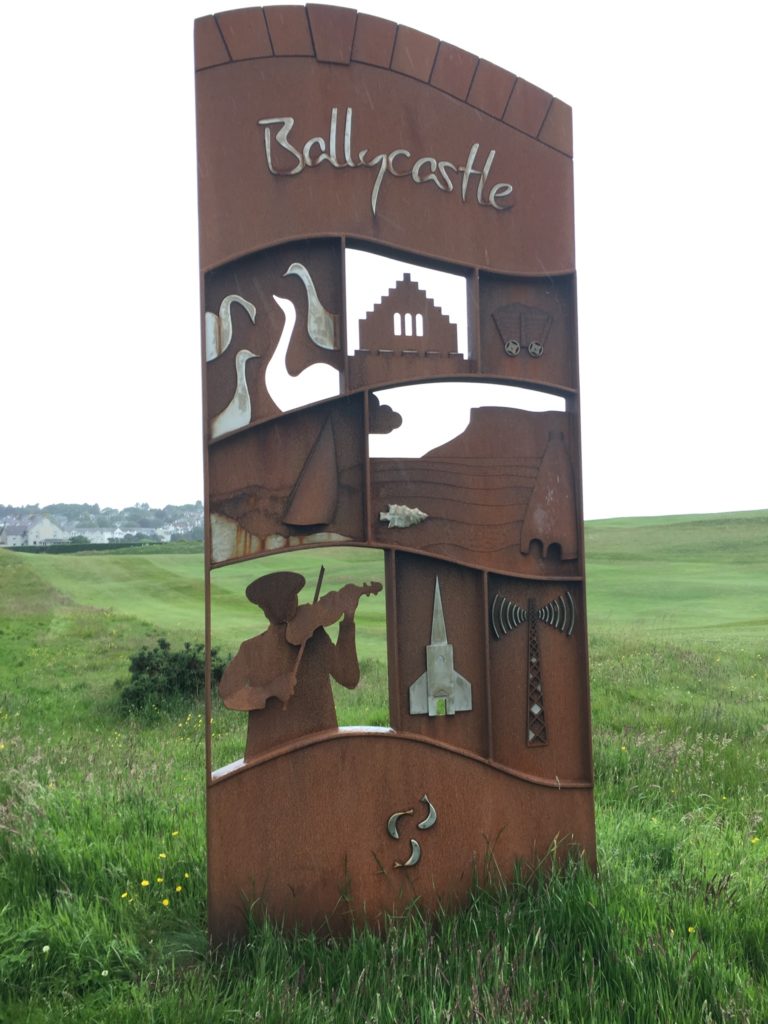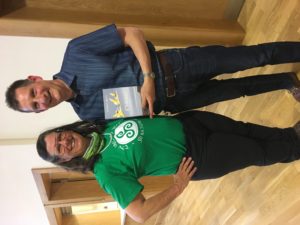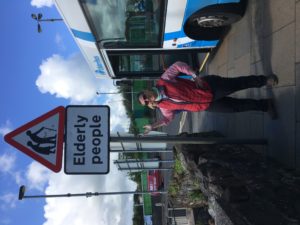 ####################
####################
June 13 – 18
Belfast
I've been exploring the city of Belfast for the last few days. It is a lovely city. Did you know that Belfast was at one time the world's leader in making linen, ropes, tea and ship building? During my stay here I took a couple of free tours, walked to the top of a high bluff which was the site of an ancient fortress, and played cards with some fellow travelers.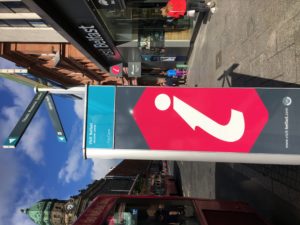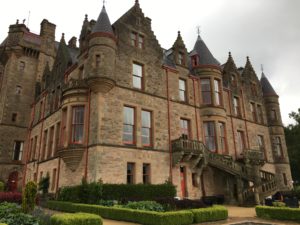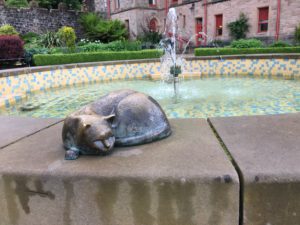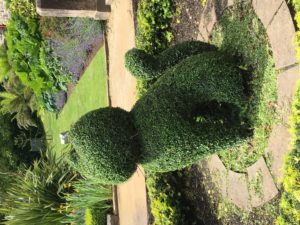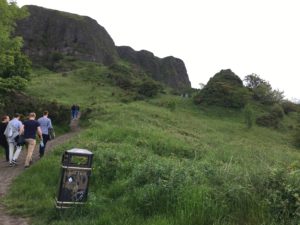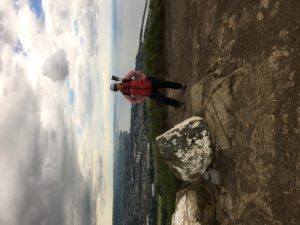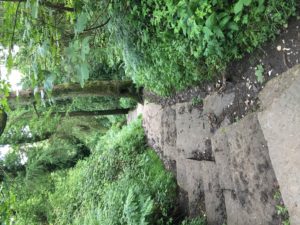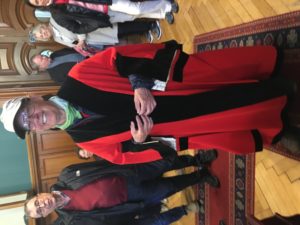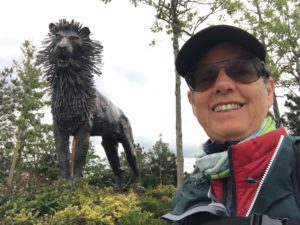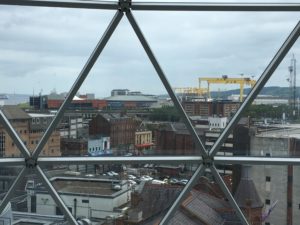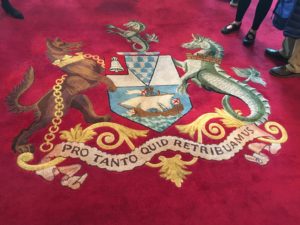 Thursday, June 13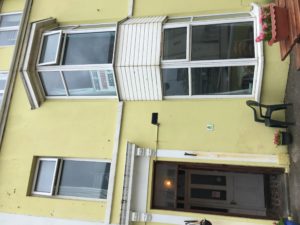 I said goodbye to my host, Rick, this morning. Caught a bus to Coleraine to then catch a train to Belfast.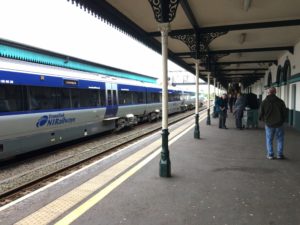 I haven't ridden a train for a while. It was quite nice. Since it was midday ridership was light and so there was plenty of room for my backpack to be stowed in the bicycle section of the car.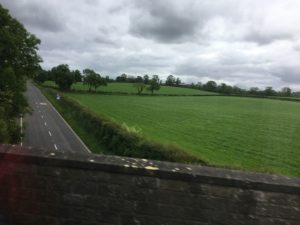 My hostel was a short walk from the train station. After checking in I treated myself to a shawarma lunch platter with Turkish tea. Followed with grocery shopping then most importantly, laundry! All my clothes are clean once again. The first time since Millstreet, I think.
####################
####################
Wednesday, June 12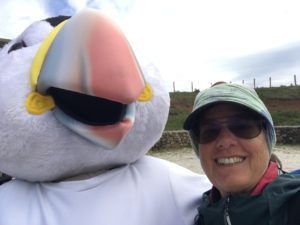 My first day totally solo. First time in a long time. I walked to Portrush to ride the bus to Ballycastle. While waiting I chatted with a woman from Scotland. She told me to dress warmly for the Edinburgh Tattoo. August nights can be cold outside the castle.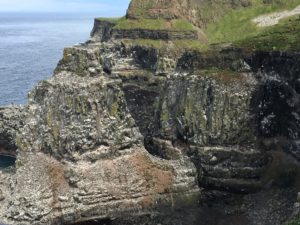 Once in Ballycastle I had to choose between catching the next bus to the Dark Hedges made famous by Game of Thrones or looking for Puffins on Rathlin Island. I walked into the local convenience store for some lunch snacks and who should I meet but my San Diego friends. They told me that there were puffins on Rathlin. Enough said, I bought a ticket on the next ferry out and didn't look back.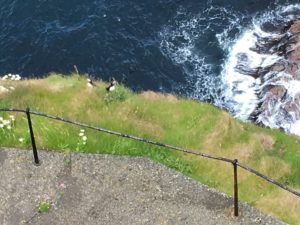 #########################
#########################
Tuesday, June 11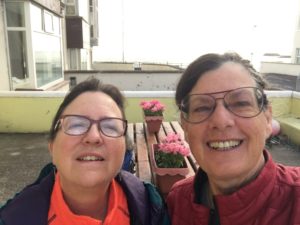 I continued walking The Causeway Coast Trail without Mary. There were about 12 miles left on our journey. While waiting for the bus I met a couple of fellas from San Diego. They, too, are avid hikers of the British Isles. We compared experiences during the bus ride, then I left them on the bus.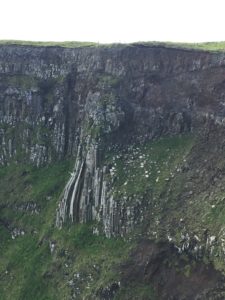 I started walking from Giant's Causeway toward Carrick-a-Rede. I soon found myself in the company of a very nice English couple, walking a very brisk pace, as they wanted to reach one beach before high tide. When we got to Dunseverick Castle, 5 miles later, I excused myself so I could eat a light lunch.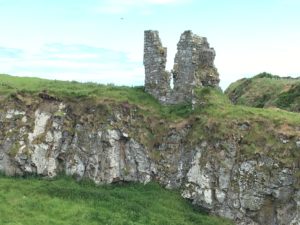 Then joined another woman from Switzerland for the next 5 miles. She was sweet enough to keep an eye on me when we had to walk over some boulders. We got to the beach before high tide. But we still needed to exit the beach at the other end before high tide. We met the fellas from San Diego again. They had started from Ballycastle and wanted to finish at Giant's Causeway. No time to chat.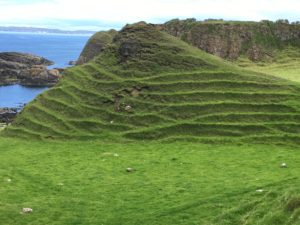 We soon were at Ballintoy Harbor, one of the filming locations for Game of Thrones. My Swiss friend continued on her own and I reunited with my English friends. They even treated me to a Maud's ice cream cone. I had Belgian chocolate. Yummy.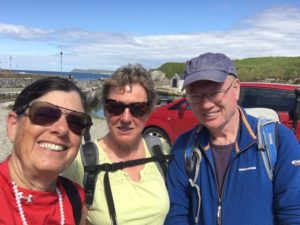 I continued on my own the last 2 miles to Carrick-a-Rede. Treated myself to tea and chips, then back to the bus stop to retire to my hostel, exhausted.
####################
####################
Monday, June 10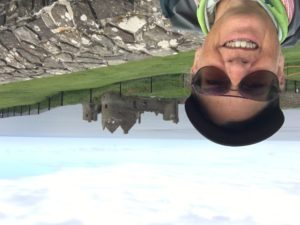 Today was great. There was a breeze blowing, but the sun was also shining. We rode the bus back to Dunluce Castle and resumed our journey along The Causeway Coast Trail. We weren't disappointed in any way possible. The scenery was stunning all along the coast. And The Giant's Causeway was much larger than I had envisioned. There were a lot of people climbing around on the basalt formations but not near as many as there will be in July & August — peak holiday season.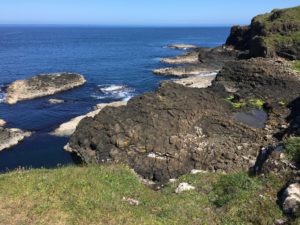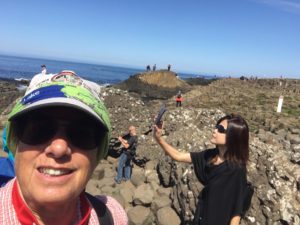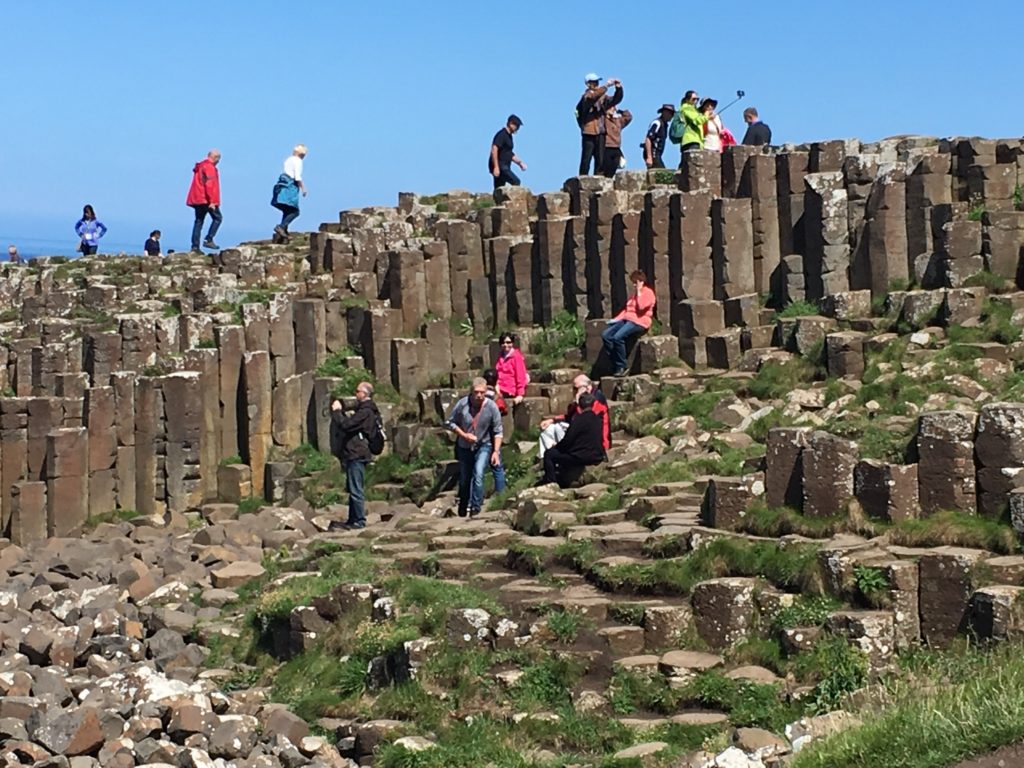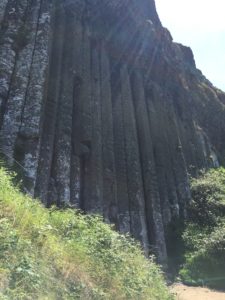 After soaking in these beautiful formations we hopped on the next bus to Old Bushmills Distillery. This is the world's oldest licensed distillery – which was granted by King James I in 1608.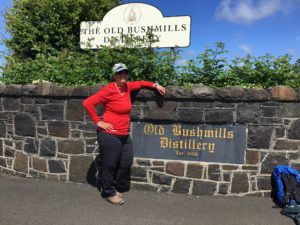 ####################
####################
Sunday, June 9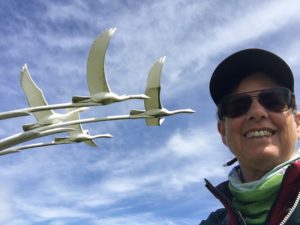 Sometimes I sits and thinks, and sometimes I just sits. Author unknown.
I have had the time and WiFi at hand, but I have enjoyed just decompressing and reading these last few rainy days. And when it's not raining I am exploring. I am just letting you know that I am well and in Portstewart in Northern Ireland. Today we will be exploring some of the Causeway Coast Way. Photos and stories to follow.
#####################
#####################
Sunday, June 9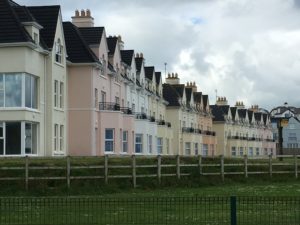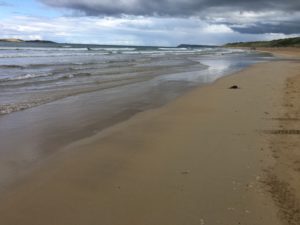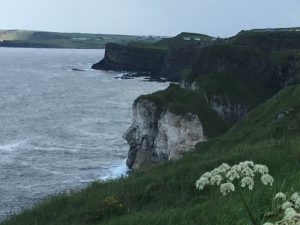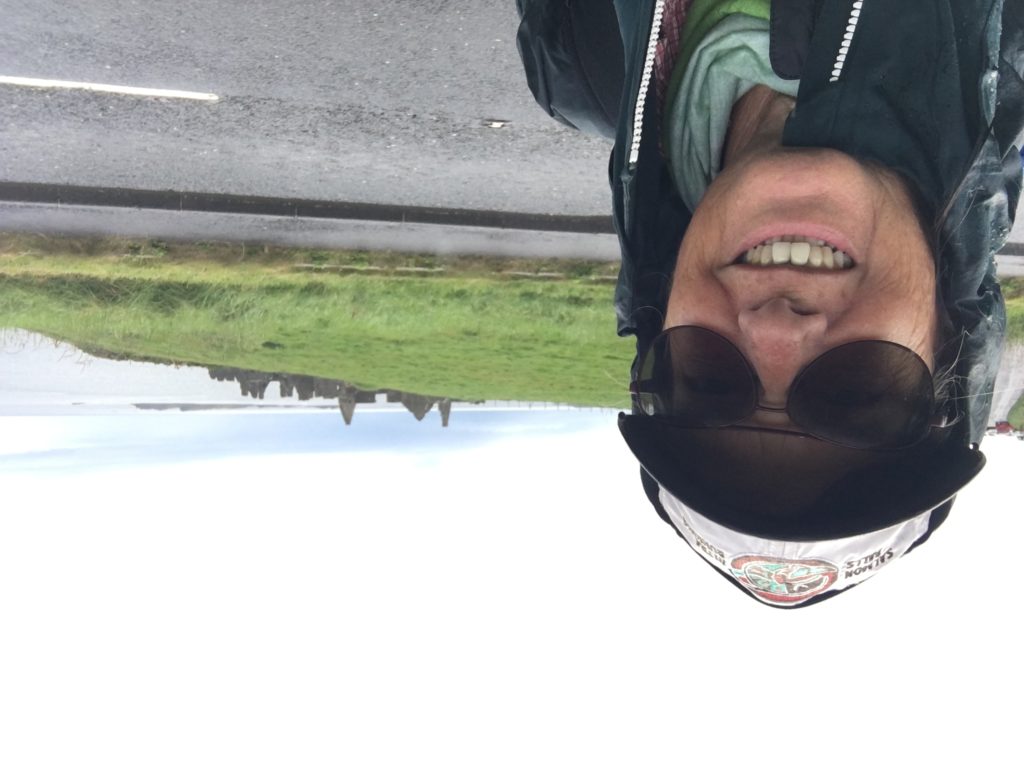 Today we walked rom the hostel to Dunluce. The weather held up until we got to the castle. Then we got soaked through to the bone. Beautiful castle but no up close pics.
#########################
#########################
Saturday, June 8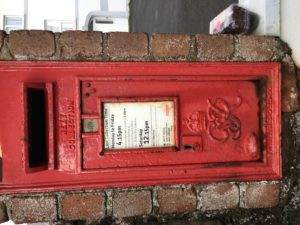 We had a day of rest. Mary's toe was on the mend and she bought a new pair of walking shoes.
###########################
###########################
Friday, June 7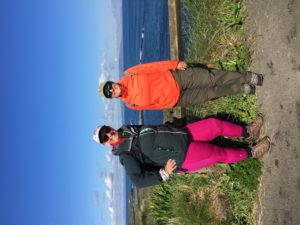 We we finally got some sunshine again. We walked some of The Causeway Coast Way from our hostel toward Portrush, then caught a bus that took us to another bus stop where we caught a bus to Ballycastle. We took pictures of the end of The Ireland Way sculpture. We visited the Tourism Office and I got my Ireland Way passport stamped. Then caught the next bus to Carrick-a-Rede so we could walk across a very safe rope bridge to a small island that was in an important salmon fishing spot. We then returned back to the hostel so Mary could tend to her aching big toe.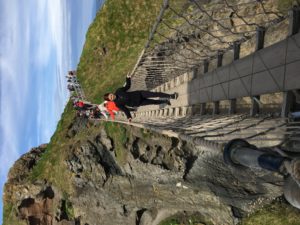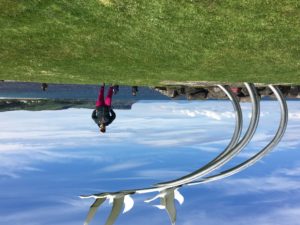 ####################
####################
Thursday, June 6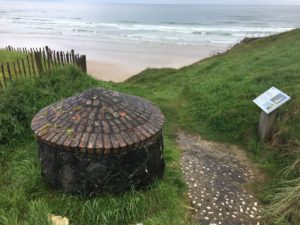 Another rainy day. As we walked to St Patrick's well, which marks the start of the Causeway Coast Way section of the Ulster Way. This trail is also the last section of the Ireland Way.
We were hit with a sleet shower. To escape it, we sought refuse in the posh golf club across the street. After the sleet stopped we returned to the hiking trail and headed back toward our hostel following the way markers. Our walk was cut short because Mary had a foot injury.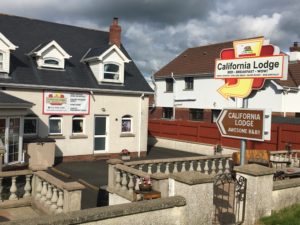 #######################
#######################
Wednesday, June 5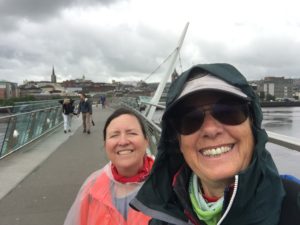 We only had one night and one day in Derry. Our hostel allowed us to store our bags on site until we were ready to catch our bus to Portstewart.
We hit sites in the central part of the city. We started at the Tower Museum and learned a bit of Irish history. Then walked the city walls, which were constructed in the 1600's. Ate lunch at a sandwich shop that came highly recommended by a local docent at one of the historic churches. We were not disappointed. We walked across the Peace Bridge over the River Foyle and finished up back at the Tower Museum to watch a short film filled with a history of Derry. Did I mention that it rained on and off all day? Not a lot of pictures today.
We retrieved our bags, walked to the bus station and caught our bus to Portstewart via Coleraine. Our next hostel was very close to the bus stop. We were lucky enough to get a room to ourselves with our own bathroom.
######################
######################
Tuesday, June 4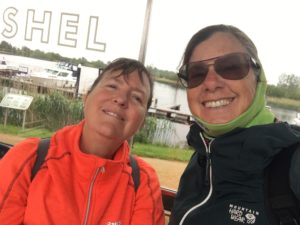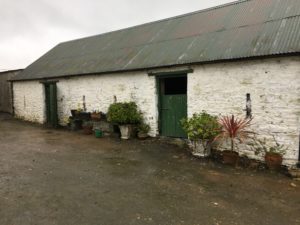 Our bus ride to Derry, Northern Ireland was rain-soaked. The bus station was in the town center, so it was easy to find our hostel, with the help of Maps.me app. As soon as we checked into the hostel Mary's cousin arrived, treated us to dinner then drove us back into the Republic of Ireland to meet her parents. We experienced more of the wonderful Irish hospitality that we have been treated to our entire journey.
We had a private room in the hostel and a shared bathroom. Great location, great price.
###############
###############
Monday, June 3
Good morning!
I have been taking it easy for a couple of days in the village of Drumshanbo. We arrived by bus from Galway on Saturday, June 1.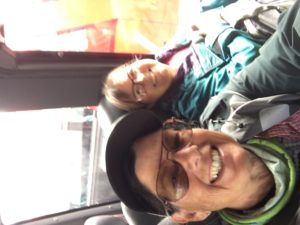 A lovely lady waiting for the same bus as us was happy to share her local knowledge about where we can camp.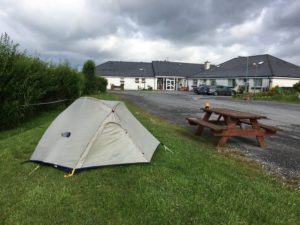 She also advised us on the fact that bus service is only on Friday & Saturday in and out of Drumshanbo. Since we planned to leave Tuesday morning, more research is needed to catch a bus to Derry, Northern Ireland.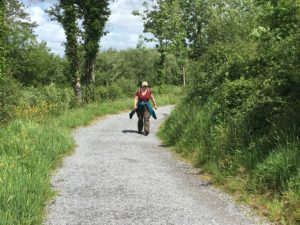 We are back on the Beara Breifne Way, so Mary and I decide to walk the six miles to Leitrim Village to visit the ruins of the castle where Donal Cam O'Sullivan Beara completed his flight to freedom, just 14 days after leaving Castletownbere. All that is left of Castle O'Rourke is a section of a wall.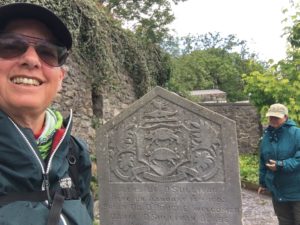 We toasted our achievement with a pint of cider at the Leitrim Inn & Lodge, then rode a taxi back to Drumshanbo. We could have walked back, but I just didn't feel like walking in wind and rain. The sun shone much of the way to Leitrim, accompanied by gusts of wind, then the rain came down in force once we arrived.
We spent a quiet evening in the common room of the hostel before crawling back into our dry sleeping bags in our cozy 2-person tent. The rain fell and we stayed dry because Mary had sealed the seams of the rain fly after we got soaked earlier on our journey.
######################################
######################################
Friday, May 31.
Hello, all! It is a lovely day in Galway City. I will explain why we are here after I describe yesterday's adventure.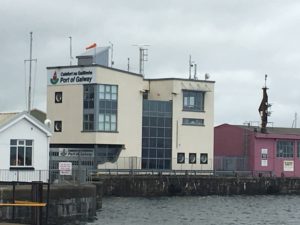 Yesterday, Thursday, May 30, was a fun day. We ate breakfast, grabbed our daypacks and set out for Glinsk.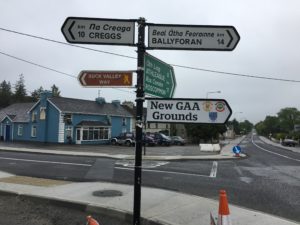 The Way was well marked. We followed our little yellow hiker through a park, down old roads, through pastures and stopped to study the map at Mount Talbot.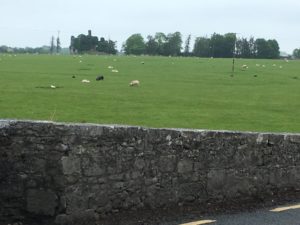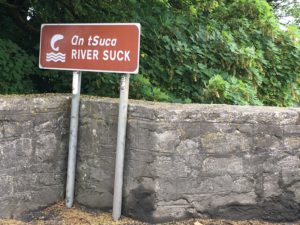 Funny thing. Mount Talbot was not on our itinerary. We studied the map on the information board. We were following the east side of Suck Valley Way Instead of the west side. See, the Suck Valley Way is a circular path that has a crucial intersection in the park in Ballygar.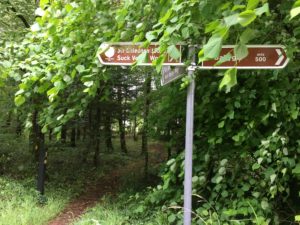 We were lucky enough to get a ride back to Ballygar and try again. We were now 1-1/2 hours off schedule.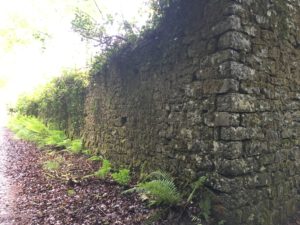 We walked 9 miles to Creggs and called it a day. In all we walked 15 miles. We called our host for a ride back to the B&B.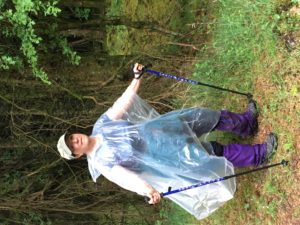 Mary & I decided that we were tired and sore and needed to end the long walking. So we caught a bus this morning to Galway and planned out the remainder of our journey, which will be via bus.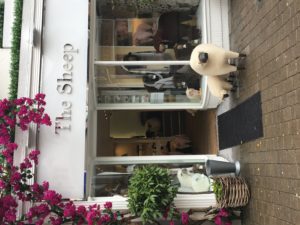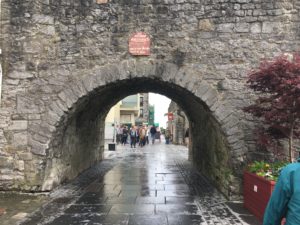 ################################
################################
Wednesday, May 29.
We walked in the rain today and had our bags transported by our trail angel, Robert.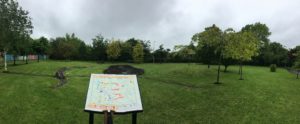 He gave us a guided tour around the battlefield in Aughrim then left us to walk on our own to Ahascragh.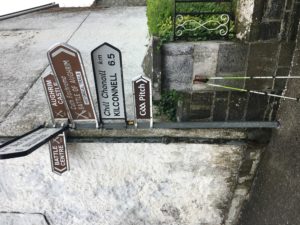 He met us there and gave us a ride to Ballygar where we stayed in the Coffee Drop B&B.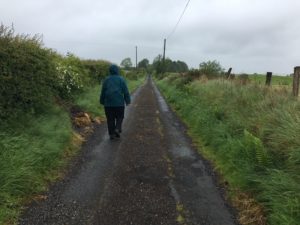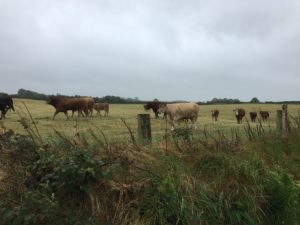 More rain in the forecast!
################################
################################
Tuesday, May 28
The B&B had a field of calves next to the house.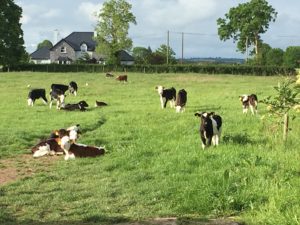 All part of of their dairy.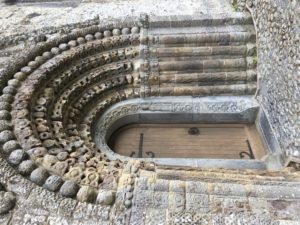 The highlight of our day was visiting the Clonfert Cathedral. A 6th century cathedral.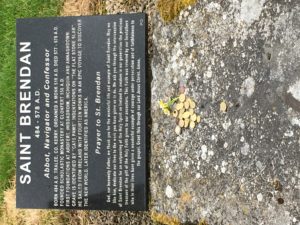 Founded by one Saint Brendan The Navigator.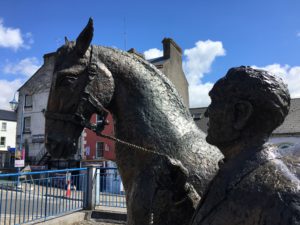 Then onward to Ballinasloe.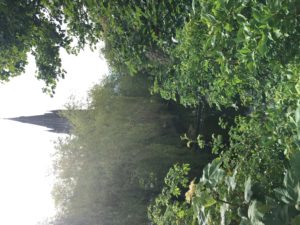 ################################
################################
################################
Monday, May 27
What an amazing few days off the grid. I had a moment of WiFi yesterday, but otherwise have been enjoying the rural countryside of Ireland. I will try to be brief on my description.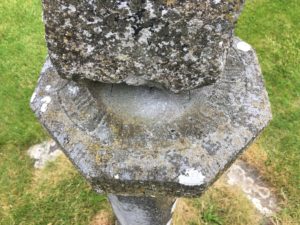 When I last checked in we were in a quaint little village called Upperchurch. (I did ask if there was a Lowerchurch, but there is none.) We were on Stage 6/The Ormond Way of the Beara-Breifne Way heading toward Templederry. Despite our good intentions of walking the shortest path into Templederry we walked an extra two hours because we missed a left turn. Needless to say, we arrived in Templederry around dinner time and there were no restaurants around. We stopped in at a grocery store and the owner was very helpful. He had a stamp for our passport, asked us to sign his guestbook then gave us directions to the home of a local fellow who knows a thing or two about The Ormond Way. Matt has been organizing this section of the BBW for 30 years.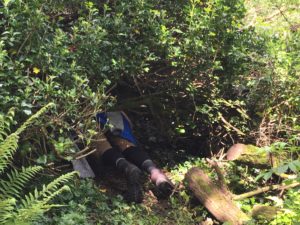 All we wanted was a suggestion for a place to pitch our tents for the night. Instead he fed us, filled our heads with more historical information than we could ever remember and let us camp in his yard for the night. Then he arranged for us to stay at a friend's house in Brownstown for 2 nights and drove us around the area as a local guide.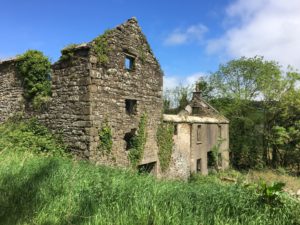 We did walk some short portions of the trail that was off-road, but Matt chose to drive us along the sections that were on the road. He dropped us off in Portumna this morning and arranged for another friend to deliver our bags at a home in Meelick. Matt was such an angel.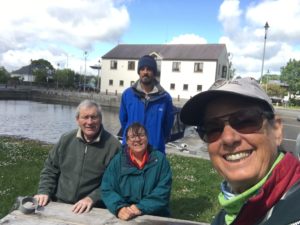 We walked close to 10 miles along the Shannon River to our destination. Saw lots of sheep grazing and several pairs of swans swimming. We climbed over numerous stiles. Our path today was level, soft and easy to follow. We even had to step in some disinfectant when we left the river levee. Some construction guys tried to prevent us from accessing the road that is used by the BBW, but we stood our ground and they let us through.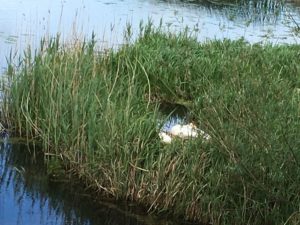 We were treated to tea and bread & jam by Mary, who was guardian of our bags for the day. She was kind enough to call the local B&B and they picked us up and treated us to more tea with cookies & cake.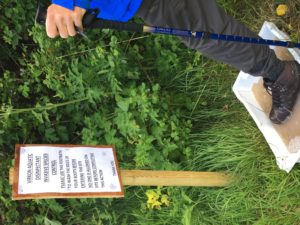 Tomorrow we walk to Ballinasloe after breakfast. Just 18 miles. Our bags are to be delivered to our next accommodation. Fingers crossed.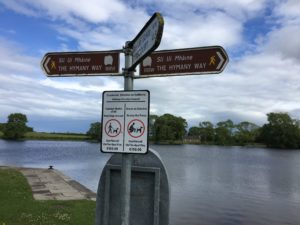 #######################
#######################
Sunday, May 26
We had an amazing encounter with the gentleman who organized the section of The Beara-Breifne Way — called the Ormand Way. But I will continue this story later as we are getting ready to hike again in a few minutes.
~~~~~~~~~~~~~~~~~~~~
Thursday, May 23, 2019
Hello, from Upperchurch, Ireland in County Tipperary! We stayed one night in Tipperary and decided to continue north. To hasten our journey, we rode a taxi into the town center of Tipperary and purchase food for the next couple of nights.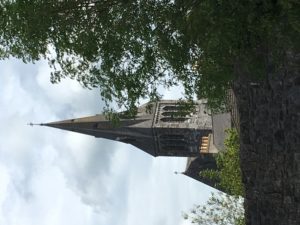 We walked a few miles out of town and a kind gentleman gave us a ride to the cute village of Cappawhite.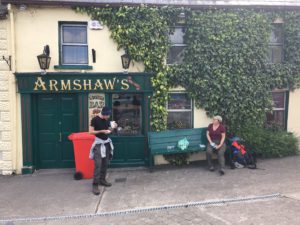 After a couple of hours of rest and relaxation we continued our walk toward Milestone. Before reaching Milestone we set up camp on the edge of a forest & wind farm.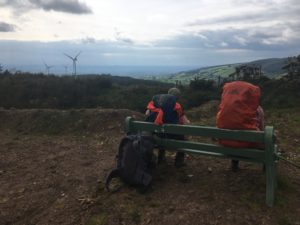 We got a good night's sleep and rose early a swarm of midges (mini-mosquitoes). A quick breakfast of oatmeal and onward to Milestone via dirt roads and cattle pastures.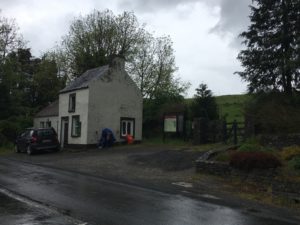 Milestone is now just a crossroads. No businesses here anymore. Next stop was Upperchurch. It took us nearly 3 hours to walk 4 miles through pastures, over and under electric fences. But tonight is good because we have a bed & breakfast! No camping tonight!
~~~~~~~~~~~~~~~~~~~~~~~
In the beginning…
So, on Monday, May 6, I and two of my friends began an epic journey that leads us up through the heart of Ireland. We are following the historic path that Donal Cam O'Sullivan Beare took in 1603. He and his clan were being hunted down by the army of Queen Elizabeth I because they did not pledge their oath to her. This path is now called the Beara-Breifne Way (BBW).
Where the BBW ends, the Ulster Way begins. In all, the trail is over 620 miles, starting in the southwestern part of Ireland — Castletownbere, over the hills and mountains in the middle of the island nation and ends in the northeastern end of Ireland at the Giant's Causeway.
We started from Castletownbere, carrying fully loaded backpacks, maps, and a feeling of excitement to be part of the few to start this walk. Fingers crossed that we are amongst the even fewer people to finish. It can be completed within 40 days. But we need some days off to rest and recover along the way. So, it may be more than 40 days for us.
More to come. Must sleep now!
To quickly bring you up to date I have made screenshots of my Instagram posts. Enjoy!