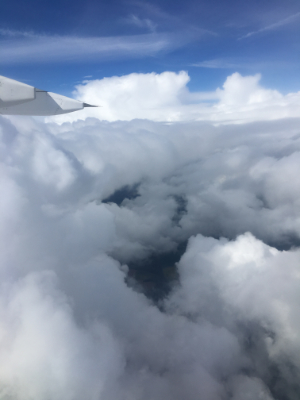 My flights and connections all went very well. I catnapped on each flight, got through customs at London with ease. Even my bag was waiting for me on the carousel. Also, the scary part of getting from Heathrow Airport to London City Airport within 4 hours of landing went smoothly. For that part I took the London Underground and change trains twice. The third train that I took dropped me at the entrance of London City Airport. I checked in at British Airways, walked to the gate and waited and waited and waited some more. We were 90 minutes delayed while an aviation tech repaired an indicator light.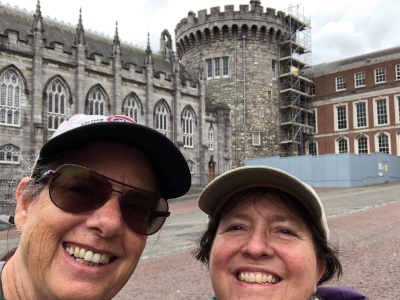 Once in Dublin airport I looked around to see if my friend Mary was waiting for me. I didn't see her so I bought a bus ticket and headed to my B&B. It should have been a 30 minute ride but it lasted over an hour because I was given inaccurate information at the airport. It didn't turn out so bad because I visited with locals on the bus. One woman was so sweet. She got off the bus with me, we walked to her place and then she gave me a ride to the B&B.
Mary has arrived at Dublin airport a couple of hours before I was scheduled to arrive. She sat and waited for me for nearly 5 hours. She even sent me a text message letting me know where to find her. I never saw that message until I checked in at the B&B. I called her, we sorted it all out and she rode a taxi alone to the B&B.
At the recommendation of our hostess, we walked 15 minutes to the nearest pub, The Beaumont House, and toasted our reunion (we hadn't seen each other for at least two years) with a pint of Guinness stout. Dinner was delicious. I had fish and chips, of course. Lovely first meal in Ireland.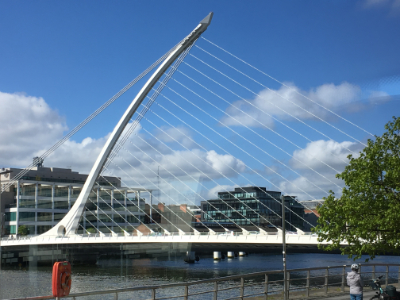 The next day we explored Dublin. First, we had a hearty lunch in a little cafe in the city center. We rode a hop-on-hop-off bus with a live guide named Matt. Afterward we walked around the medieval section of Dublin and treated ourselves to pint of Bulmer's cider along with an appetizer at the oldest pub in Dublin, The Brazen Head. It dates back to the 12th century. I think the structure has been renovated since then.
We finished the evening at The National Leprechaun Museum. The staff happened to be just getting ready to begin their night-time storytelling about leprechauns, faeries, and other folklore. From there we rode a bus home and called it a night.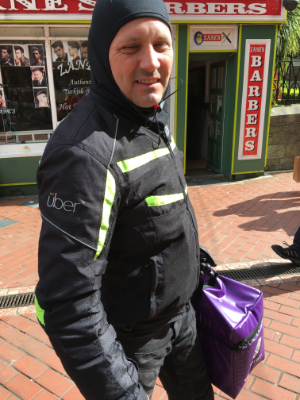 On Saturday, May 4, we ate breakfast early, packed our bags and said goodbye to our hostess, Susan. We caught the next bus to the airport. Our timing was perfect. The bus to Cork City just started boarding. We got front row seats and enjoyed the scenery. Once in Cork City we had about 4 hours to explore before we boarded our bus to Castletownbere.
As always, when I arrive in a new city I visit the tourism office. Once there I asked if there was some place to store our backpacks while we walked around. Sure enough, for €5 he would keep our bags safe. We were happy to be pack-free as we enjoyed lunch next door at the Gourmet Burger Bistro, and then wandered around the city center. I tried the calling a friend who lives there but only got his voicemail.
With the help of an Uber food delivery man and another woman, we found The Scout Shop where I bought fuel for my JetBoil Flash. Then we found the bus stop for our trip to Castletownbere — Harrington Bus Service. It was a small shuttle bus that had 21 seats. It was filled nearly to capacity when we left town. Everyone was so nice. The driver overheard me tell another passenger where we were staying. He told me that it was on the way to Castletownbere and would drop us off at Rodeen Country House. He did and we were very grateful.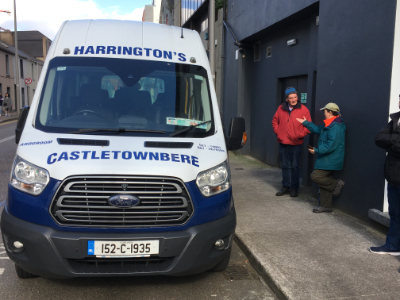 My friend Thomas was already checked in at Rodeen. He greeted us with a bottle of California red wine. After finishing that off we walked about 2-1/4 miles into the town center and MacCarthy's Pub. A few drinks and light dinner later, we walked back to our B&B and slept well.
In the morning we feasted on a delicious made-to-order breakfast. I had organic salmon and scrambled eggs with tea, toast and yogurt. Then our host, Philippe, drove us to the ferry to Beara Island.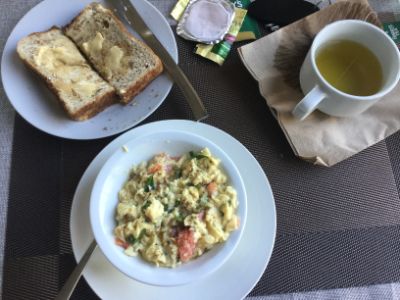 Beara Island is small enough to walk from one end to the other in a couple of hours. The island was named after a fairy princess who nursed a king back to good health some time in the second century AD. The island also has a site of an ancient Viking harbor. In all, we probably walked 10 miles and the weather was perfect.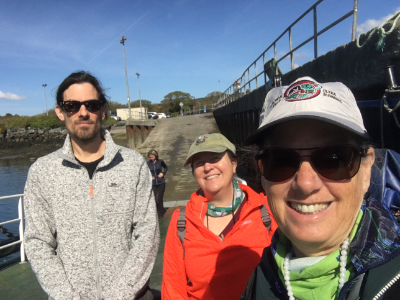 We were greatly disappointed to find the local cafe at the West End Ferry Terminal was closed for renovations. All we could do was wait for the next ferry to the town center. We managed to get a free ride on the ferry because we blended in with a large REI hiking group, also on their way to Castletownbere.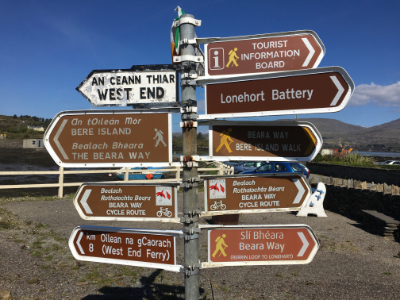 Our first stop in the town center was the supermarket where we shopped for snacks for our next few days of hiking. Next, we ate dinner at the local Chinese restaurant. Then, we saw that MacCarthy's Pub was open, so we sat down for a pint of Murphy's Stout and chatted with Adrienne, the owner. She stamped my Ireland Way passport with a special embosser that belonged to her father. Finally, we walked back to our B&B and planned for our hike the next day.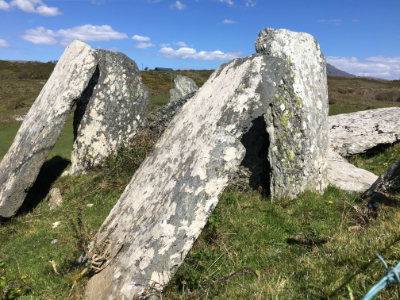 Our journey on The Ireland Way begins in the next post.