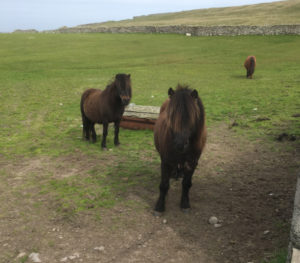 This is is the fourth article of my series on touring Shetland. I have one more article about Shetland to follow.  
Shetland Museum
When I visit a new destination one of the things I like to do is visit the local history museum. These museums are full of helpful information you can use for planning your sightseeing itinerary. The Shetland Museum has free admission and its exhibits are organized chronologically, starting with a geological history of the islands, then early human inhabitants and the evidence they left behind, and the evolution of human history all the way into the 21st century.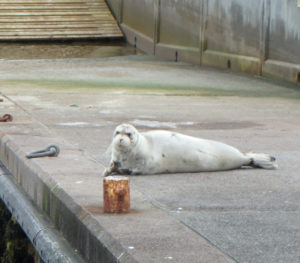 This museum provides a great overview of all the islands that make up Shetland. You can learn about how different islands and regions in Shetland that developed their own style of knitting and music and other crafts. You can learn about Shetland's involvement in the world wars. I found it very helpful for planning where to visit during my stay.
Fort Charlotte
Situated on a hill overlooking Sound of Bressy and the old harbor of Lerwick is Fort Charlotte. Construction of it was started in 1665 during the Second Dutch War, then reconstructed in the 1700's during the War of American Independence (their words). Access to the fort grounds is free. It is an unstaffed open-air historic site.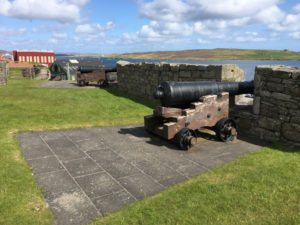 Self Guided Walking Tour of Lerwick
The staff at the Visit Scotland Tourist Information Office created their own flyer describing 3 short walks that could be combined to one long walk around the city. Some of the highlights include DCI Perez's office from the tv show "Shetland", a nursing home founded by one of the P&O Shipping Line creators, a stroll along the waterfront and an ancient broch with foot imprints on a stone where the new king needed to stand for his coronation. The tour ended at the Shetland Museum.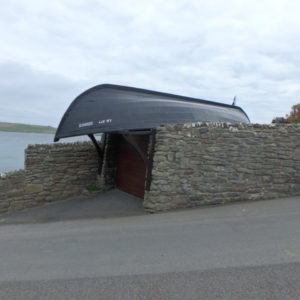 Scalloway and The Shetland Bus
A bit of 20th century history put Shetland on the map for its role in WWII. If you didn't already know this, Shetland Islands are closer to Norway than mainland Scotland, and there had been a long historical connection between Shetland and Norway. So when German troops invaded Norway the Norwegians got assistance from the UK via Shetland. This is an amazing story of which I can only scratch the surface. With that in mind, the Scalloway Museum is a must see for WWII buffs and is well worth the small admission fee to enter.
In brief, the British Navy was able to ship spies and supplies to Norway via fishing boats at first, then US Navy boats as the program became riskier. Also a small number of Norwegian refugees were evacuated by the Shetland Bus.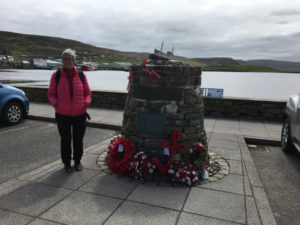 Because of its low profile as a port city, Scalloway was chosen as the headquarters of the Shetland Bus campaign. A monument honoring those participating in the Shetland Bus campaign is along the shoreline walkway.
Peat Bricks
Shetland has an abundance of peat bogs and has been harvested as a fuel for heat since early man arrived here. When homes were modernized and heat provided by oil, coal, or electricity the demand for peat bricks went down. Now that fuel prices have increased, some locals have returned to harvesting the peat to heat their homes. Some whiskey distilleries have infused peat into their formulas to give it a unique "peaty" taste. During my many bus rides around Shetland I did see peat bricks that had recently been harvested and were drying out before being collected.