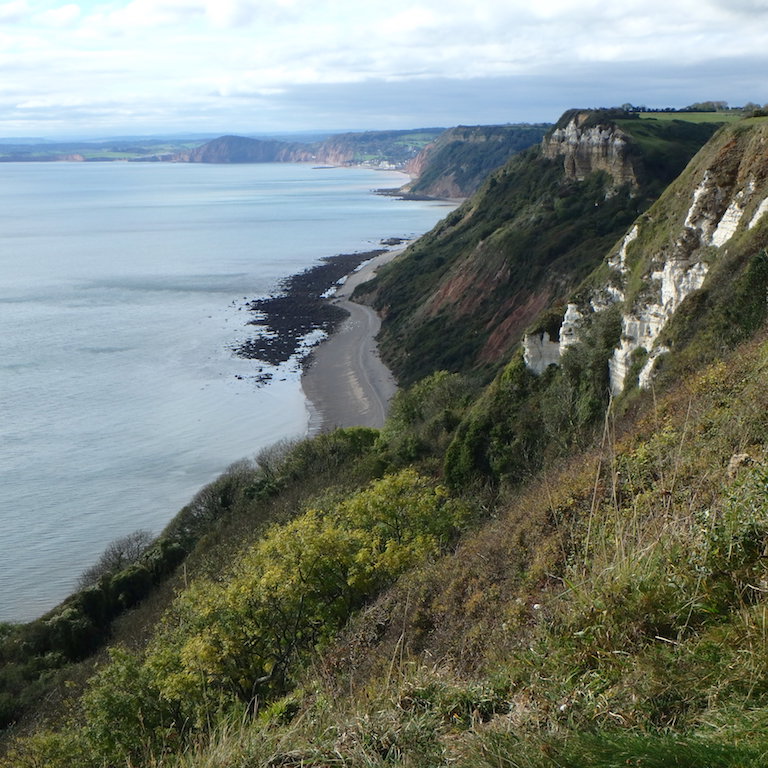 I had no idea village of Beer existed until the day I was diverted there. The hostel I was originally booked in was closed for repairs. I was given a couple of options by the hostel reservations. I chose Beer! My detour was providence. I had spent so many days hiking in the rain in the Highlands of Scotland and along the coast of Wales. And now, on the Devonshire Coast, a sunny day! 
One hiker that I met when I checked into the Beer Hostel told me about how she followed the hiking path from Sidmouth to Beer, so the night before this hike I researched the bus service. It was possible for me to get to Sidmouth on just one bus — 45 minute ride to travel less than 10 miles. I saw some great countryside. I saw what I would describe as a free-range pig farm. There was also a donkey sanctuary. But what amazed me more than the views was how a single lane road functions as a two-way road. The road was lined with tall hedges that were encroaching over the road. Whenever we encountered oncoming traffic, which was not often, everyone came to a halt and usually the smaller vehicle backed up until it was able to pull off the road enough to allow the bus to continue. We even met a tractor pulling a wagon. It got the right-of-way, as the turnoff for the tractor was close by.
Once in Sidmouth I walked around in search of the local tourist office. It was part of the library and staffed by one very nice gentleman. I left armed with a free map, a bus schedule and a copy of the distances to Branscombe, Beer and Seaton via the Jurassic Coastal Path. It was 8.8 miles to Beer, with the first place for tea was in Branscombe, just 6.2 miles away.
The path led me up to the top of the cliffs and back down again. The views of the coastline were amazing. Clear skies, blue ocean, red cliffs. My little camera couldn't do it justice. After climbing the second hill I stopped and sat on a bench. It was lunch time, so I pulled out a sandwich and just soaked up the sun and views. Shortly after I was joined by a couple of hikers. We talked for a while. One offered to take a picture of me with my camera (this rarely happened to me, so I was happy.) Jean and Peter were from the Netherlands. They were long time friends. Each year they leave their wives and children for one week and go hiking. I was lucky enough to be on the trail at the same time as them.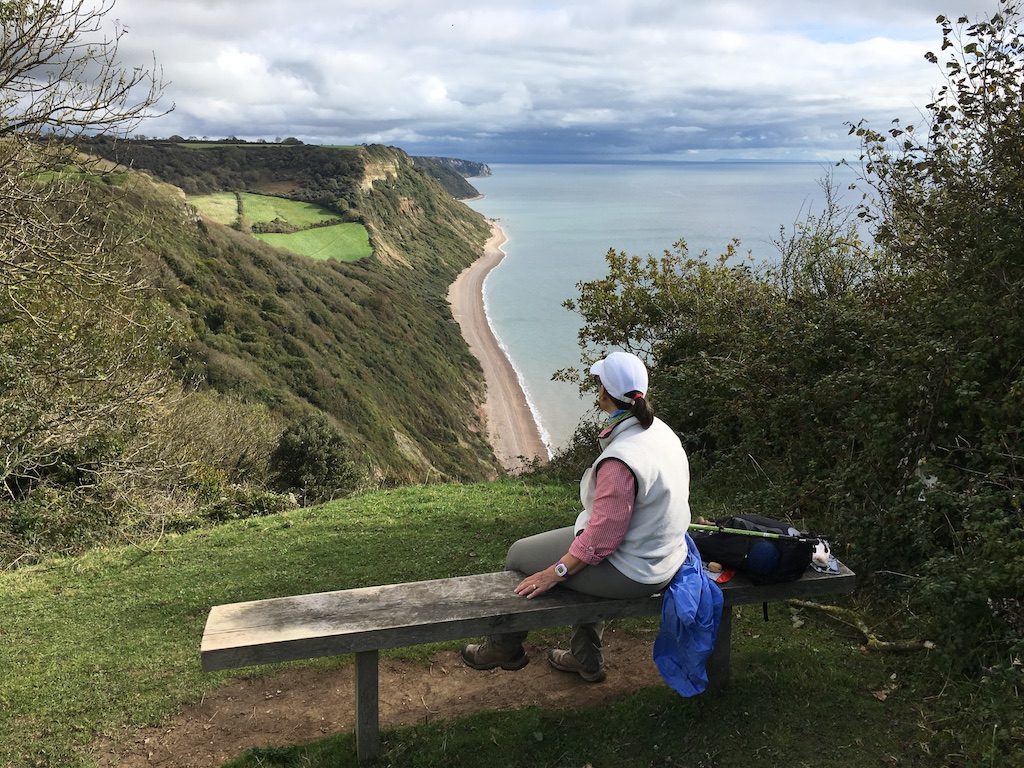 Jean and Peter were so nice. They adjusted their pace to meet mine. We stopped to take scenic photos. On the third hill we met an older gentleman with a dog. This gentleman must sit here often so that he can visit with hikers passing through. He had lots of information to share about what we will see along the path and what attractions we should visit in the surrounding countryside.
We found our way to the Sea Shanty in Branscombe and stopped for tea and snacks. I think this place was once a place where smugglers brought their goods to avoid the taxes imposed by the crown. We enjoyed our rest and refreshments, then continued along the coastal path, with just 2.6 miles to Beer. Piece of cake, especially knowing that we did not have as steep of a climb for this last stretch, and only one hill. 
We arrived in Beer and it was so quiet. It was cool, but not cold enough to keep us from sitting outside and drinking a beer in the Beer Garden of the Anchor Inn. Jean & Peter originally planned to walk back to Sidmouth to get their car, but as it turned out, they were able to catch a bus.