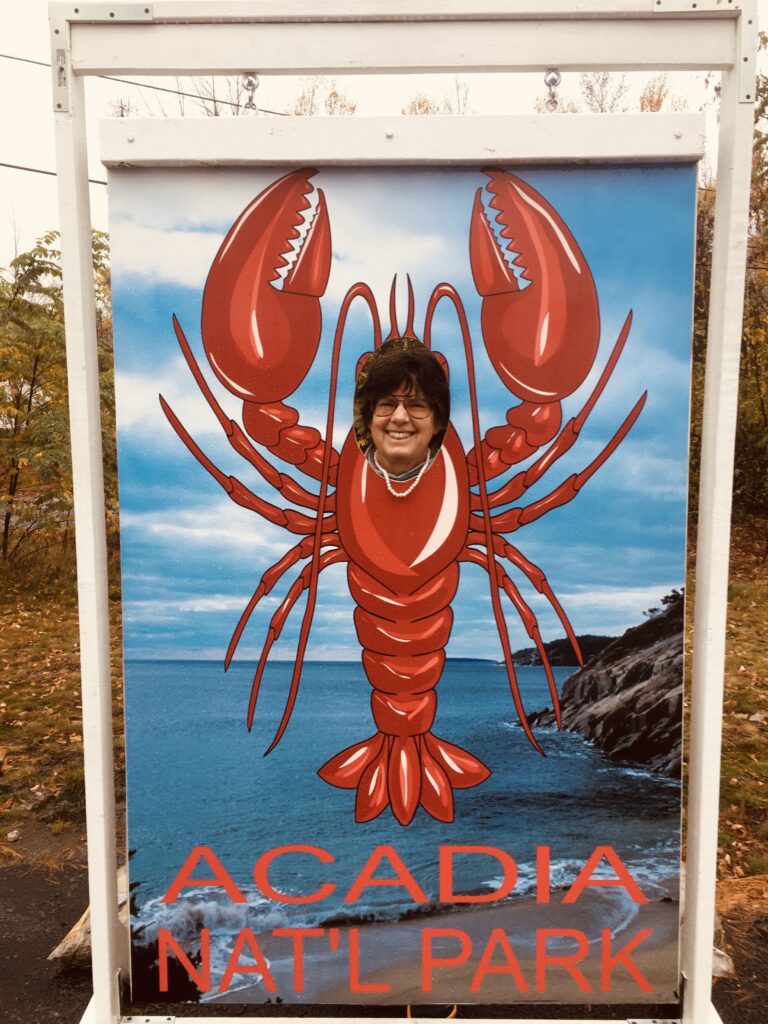 How many ways are there to eat lobster? According to what I saw on a deck of playing cards, there are at least 52 recipes for serving lobster – a different recipe on each card. I'm certain there are even more, but I will only focus on the few that I tried this summer.
Bar Harbor
My lobster quest began in Bar Harbor, Maine, close to where I spent 10 weeks working in Acadia National Park. My first lobster fare was a custom omelette I ordered while sitting at the counter of Jordan's Restaurant. It was a lobster omelette with Swiss cheese, spinach and bacon. I originally asked for the bacon on the side, but my waitress suggested I have it in the omelette. A good choice. Very delicious.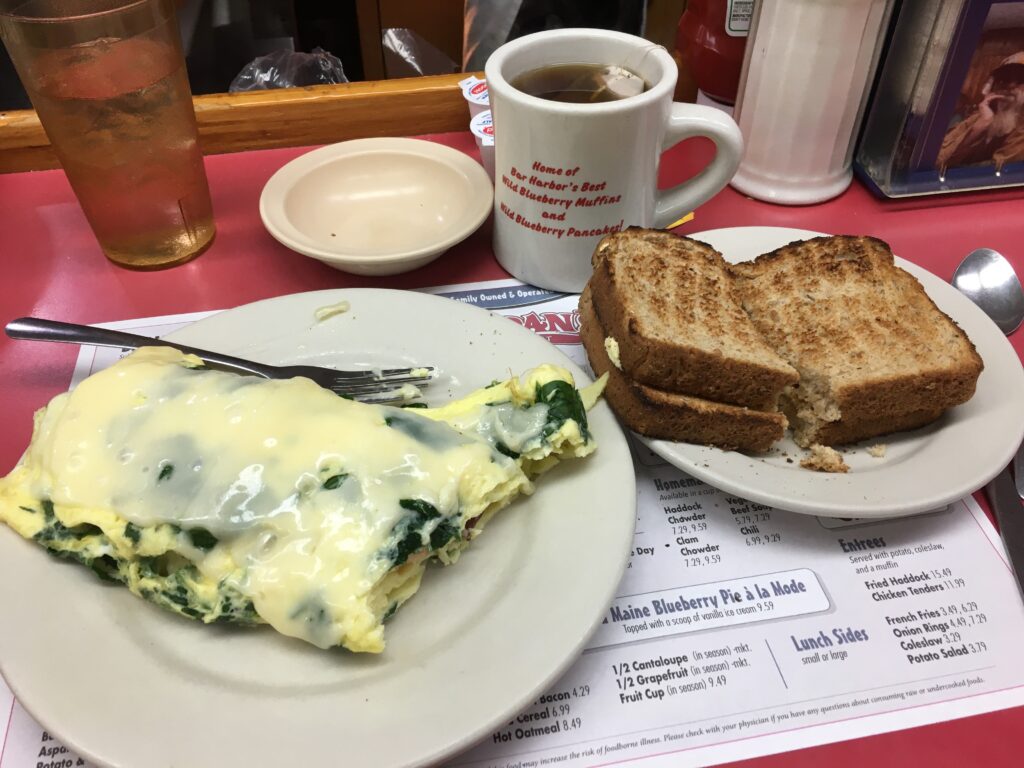 Speaking of Jordan's, if you want a different dining experience, eat there. It is a busy and popular place. The staff is great. Because I was sitting at the counter, close to the cooks, I was greatly entertained. One at a time, a waitress would wait for a pause in the kitchen chatter, then ask if they are ready for an order. Then shout the order and one of the cooks repeats the order and so the order goes. Delicious food and live entertainment. A great combo.
Next on my lobster eating experience was a treat from the Downeast Deli. They offer 4 different lobster rolls: The Classic is chunks of chilled lobster with a leaf of romaine lettuce served with a little mayo. The Naked is served without mayo. Tarragon is served with tarragon mayo. And then the one I ordered — Hot – warmed chunks of lobster drizzled with melted butter. M-m-m-m-m! All orders here are to-go.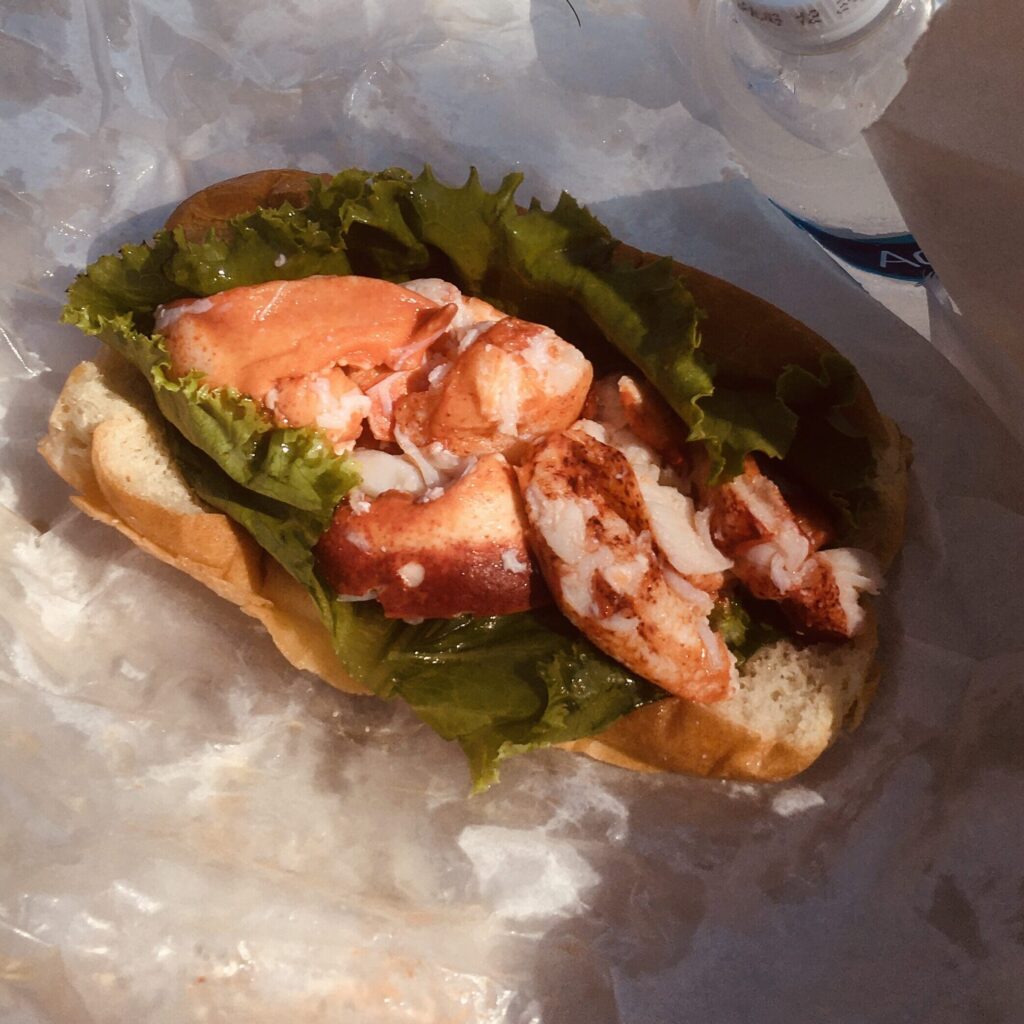 Have you ever seen a roll for a lobster roll? It looks like a large hotdog bun that has had its sides trimmed to reveal the white bread inside.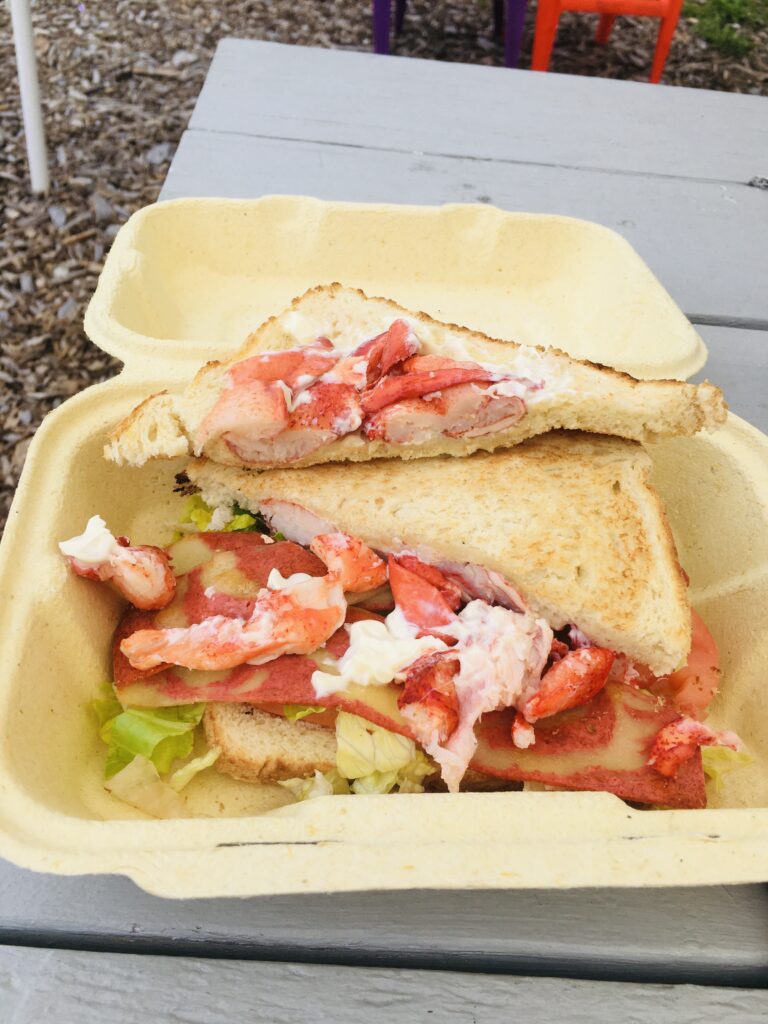 During another couple of days in Bar Harbor, I visited a The Independent Cafe. My first visit  was for a Lobster BLT, which was lobster with vegan bacon, romaine lettuce, tomato, mayo on toasted white bread. Not bad, not bad at all. On my second visit I ordered a panini called The Sailor's Delight. That was lobster meat with gooey melted brie. These tasty orders were also to-go.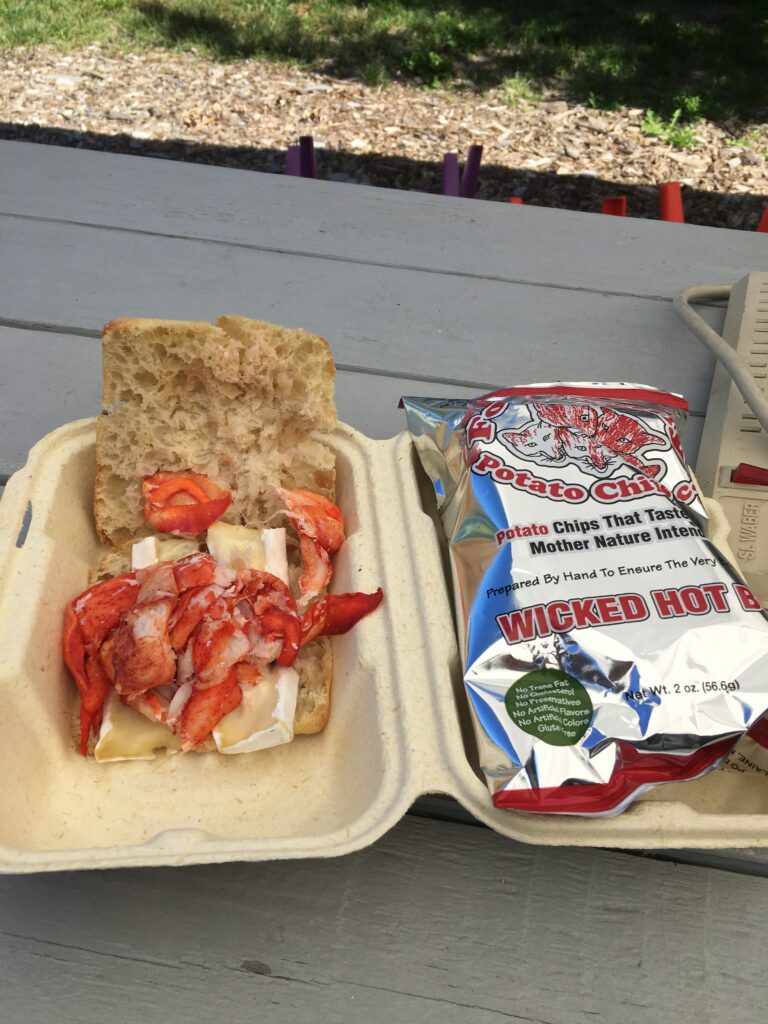 Bernard
While exploring Acadia National Park with my son and his fiancee, we stopped for lunch at a restaurant in Bernard called Thurston's. This was a great opportunity to share four different lobster dishes. Totally worth it! We had Lobster Stew, Lobster Melt, Lobster Roll and Lobster Dip. So good!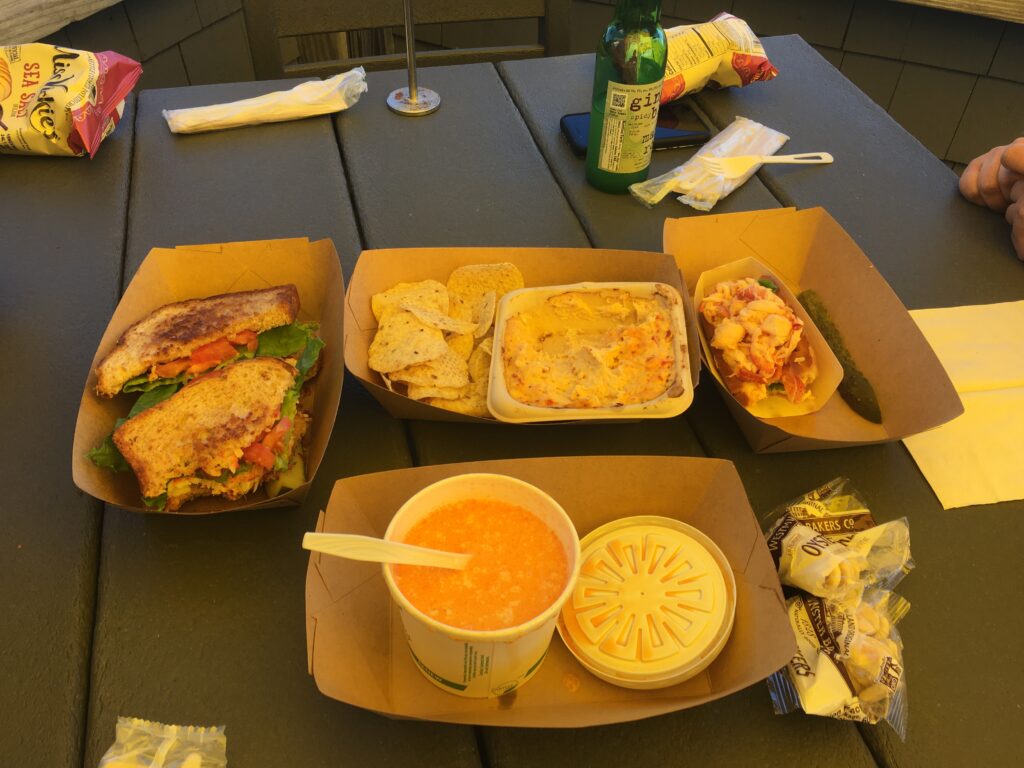 Schoodic Peninsula
Finally, my most favorite lobster dining experience was with my friend Melinda. We drove to the Schoodic Peninsula and explored it on a day of light rain. We stopped at a local market called Dunbar's. They were selling freshly cooked & chilled lobster for only $10/pound! How could we pass that up? They added some melted butter and we tore into those shellfish. Fortunately, they had a table and chairs inside, so we didn't risk getting wet while eating. So good and so fun.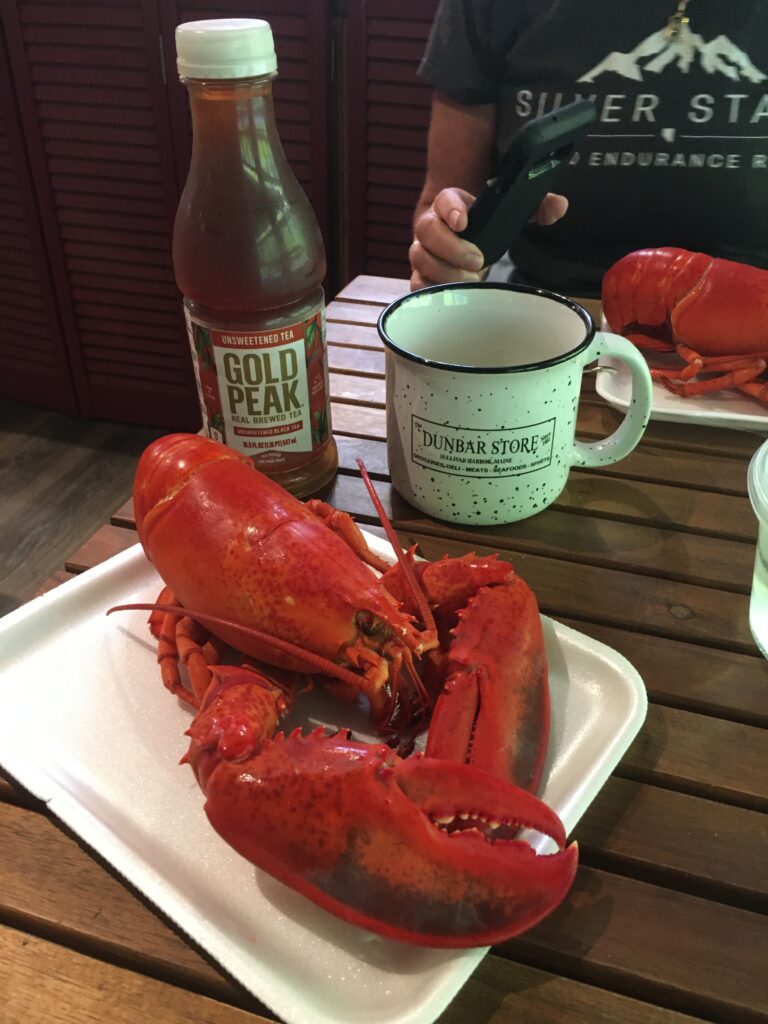 Before I came to Maine, I had only had the occasional lobster tail and lobster louie. Now I've feasted on several more lobster dishes and look forward to sampling even more.