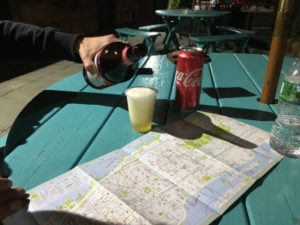 I lived in New York City in the 1980's. This is where I got my first post-college job, which was located in mid-town Manhattan. While there I lived in a small studio apartment on the Upper East Side of the city. During my 5 years in New York City I worked in public relations, advertising, marketing and was a New York City guide, among other miscellaneous jobs. So, when a friend of mine from England said he wanted to see New York City I instantly volunteered to be his personal guide.
We had just 4 full days and one evening to explore The Big Apple. My tour guide knowledge was a bit rusty, having been away for 35 years. Fortunately, I remembered just enough to get around the city on foot and via subway. There were a few times that I needed Google Maps to direct me in the right direction. 35 years ago I didn't have the luxury of a gps cell phone to help guide me along.
Saturday, May 5, we met in front of the Hosteling International NY on the Upper West Side of Manhattan in the early evening. He had flown into Newark from Bristol, England. I flew in from San Francisco to JFK airport. We checked into dorm rooms on separate floors.
Now, this hostel is in an ideal location as public transportation was very close by. We needed to walk only one block to the 103rd Street subway station on Broadway where the number 1 train stopped. We could take that train to Times Square and transfer to other trains, or just stay on it all the way to Battery Park and the Staten Island Ferry. Those details will be shared in this series of posts.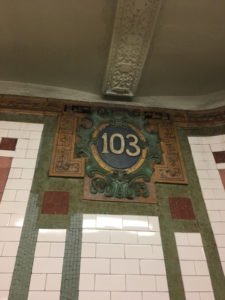 Seeing how it was Cinco de Mayo, I was expecting to see strolling mariachi bands, margarita and beer specials posted everywhere. Not the case. I guess it is a California / Southwestern US thing.
My friend, Thomas, said he wanted to see Times Square first, so we set out on a 3-mile trek from our hostel. Along the way we stopped to purchase a set of luggage locks so we could safely store our valuables in the lockers next to our bunks. It was a good investment as I was able to leave behind my heavily laden daypack for most of our sightseeing.
Since it was dinner time and we were hungry, we stopped in a Cuban cafe and ate pork chops with black beans and rice, mixed vegetables, and plantains. It was more than I could eat in one sitting, so I took the leftovers with me. I happy to know I had enough food for breakfast.
Finally, after sunset, we arrived at Times Square. This was an amazing sight. We were surrounded by electronic billboards advertising Jockey underwear, movies, musicals, stage plays and miscellaneous causes and products. Also, there were mobs of people. People were lined up to purchase discounted show tickets and even more were taking selfies or large group shots. It would be easy to photo-bomb a lot of photographs. No one seemed to care that there were several signs posted: "No Standing". We didn't obey for about 5 minutes, but then we had to seek refuge in the subway to escape from the sensory overload brought on by the bright lights and big crowds.
Just to provide an interesting introduction to the NYC subway system, we purchased our Metro Cards, which provide access to busses and subway trains, I led Thomas to the "Shuttle", which only travels between Times Square and Grand Central Terminal. We walked through the maze of corridors, following the signs with the big S inside a gray circle. A quick roundtrip and hopped onto the 1 train to 103rd Street and Broadway.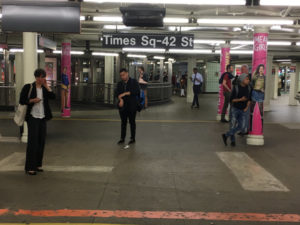 35 years ago it was typical for lots of people to be gathered there, mostly to just purchase deeply discounted tickets for Broadway productions. Standing Room tickets were the best priced tickets. The billboards were static and the New York Times headlines streamed ticker-tape style along the first floor of One Times Square building.
Back at the hostel we shared a 40-ounce bottle of Budweiser Beer for our nightcap and perused a map of the city to plan for tomorrow.
Stay tuned for my next posts as we continue touring New York City on foot and subway.