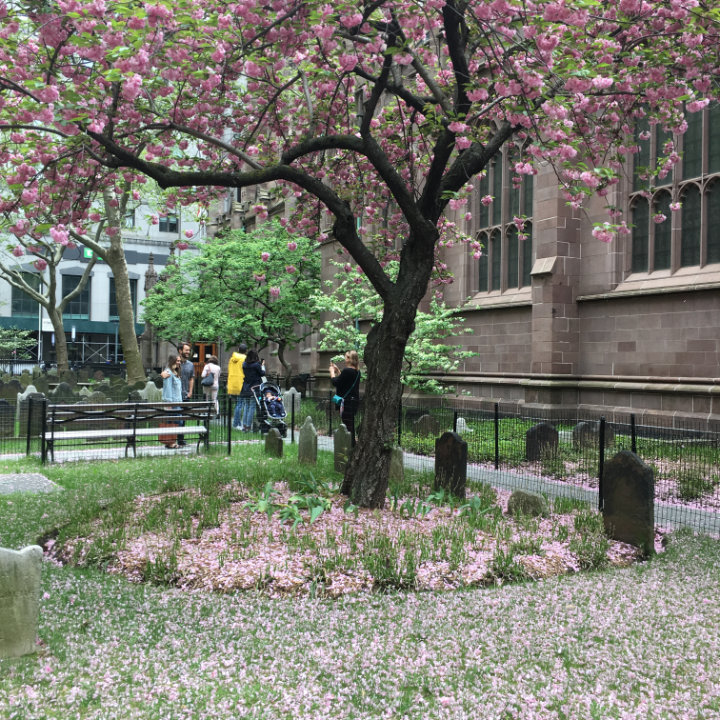 Sunday, May 6. This was our first full day of sightseeing and we wanted to see iconic landmarks, such as the Empire State Building, World Trade Center 9/11 Memorial, and Staten Island Ferry. Since I like to start at the furthest point and wander back toward our accommodation, our first stop would be the Staten Island Ferry.
We rode the number 1 subway train, which is a local train. We stopped frequently as we progressed south. Fortunately, we waited until rush hour was over and the train wasn't crowded. By the time we arrived at the South Ferry station and walked into the ferry building no more passengers were allowed to board the ferry docked outside. We had to wait for the next one – 30 minutes later. That was enough time for us enjoy a hot drink and snack and people-watch.
35 years ago we had to pay 25 cents to ride the ferry. The fare was raised to 50 cents, but then in 1997, the fare was eliminated because, unlike the other boroughs (Manhattan, Brooklyn, Bronx, and Queens) there was no "free" access to Staten Island.
I just love riding this ferry because of the views of the New York CIty skyline and of the Statue of Liberty. The weather was on our side and we were not disappointed. The ferry was not so full so we were able to get a space along the outside deck for an unobstructed view of Lady Liberty.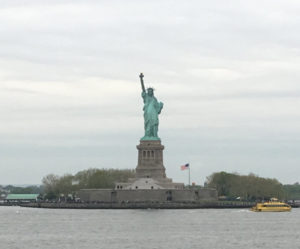 Once we arrived at Staten Island, we had to disembark and walk around the corner to the next ferry heading black to Manhattan. More great views. Then our tour proceeded from the ferry building to Wall Street to see the bronze statue of the bull outside the New York Stock Exchange.
The bull was surrounded by onlookers as some tourists took turns having their picture taken while holding the bull by his balls. Mostly men partook in this activity but I noticed some women did it too.
Close by was Federal Hall and the statue of George Washington on the steps. This is where he gave his inaugural speech after being elected the first President of the United States of America.
Next we walked over to Trinity Church. It's located at the corner of Broadway and Wall Street. Trinity Church was built in the late 1600's. Since then, it has survived many wars, and natural and unnatural disasters. When the World Trade Center towers fell, many first responders came here for prayer and meditation and solace. It's a beautiful landmark. Outside the church the cherry trees were shedding their blossoms onto the graves in the church's cemetery. It looked like pink snow.
From there we walked over to the 9/11 Memorial. 35 years ago I used to join friends for drinks and appetizers at the Windows on the World restaurant. I even had a friend working on one of the higher floors of one of the towers. I had a history there. As far as I know, none of my friends from back then were victims of 9/11.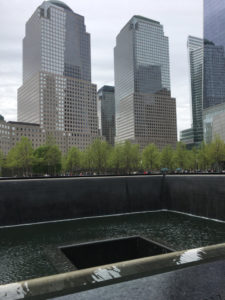 I had visited the memorial two years ago and sobbed because I felt so sad. So, I thought I was prepared for this visit. No, I cried this time because of the great sadness that overcame me. Our journey continued up Broadway to Canal Street and Chinatown.
I was very excited to see the cart where I could purchase Hong Kong cakes. The Hong Kong cakes were a favorite dessert treat for me 35 years ago. My then-best friend and I would go to a basement restaurant and eat dim sum about once a month in Chinatown. Afterward we would purchase these little treats to nosh on. But I digress. (I saved the cakes for later, as there was yet another treat we were looking forward to eating very soon.)
When we got to Canal and Mulberry Street we turned north and entered Little Italy and stopped at Caffe Palermo for Cannolis. We treated ourselves to a sampling of 4 mini cannolis. Mmm. It was fun revisiting this neighborhood. It didn't look much different than what I recall.
We continued walking north-ish until we reached Greenwich Village. Once there, I remembered that I wanted to walk out on the Williamsburg Bridge so we could get another view of the Manhattan Skyline. We had to backtrack a bit, but once we were on Delancey Street we started our gradual upward climb over the East River.
The Williamsburg Bridge has changed its traffic flow since I was last on it. The upper deck has been divided so that bicyclists stay on one path and the pedestrians walk on the other path. Trains and automobiles were still on the lower decks.
When we got to the midpoint I crossed over to the bike path to retake a skyline shot that I had taken 35 years ago. Back then we didn't have a wire fence to peer through and it was sunset. One day I will find that photo and post a side-by-side comparison.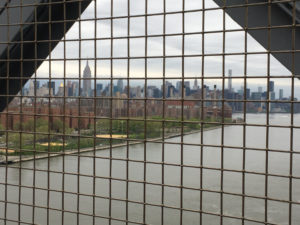 We walked back to Manhattan and were hungry, so it was time to find some pizza by the slice. We walked past several shops, but business was slow and we didn't know how long the slices had been there. We finally found a place that was very busy and got in line. The slices we ordered were not immediately available so we waited while fresh pizza was made and placed in the oven. While waiting we managed to snag a couple of counter seats by the window. We couldn't get any fresher than that. And it was so good!
Recharged from our early evening snack we continued our walk north until we reached 23rd Street & Fifth Avenue. We stopped and sat at a table in the park and admired the unique architectural design of the Flatiron Building. It is an odd triangular skyscraper completed in 1902. It got its name from the fact that its shape resembles the old fashioned flatirons people used to press their clothes.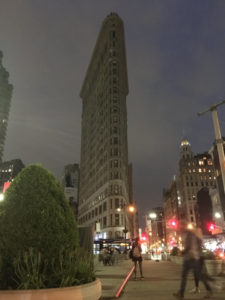 The sun had set and we were getting tired, but we weren't done yet. We wanted to visit one more landmark before jumping back on the subway to the hostel.
We followed Fifth Avenue to 32nd Street. We were standing along side the Empire State Building. I recalled that there were some interesting displays in the lobby of the building that we could possibly view without paying a fee. We walked in the 34th Street entrance and were turned away by security. We needed a special pass to go any further. We walked back around to the tourist entrance along Fifth Avenue and there were some beautiful displays and photographs sharing some of the history of the building. If we wanted to see more we would have to buy a ticket. Sorry, but that was not in my budget.
We found the nearest subway station for the west side and boarded the number 1 train headed uptown. We finished our evening with a nightcap of another large bottle of Budweiser beer and discussed our plans for the next day.
Part 3 of this tour will follow.