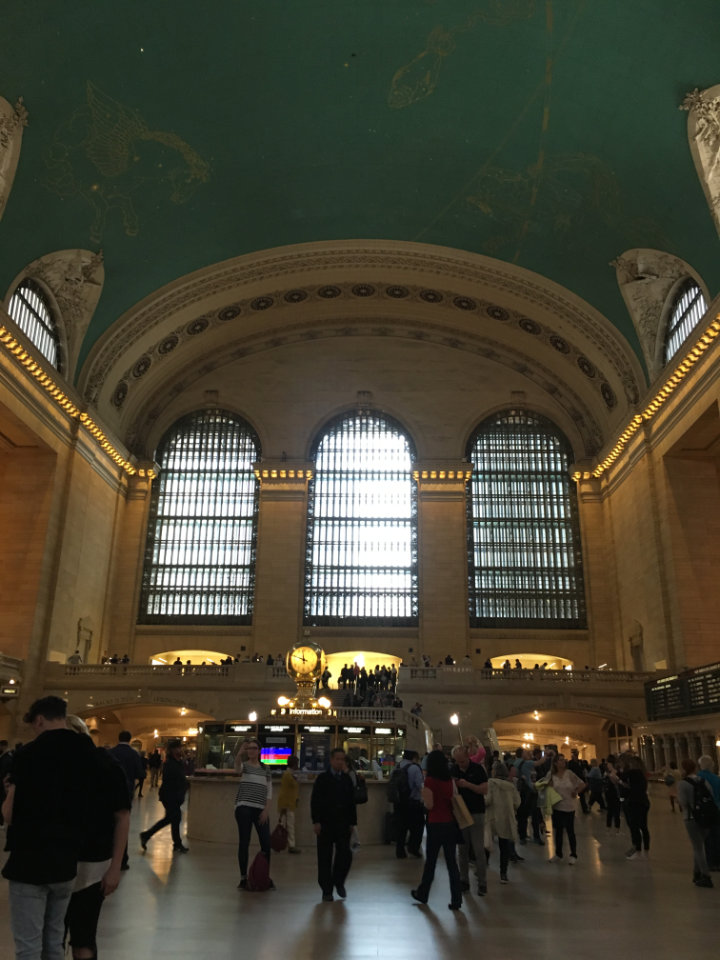 Monday, May 7
Two sections of NYC ticked off our list. Where to go next? I wanted to pick up from where we left off last night. After the Empire State Building the next logical landmark on Thomas's list was Bryant Park and the Library. But then, what else is in the midtown area? I wanted to share more of my old haunts, and again, I wanted to start from the furthest point and wander back toward our hostel.
First stop – St. Bartholomew's Church at 51st and Park Avenue. I originally went to that church not to join the congregation but to join a non-sectarian social group for young adults. St. Bartholomew's Community Club was the best organization for me. It was a safe environment for meeting other young adults. I think the ages of the members ranged from 21 to 35. After 35, you were on your own. That's okay. I moved away before I reached that age. After joining the community club I joined the church because I was Episcopalian and this was an Episcopal church. What a match! While there I joined the handbell choir and took charge of the big bells in the lower octave. We played once a month for services and played for special events, such as when Bishop Tutu spoke at the church. We also performed at private parties. I had a lot of fun ringing the bells. But I digress. Sorry, I will continue to share my past throughout this short series of articles.
St. Bart's is also home to the largest organ in New York City. It has been improved and moved around a little bit from 35 years ago. The large number of keyboards, buttons, levers, and pedals are daunting to anyone other than the seasoned organ player. And the music from this organ is amazing to listen to.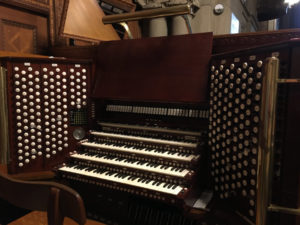 A bit of trivia – in the movie Arthur, starring Dudley Moore and Liza Minnelli, the wedding scene took place here.
We walked across the street to 50th and Park Avenue and walked all the way around the building only to find a sign that the Waldorf Astoria was closed for renovations. I so wanted to walk around its plushly appointed lobby. So sad.
Next, we walked into the lobby of the Chrysler Building. I love the Art Deco appointed interior. The elevator doors looked the same as when I rode them to my job on the 25th floor back in the 80's. I had a view of NY Harbor from my office. Very cool. Actually, it was a 6-month internship with an agricultural advertising agency. After completing my internship I bought a ticket to travel around the world. But that story is for another time.
We were on 42nd Street and Lexington Avenue and turned east toward the river in search of Clark Kent's former work place and found it. The New York Daily News — or in the case of Superman, The Daily Planet — still occupies its old address. When we walked into the lobby the giant globe was there, spinning slowly around. There were photos with captions describing the history of the Daily Planet, er, the Daily News. Yes, photos of Christopher Reeves and Margot Kidder were included.
While walking toward Grand Central I pointed out where a classic American iconic landmark used to be. The place I am referring to was Horn & Hardart Automat. I loved going there for a quick and cheap meal. I even went there for date, as my suitor was tight on funds. It is now a fashion retail store.
What is an automat, you ask? The automat was a cafeteria with what looked like a wall of mailboxes/vending devices. Inside each box was a food item, be it a sandwich or apple or salad. You paid with coins (exact change, please), opened the door and grabbed your food.
Then, there were no private tables. You had to share with others. It was a lot of fun listening to all the conversations going on around you. One friend joined me for lunch one time and we decided we should have an interesting conversation to see if anyone was listening. Sure enough, several people stopped eating so they could hear more. We laughed. Our experiment was a success.
Back in the present, Thomas and I walked south a couple of blocks then west. I pointed out a little 4-story townhouse snuggled between two large office buildings. This was a building that was designed by one of Abraham Lincoln's son. And … it was the location of my first job after graduating with a BS in Agricultural Journalism. Where else would you pursue an agricultural journalism career than NYC? Haha! Yes, my first job was working for a PR firm with such clients as Chevron Ag Chemicals, Monsanto Ag Chemicals, and a consortium of cattle feedlots in the Midwest, the name slips my mind. Now the Togo consulate occupies that building.
Next stop – Grand Central Terminal. Please note, I did not call it "Station". I still remember when I was training to be a tour leader that my instructor emphasized that all trains into Grand Central stop or terminate their routes there. A station is one in which the trains continue on in one direction or another.
We walked into the main floor and there was a larger than average police presence. There was a peaceful protest in progress. Something about saving the salmon. They left the building shortly after we arrived.
Thomas shared a bit of knowledge I had completely forgotten. The "whispering wall" in a lower lobby. We found it and found others were testing it. We took our turn. We stood in opposite corners from each other and Thomas started reciting a silly rhyme and I heard it. It wasn't loud, but still within my hearing range.
We were hungry, since it was lunchtime. We scoped out various food vendors and settled on one of my old haunts, The Oyster Bar. Once upon a time I treated myself to lunch maybe once a week at this eatery. I would have a Manhattan Clam Chowder and Beck's Beer. Afterward I was good for the rest of the day at work.
Anyway, the counter I used to sit at was still there, but it was different. It used to face an exhibition kitchen of sorts. People were shucking oysters as they were ordered. The chefs would prepare the chowder in individual portions in special bowls attached to some copper tubing that was had steaming hot water running through. Mixed all the ingredients together, then poured it into the bowl and serve it up. Totally worth the purchase price. Now all that is gone. We sat at a different counter. We did have a great waitress. I ordered the Manhattan Chowder for old times sake and a hot tea. Still a good choice.
On our way out of Grand Central we stopped by a little museum that featured the research of the art in the NYC subways by Philip Ashforth Coppola. He published his research in a book called Silver Connections. I think one of the things his father told him was that each subway station had a story to tell through the art in each. The admission was free and the exhibit was excellent. It included a video interview of the author, sketches by him and some of the tile art that has been recovered from various stations.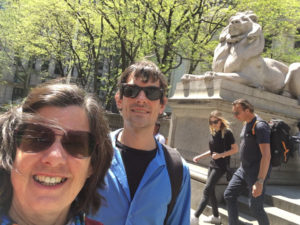 Back on 42nd Street we walked west to 500 Fifth Avenue. Another address of one of my many jobs I held in the city. I worked on the 11th floor for a market research company. They were my last employer before I moved home to California.
This building happens to be across the street from the New York Public Library Main Branch — Ghostbusters — featured location. We walked in and walked through two different exhibits on the first floor. One was "Shared Sacred Sites" a comparison of Judaism, Christianity and Islam. The other was "You Say You Want a Revolution: Remembering the 60's" which recounted the cultural revolution.
After reaching a sensory overload from so many interesting pictures and history, we walked around to the back of the library to Bryant Park. It originally was a reservoir in the 1800's, then later it was converted into a public park. When I lived there Bryant Park was a great place to eat lunch and just soak up the sun before heading back to work. Not so now. The grass was off limits. There were cafes and various vendors all around the perimeter of the park.
Time to head north. We stopped by Rockefeller Center to view the interesting statues out front. We walked on the steps of St Patrick's Cathedral. Then we entered the lobby of the Plaza Hotel at 59th and Fifth Avenue. Very posh. This was the hotel Nick Dundee stayed in for the movie "Crocodile Dundee". Loved that movie.
We crossed the street and strolled through Central Park. We were treated to a photo shoot in progress. The model was dressed in a kimono and touted a sword. She was posing on a large rock at the edge of a pond.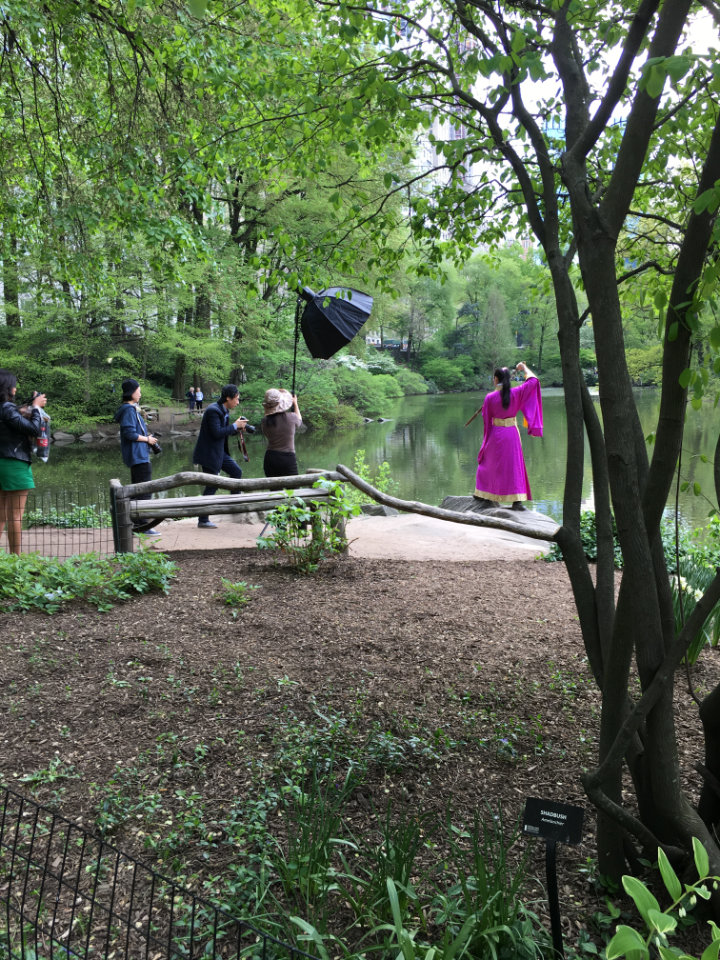 We continued walking through the park with the mission to find Strawberry Fields. Accomplished. We followed a path up a small hill and found a group of people standing around listening to a guitarist playing and singing Beatles tunes. Some people were also posing on a tile mosaic that contained the word "Imagine".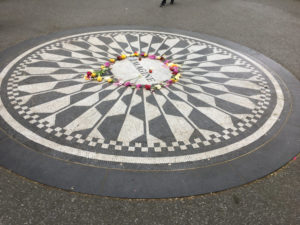 We walked over to Central Park West and continued north until we reached the Museum of Natural History, then headed west toward Broadway. This time I was in search of a hardware store so I could purchase some duct tape to patch my duffel bag. Found one. Bought some. Dinner time! We stopped by a grocery store and I bought dinner ingredients.
We were all walked out and enjoyed just sitting and relaxing after dinner. We capped it off with another bottle of beer.
Our adventurous tour of New York City will continue. Remember to check back for Part 4.