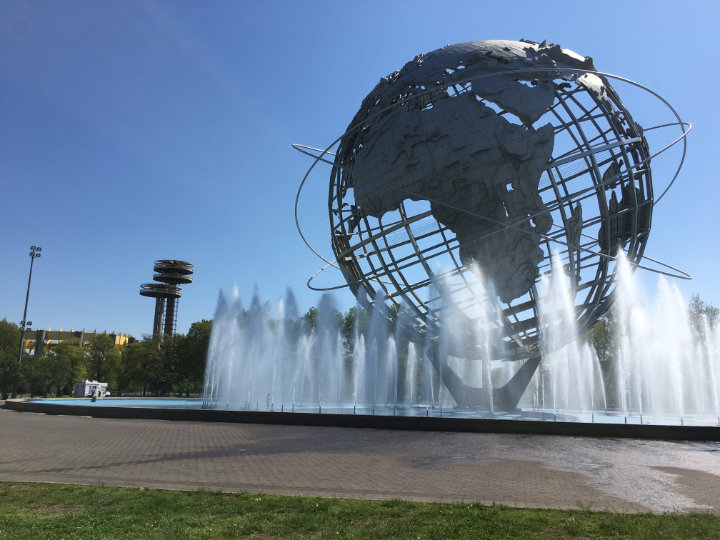 Tuesday, May 8.
It was time to visit the three remaining boroughs that make up New York City. With Staten Island, we simply visited the pier where the ferries come and go. Today we were going to get out and walk around a little bit. Because we allocated just one day for this adventure I thought best to choose one highlight from each. Brooklyn – Coney Island. Queens – Forest Hills Corona Park. Bronx – Little Italy (Thomas's request. It's the first I heard of it.)
I could have gotten creative in trying to make various subway connections work without returning to Manhattan, but instead I followed the suggested routes from Google Maps. All trains lead back to Manhattan before continuing on to the next destination.
First destination: Coney Island. The train stops right across the main entrance to the beach and amusement park. Because it wasn't officially summer season yet the park was closed. However, many of the food vendors were open, so we did not starve on this stop.
The World Famous Nathan's Hot Dog Stand was our early lunch stop. The place was hopping with business. Lots of customers were in line to place their orders. I had the plain Coney Dog and thoroughly enjoyed the simplicity of it. But it wasn't enough to satisfy my hunger. I needed to be on the lookout for more interesting food.
We walked along the main road past the entrance to the aquarium and then onto the boardwalk where we strolled back toward the main entrance. It was perfect weather for this outing. Because it was mid-week there weren't a lot of people.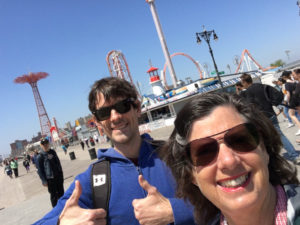 We stopped at a food stand and ordered a funnel cake. This was a new treat for my friend, as I don't think they make them in England. A funnel cake is made by drizzling a waffle type of batter through a funnel and onto hot oil. The batter floats while it is cooking. Then it is served with confectioners sugar sprinkled on top. A very yummy sweet treat.
Time to head off to Queens. We caught the next train out and changed trains in midtown for the 7 train to Forest Hills. This is a train I rode multiple times when I lived here. I attended many a Mets games at Shea Stadium with a friend. That field has since been replaced with Citi Field, still at the same subway stop.
One time a group of us played indoor tennis at the US Open Tennis Center, also at this same subway stop. I think it is now the Billie Jean King Tennis Center. Fun memories abound at this location.
We got off the train and headed to the old World's Fair Grounds. If you ever watched the first Men in Black movie, then you may recognize this as the location of the space saucers hidden in plain sight. There is also a beautiful fountain with a sculpture of the Earth in the center. If you were overly hot, then you could walk through the fountain to cool down. It is very people friendly.
There were signs posted in the area providing a history of the grounds. Two World's Fairs were held here. First one was in 1939. The next was in 1964. There are just a few monuments left as a reminder of these events. The grounds now serve as large public parks.
Our third and final destination was the Bronx Little Italy. I went to the Bronx only a couple of times when I lived here. Once was to get my driver's license. Some other times were to watch the New York Yankees play in their home field. And one time I did visit the Bronx Zoo.
I did not know where to go and relied on Google Maps to point us in the right direction. The directions were a little confusing as the subway stop was nearly a mile from Little Italy. We found it. It is on a quiet street — Arthur Avenue. Several restaurants were open so we chose a cafe at the end of the street with outdoor seating. Prince Coffee House was a good place for coffee, or in my case, tea and cannoli. I liked the cannolis from the other Little Italy better.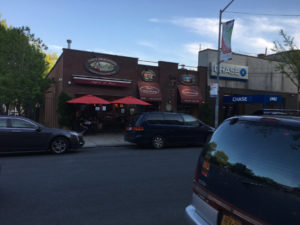 Finding our way back to the subway was easier as we recognized landmarks from our walk to Arthur Street. Before going back to the underground we stopped in a little museum that had art on display created by local artists. Some were brilliantly done. It was worth the detour.
Finding the correct entrance was the tricky part. We wanted to be able to head back to Manhattan. Unfortunately, if we passed through the gate for a train heading in the wrong direction we had to ride that train to a major station so we could switch platforms without paying an additional fare. This happened more than once during our 5 days in NYC, but I will never tell you when those occurred. It's all part of the adventure.
We made it back to the hostel. We bought a garden salad to eat with our leftovers. Another successful day of sightseeing.
I have one more day of sightseeing to share. Be sure to check back again soon!