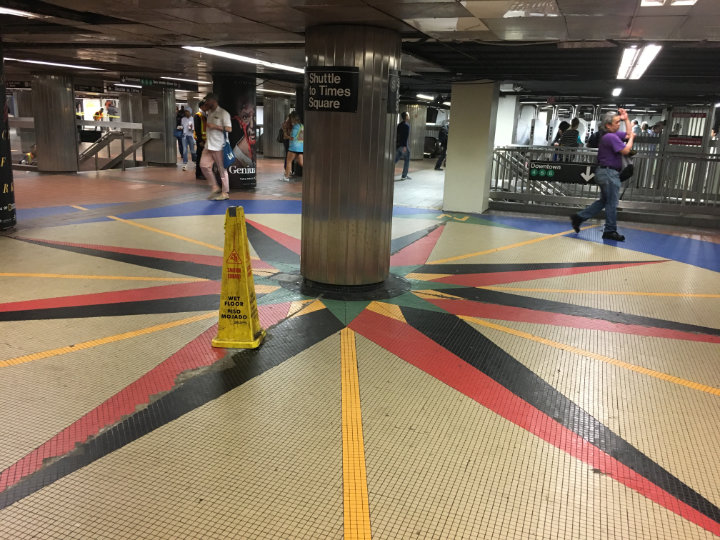 Wednesday, May 9, 2018
I would love to say that I save the best for last, but I won't because I didn't. I think our entire time has been the best. There was something for everybody to enjoy. So, this day simply covers parts of Manhattan we hadn't seen yet. There is so much more that we could have visited, but we didn't have the time. Today we went to the Upper East Side. This is the neighborhood in which I lived.
We took the subway back to Times Square, caught the shuttle to Grand Central, then got on a local 6 train to 96th Street. We emerged above ground on the southern edge of Spanish Harlem. Any fans of West Side Story? Well, the Spanish Harlem I know is actually on the East Side. But I digress.
We started walking south and further east toward Gracie Mansion where the Mayor of New York resides on 88th Street and the East River. I seem to recall that the mansion was visible from the front. Now it is well hidden by overgrown trees and bushes. What was clearly visible was the security gate one has to go through to have an audience with Mayor Bill de Blasio.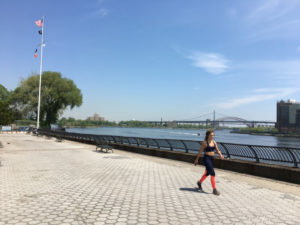 We walked a short distance along the promenade, which had a view of Queens, the RFK Bridge (formerly known as the Triborough Bridge) and Roosevelt Island. I did a bit of sunbathing here a long, long time ago. It was good to see that activity still occurs here.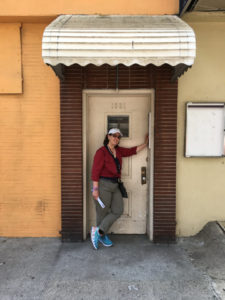 We headed back toward York Avenue and 81st Street. Lo, the little 3-story walk-up building in which I resided still stands, surrounded by much taller buildings. The entrance has changed. Before, the door was locked and someone who wanted to enter the building pushed a button above your mailbox. There was no intercom. You either walked down to the door to see who was there or blindly buzz that person in because you were expecting company. Now there is an intercom. Much safer approach.
We stopped in a deli and ordered sandwiches to go. Then we proceeded to the Metropolitan Museum of Art. We sat at a fountain near the museum steps and ate. Now this is a local's experience — eating lunch outside my favorite museum. The place was very busy with bus groups coming and going. The line to go through security in order to view the museum exhibits extended outside the front doors. Needless to say, we opted out of going inside.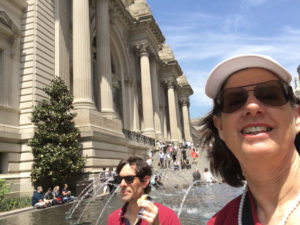 Since we were on Museum Mile — a section of Fifth Avenue that has a high concentration of museums in that area — we decided to walk north to see what other museums were open. The Guggenheim was another favorite of mine. It is a skateboarder's dream. The interior has a corkscrew ramp from top to bottom. There are no stairs in that portion of the museum. Unfortunately, there was a long line of people waiting to go through security, so we didn't get to see what was inside. Moving on.
Thomas said that he wanted to try some more New York food, something like a knish and New York cheesecake. So, with the help of Google we found a deli that offered knishes within walking distance. We walked to Pastrami Queen on Lexington Avenue and bought two, then noticed how large they were. We could split one for dinner and the other for breakfast tomorrow. The knish we bought, by the way, was a potato dumpling wrapped in a thin crust then baked.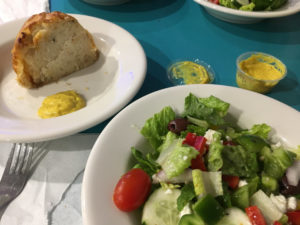 We felt we had walked enough for today, so we hopped on the nearest subway train and returned to our humble hostel abode. We had a short rest, then bought a garden salad to go with our knish. And for dessert we walked to Manhattan Diner and ordered a slice of cheesecake for each of us. It's a shame Carnegie Deli closed a two years ago. They had the best cheesecake with a cookie dough crust. Truly my favorite.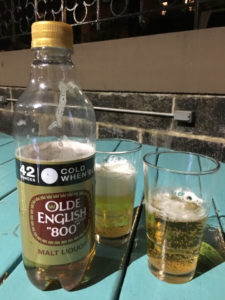 Our final nightcap was another large bottle of beer — Olde English 800.
I hope you have enjoyed this unique tour of New York City. I certainly had fun revisiting my old haunts. So much has changed over the years, yet so much remains the same. My next posts will be about my adventures in Scotland. Remember to check back.