May 10 – 15
I have decided that I like to take my time when traveling and transitions are no exception. It only took me 5 days to travel from New York City to mainland Shetland, which included 2 planes, 1 train and a ferry.
I wanted to begin this leg of my journey with clean clothes, so after checking out of the hostel I stayed on premises and did laundry. One woman even shared some of her laundry detergent with me. So sweet! I was able to spread everything out and repack it into my scuffed up duffle bag. I applied duct tape to the ends of the bag to cover the holes I'd created by dragging it by one handle through the airports and hostel lobbies.
My SuperShuttle arrived as scheduled and off to the airport we were, picking up a few more passengers on our way out of Manhattan. Traffic was terrible for a Thursday afternoon. Actually, I don't know if this was normal since I visit NYC very rarely. Our driver did follow alternate routes provided by Google Maps and we arrived on time. One other woman in the van got out at British Airways with me.
I checked my bag and headed for security. Because I had a TSA pre-check stamp on my boarding card I was happy. This meant that I got to keep on my shoes. Sadly, I was still pulled aside at security because something on my body set off an alarm. They swabbed my hands for suspicious substances. Fortunately, I passed that inspection.
When we boarded I was glad to see that I had an aisle seat. And who was next to me but the woman who rode in SuperShuttle with me. We hit it off and talked quite a bit of our waking hours, and slept when tired. Sitting with her did make the flight more enjoyable.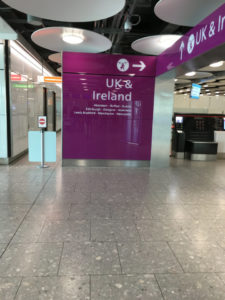 We landed in London Friday morning and my connecting flight to Glasgow was in four hours. I chose to avoid the people movers and shuttle trains and instead walked the long and quiet hallways from international to domestic terminal. At security I was again pulled aside for one last pat-down before I could proceed. My flight to Glasgow wasn't assigned a gate until about 30 minutes before departure, then they started boarding shortly after announcing the gate number.
I got in a short cat nap on the plane and once in Glasgow, I collected my duffle bag and sought the bus to City Centre. It was £8. Then I decided to take a taxi to the Tartan Lodge. It was close to the Royal Infirmary — a place I visited a few times last summer due to a broken wrist. The taxi ride was another £8. If I had taken a taxi straight from the airport it would have cost me £30 or more.
This hostel is a good place for one or two nights. However, any more than that it would have been tough to remain sane. 14 beds (7 bunk beds) were in my room. One shower and one toilet in the room for all of us to share. (Other toilets and showers were available elsewhere in the hostel.) During my stay it did not seem to pose any problems.
I love Glasgow. It is a beautiful city and a great place to get organized before embarking on my newest adventure. I successfully withdrew money at an ATM on my first try. This was a new experience for me as in the past I carried all the cash I budgeted for my trip. However, four months worth of spending money is too much to carry. Hooray for digital banking system.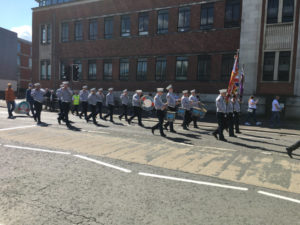 I got to see a drum & flute parade pass by my hostel before I met with my friend and Highlands booking agent, Audrey. We caught up on each other's lives and then she gave me all my travel documents for both the West Highland Way and Great Glen Way walks that she booked for me. Finally, I caught up on my missed sleep and adjusted to the time change.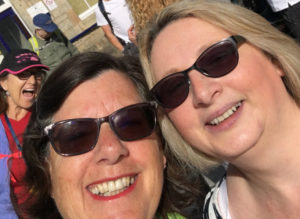 I decided to not do any sightseeing, as there will be time for that later when I return in June. On Sunday I packed up and walked the mile or so to Queens Street Train Station to catch my train to Aberdeen.
Once in Aberdeen my first stop was tourist information. The agents there were very helpful and told me which bus to ride to the Scottish Youth Hostel since is was over a mile away and I may make a wrong turn. (I have been known to do that on occasion. Hehe.) I was also advised to have exact change. Unlike many bus companies in U.K. these drivers do not provide change.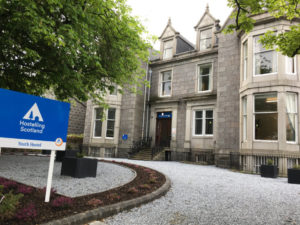 I was lucky enough at the hostel. My dorm room had 4 beds and no other occupants. The only challenge was that I had to walk up 4 flights of stairs to my room. I left my small bag in the lobby and carried up my backpack, then returned for my daypack. I retired early.
The next day I checked out, but then stowed my backpack since my ferry wasn't scheduled to leave until 5:30 pm. I walked to the ferry terminal and chatted with one of the agents. She issued my boarding card and told me when I could check my bag. I explored Aberdeen and visited the Maritime Museum. There was a lot of information about the offshore drilling industry, which is a major employer of the folks in Aberdeen. I then returned to the hostel, retrieved my bag and just relaxed until it was time to catch my bus to my ferry.
I thought I was treating myself by booking a sleeping pod on the ferry. It was in a secluded room next to the bathrooms at the bow of the ship. Not a good choice. The back of the seat reclined, but the foot rest did not move upward, so my feet dangled over the edge and my legs were too short to reach the floor. The lights in the room were shut off around 10 pm, except for an emergency light, which lit up the whole room. I managed to curl up under my parka for warmth and wore the complimentary eye mask. I got some sleep.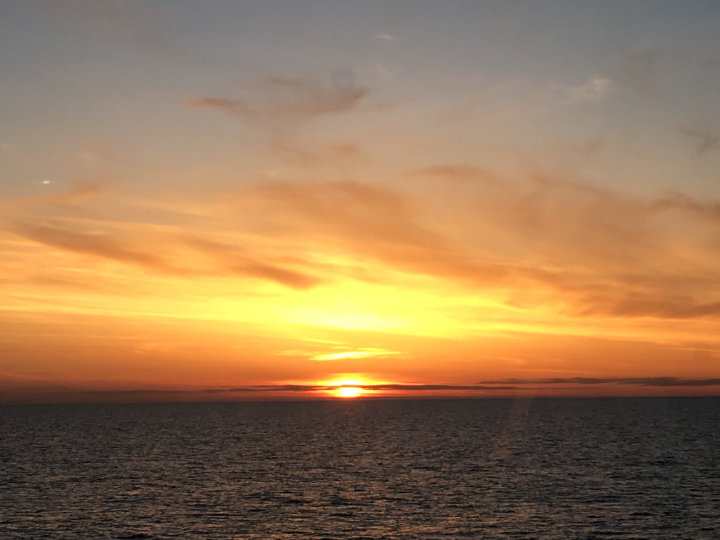 At 3:30 am I woke to use the toilet and the sun was already breaking over the horizon. It had set only 4 hours earlier.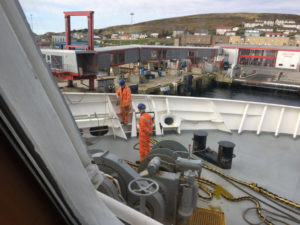 I arrived in Lerwick, Shetland early Tuesday morning, semi-rested.
Note to self: do not book sleeping pod next time. Also, there really is lots to see in and around Aberdeen. I may have to stay longer next time.
Please check back again. I had a terrific time in Shetland and will share soon.