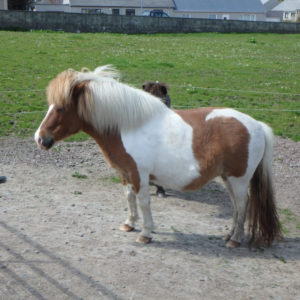 This is the second in a series about Shetland Islands. It is a recap my adventures exploring the geological wonders and a little bit about the birds residing in them in Shetland.
Eshaness
Located in the Northmavine part of Shetland  Island, Eshaness offers an easy path to follow along the coast. In order to get there we had to take a bus to Hillswick, then a feeder bus (mini bus) to the Braewick Cafe at Eshaness. The food there was great, views were amazing and prices very reasonable. We just needed to pay attention to the time so that we did not miss our only ride back to Hillswick.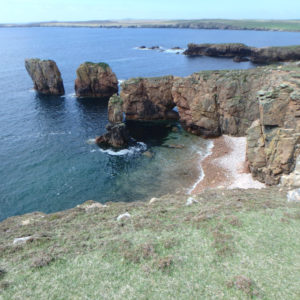 There were two paths from which to choose. We chose the path to the left. We walked through private pasture where sheep were grazing. You need to be very careful and alert because there are no fences or railings to stop you from falling over the cliffs. So if you are walking over a small hill, watch out because on the other side could easily be a cliff.
The terrain was undulating and we had to cross over a couple of small ravines. I had two companions with me and they struggled to keep up with me. I found that endearing in a way because on most of my hikes I'm the one pulling up the rear.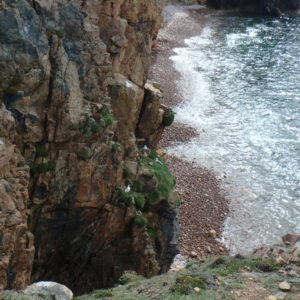 The views were stunning and the rock formations created from eons of crashing waves and harsh weather were amazing. There were small islands, natural arches, caves, and coves. It was fun to observe birds nesting in the cliffs. My photos do it no justice.
We walked until we came to a fence with no gate or step-over. I was hoping to see "The Drinking Horse" but alas it was out of reach. We slowly wandered back to the cafe with time to relax until our ride arrived.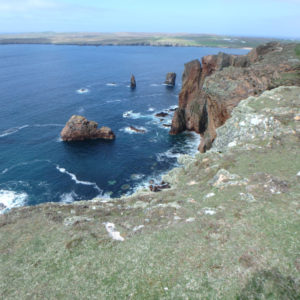 Had we chosen to walk in the other direction we would have seen a lighthouse and some ruins. Maybe I will walk that way the next time I visit.
Sumburgh Head: Lighthouse and Bird Reserve
A visit to Sumburgh Head can be combined with a trip to Jarlshof or Old Scatness (see article "Shetland: Ponies and Archeology") if you are like me, then a walk to the lighthouse can be made into a circular path. Starting at Jarlshof, follow the path along the coastline. This takes you through pastures and over fences. There is a gentle ascent up to Sumburgh Head.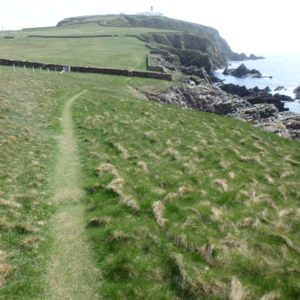 Once there you can reward yourself to some refreshments in the cafe. There is a visitor center that charges a small fee to walk through their museum.
If you are a birder, then this nature reserve will be a treat. I am not a birder, but I do enjoy watching them, nonetheless. The one bird I was most interested in seeing was the Puffin. This is supposed to be a popular nesting ground for them. Unfortunately they weren't here. I took my time leaving the grounds, heading back down to the Sumburgh Hotel via paved road, and lo, there was a Puffin! It was far enough away that I could not get a good photo fully zoomed in to it. As I watched a second Puffin appeared from the nest. My day was made.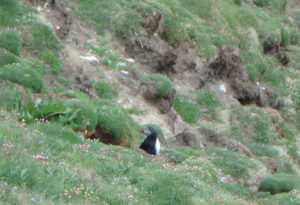 On my way to the hotel I saw some ponies in a field. Always fun to see a pony.
Papa Stour Island
Papa Stour is a small island off the west coast of Shetland. I spent a week volunteering on an organic farm. The island is 3 miles at its widest, so walking the entire coastline is certainly doable. I walked the majority of the coast over two days and finished the last bit after dinner one night. The evening walk was fun, as I was joined by a herd of sheep for a little while. I was even treated to a short boat ride around some of the shore. There are cliffs and caves and coves and stacks. Each section of coastline revealed another beautiful geological wonder.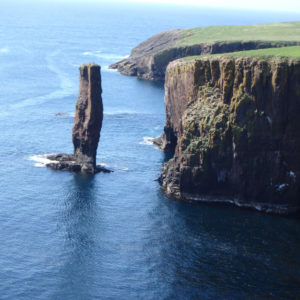 Where there are cliffs, there are sea birds. I encountered a few different sea birds, but I'm not a birder, so the only one that I recognized was the Great Skua, also known as the Bonxie. It presents itself in a fierce way by raising its wings up in an ominous way if you are too close to its nest. However, they also will dive bomb you, turning away at the last minute. I got that treatment 2 days in a row, in the same location. It is a little intimidating and no harm done.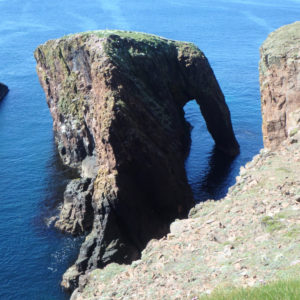 Papa Stour has been inhabited off and on since prehistoric times. There are sites of Iron Age burial cairns, ruins of homes from the 17th century – some of which were inhabited until the early 20th century. Also, there was once a thriving fishing community here, but due to centralizing the delivery and processing of the fish on Shetland, Papa Stour's residents moved away. Once there were 300+ people living here. Now there are 26 full-time and 2 more people part-time residents. The latter 2 are renovating their home and will soon be living there full time.