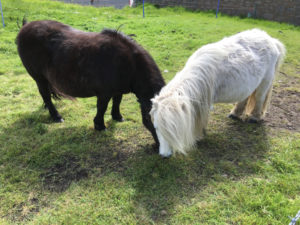 This is the first of a series of articles about my touring around Shetland.
First Stop: Tourist Information
Before I succumbed to sleep too early in the day I decided to walk to the town center and check out the iCentre – the Visit Scotland tourist information center. The staff there was wonderful. They provided a plethora of information and brochures of interesting archeological, historical, and geographical sites that were easily accessed from Lerwick. They even gave me a flyer describing three walking tours of Lerwick that they had designed themselves.
I was worried that my sleep-deprived brain actually retained anything. But, after a grood night's sleep and chatting with my roommates, I was able to explore a different part of the main island of Shetland each day. Sometimes I was alone. Other times I had company.
One week wasn't enough!
Depending on where your interests lie, Shetland could just be another small, backcountry island. However, I wanted to see sweeping landscapes, explore ancient dwellings, view dramatic geography, and whatever else came my way. Fortunately, many of the places that fit the bill were accessible by public bus. And there was more to visit than I could in the week that I spent on Shetland.
This article will feature the archeological sites I visited.
Jarlshof: Prehistoric to 16th Century Ruins
On the South Mainland part of Shetland in Sumburgh, which is near the airport, are some archeological digs that shed light on some of the earliest inhabitants there. The local bus drops you within a quarter mile of the site.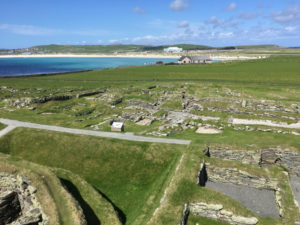 I love the way Jarlshof is set up. For a fee you can walk around the ruins with an audio guide. You can stop and listen to a voice explain what it is you are looking at right now. There are no walls or barriers separating you from the ruin, just a request to stay on the path. There are even a few places where you can walk inside the structures to feel how cramped the quarters were.
The ruins, which are on the shore of the North Sea, were hidden under sand for centuries when the 16th century laird's house was built. That house was burned and ransacked shortly after completion and was never restored. Sir Walter Scott once visited this ruined home and he used it in his novel "The Pirate".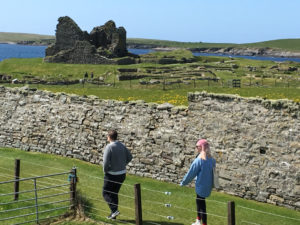 A severe storm in the late 1800's washed away the sand and revealed evidence of human settlements dating back some 4,000 years. Archeologists have found a Stone Age hit, Iron Age dwellings, including the Picts. There were Viking longhouses here once, as well as a medieval village.
There was a broch (a round and tall Iron Age drystone hollow-walled tower), but little is left as the stones used to build the structure were removed by subsequent settlers to build their own huts. The Picts even modified the interior of the broch to meet their needs.
It was an amazing site to visit. I highly recommend it.
Old Scatness: The Picts Slept Here
Across the road from Jarlshof is Old Scatness. This is an active dig that is only open on Fridays. It's always a good idea to call ahead to verify. You can walk around the grounds at any time but there are no information boards to educate you on what you are looking at. Plus there is a small museum that is only open that one day a week. An archaeologist provides tours and answers questions.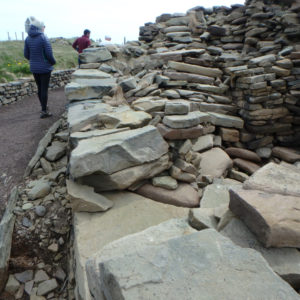 The ruins here were discovered when construction crews were clearing ground for expanding the airport. The expansion was halted and redirected so that this Iron Age village could be excavated and studied. They recreated a Pictish hut for visitors to walk through. Definitely worth a gander.
Both of these sites are close to the Sumburgh Hotel. So after soaking up some history you can treat yourself to a pot of tea and a snack. It is also a warm place to hide out until it's time to catch the next bus back to Lerwick.
Broch of Mousa
Another archeological wonder I visited was the Broch of Mousa. It is a 40-foot tall round stone tower believed to have been built more than 2,000 years ago. It has a double wall with stairs in between the walls. Because this broch sits on a small island and no other settlers came in to live here the broach was left intact. The stones were not repurposed into other accommodations as has happened at other locations, such as Jarlshof.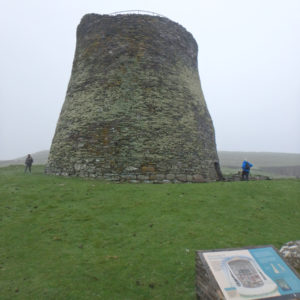 To get to Mousa Island, we rode a bus to Thistle Cottage, then walked a half mile to Leebitten to catch the Mousa Island Ferry. There is a nice mini museum at the pier that provides some history of the area. The ferry operates on a cash only basis. And they did not collect the fee until we boarded for the return to the mainland. I wonder how they handle customers who don't have the cash but only credit cards. Let them swim back? Haha.
Mousa Island is privately owned. However, the island is also a wildlife reserve. We paid £5 for a guided tour around the island. Our guide was an island warden and an ornithologist. I'm not a birder so some of the information she shared wasn't retained. However, I did pay attention to what she said about the Great Skua, nicknamed Bonxie. They can be aggressive when one is near their nests. They will fly right toward you, then turn away at the last minute. I got to experience that first hand later on my stay in Shetland. The Bonxie usually does not make contact, but it has happened. I was lucky enough just to have the bird miss me.
Hoswick Visitor's Centre
When our bus driver let us off at to catch the ferry he suggested we make a detour to the little village of Hoswick where there was a nice tea shop and craft store. We followed the signs and walked into the tourism center. There were lovely locally knitted wool hats and scarves. Some were very lightweight yet warm and cozy. They also featured music from the area. There was also a display of recent history of the area. It was a nice place to relax and refresh with a pot of tea and sweets until the bus arrived. We actually had to walk a half mile to the bus stop, so we confirmed with the staff where and when to catch it. We even got Robbie, the driver who dropped us off initially.
Scalloway: Home of the Black Earl
I rode the bus to Scalloway to visit a castle ruin. This particular castle was home to Earl Patrick Stewart. He was thought to be very cruel to his tenants and subjects, thus nicknamed "The Black Earl".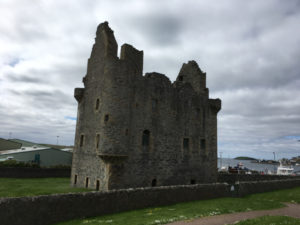 Scalloway was the ancient capital for Shetland, and this castle was built in 1600 by the son of the illegitimate son of King James V. It is free to explore. One room in the lower level contains a brief history of the area and Earl Patrick Stewart.
The castle is adjacent to the Scalloway Museum, which is full of historical artifacts from this area, plus it goes into great detail about the Shetland Bus. I will discuss this at length another time.
A fun feature next door was that Shetland ponies were grazing in pen.
St. Ninian's Island
I did attempt to walk to St. Ninian's Island from the main road after my visit to Jarlshof. I missed the connector bus to Bigton, which is the village on the mainland adjacent to St. Ninian's. It was only 2 miles, but I also had less than 2 hours to catch the last bus to Lerwick. St. Ninian's has archeological site where treasures from around 8ths ninth century.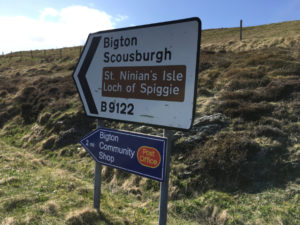 Needless to say, I stopped and ate a snack from a vista point and walked back to the main road to catch my bus.
There are many more archeological sites to visit on Shetland. The ones I visited were easily accessed via public transportation.